Nokia Asha 501 becomes the first phone in Asha series to get Microsoft Office suite. Called as My Pocket Office, it is toned down limited version of MS Office and consists of Word, Excel, PowerPoint. This may seem very exciting, but My Pocket Office suite for Asha 501 is not full-fledged, rather severely limited. It just has the ability to view office documents. User won't be able to create new office documents with this package, as this is just intended for reading your documents or checking content of email attachments, while on the move when you don't have a computer/laptop handy with you.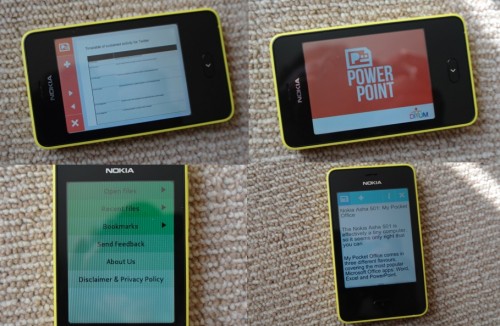 Furthermore, My Pocket Office is in beta stage and therefore may contain bugs. At this point, there are some minor formatting issues. Opening documents of big file size takes time. Nokia is still working on to release final version. It can read email attachments as well. This is certainly useful to users on the go. User can zoom in or zoom out, add bookmarks, check recently opened files. Apart from there, not much options are there. The three apps included under this are named: –
My Pocket Office – docx  : For reading docx format document files
My Pocket Office – xlsx : For opening .xlsx format excel files
My Pocket Office – pptx: For viewing power point presentation of the format pptx
These apps open documents in mobile-friendly view. PowerPoint docs open in landscape view to accommodate to the small screen of Nokia Asha 501. After test and more updates, these may be released for other mobiles in Asha series.
Download My Pocket Office for Nokia Asha 501 by going to Ovi Store or visiting these direct links:  Word, Excel and PowerPoint.