Those rumors of upcoming WhatsApp for Nokia Asha phones have received pedestal, thanks to a leaked image of purported Nokia Asha 500 posted by evleaks. WhatsApp is one of the apps in great demand among Asha phone users and this image signals fulfillment of this demand. Also revealed from the image is that Asha 500 is dual sim device with dual standby. It has glossy back panel. It's a touchscreen phone with buttons on the front. A camera sits on its its rear side. The phone looks vivid, brilliant and colorful. Nothing else is known at the moment. We'll keep updating you with more info as and when available.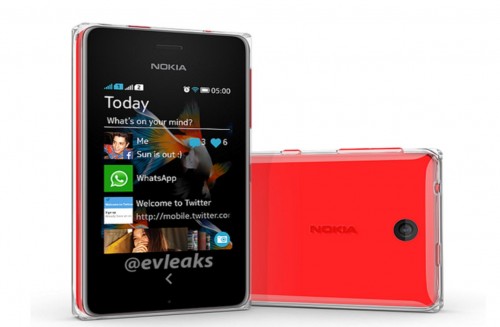 WhatsApp is going to be launched for Asha series phones like 501, the upcoming 500 soon.
Of late, we heard that the Nokia android phone project is still underway for low-cost devices, but the upcoming Asha phone further elludes our hope of such mobile. It's time we should say goodbye to such craving. With ongoing Microsoft's finalization of acquisition process, the future of any such project is doomed forever.
Nokia is hosting a launch event on October 22, and we've no idea what it meant by innovationReinvented, but we're hopeful of another lumia smartphone launch. Nokia Asha 500 doesn't seem eligible for the said "innovation reinvented" slogan.