Nokia has asked us to add mark 22 October in our calendar as the company is going to host a special launch event on the mentioned date. What and Where – are the two questions that will remain in the purview of our curiosity until we get further information. The aforementioned event detail has been revealed by Nokia on its Twitter account with an adventurous pic depicting harsh weather conditions, sand dunes and skiers. Three words are imprinted at the center of the image – "blazing", "stories", "innovationreinvented". With "stories", we understand that Nokia wants its fans and the media to discuss and cover related stories and speculation in wild, or maybe, Nokia wishes to tell its story in connection with the recent Microsoft-affair. With blazing and innovationreinvented terms, we do have our guesses of powerful smartphone fortified, possibly hinting at launch of Nokia Lumia 1520, about which we have earlier heard that the company had shelved its plans for this device.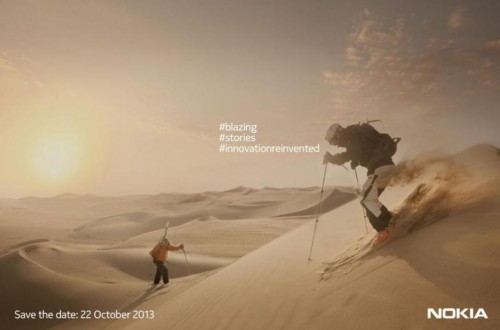 Nokia Lumia 1520 is the company's purported foray into the phablet segment with 6-inches display. The rumored device is expected to feature the latest Snapdragon 800 processor, 2GB RAM. This is going to be the first windows phone in this category of smartphones. The extreme weather and adventurous conditions in the picture do hint at possible rugged nature of the upcoming device. The upcoming smartphone might feature more strength, reliability, ruggedness, and perhaps waterproof capabilities. The company might even launch the rumored Nokia Windows RT Tablet codenamed Sirius.
This time, the event might not be held in US. Whatever be it, stay connected with us as we bring you timely updates that matter!