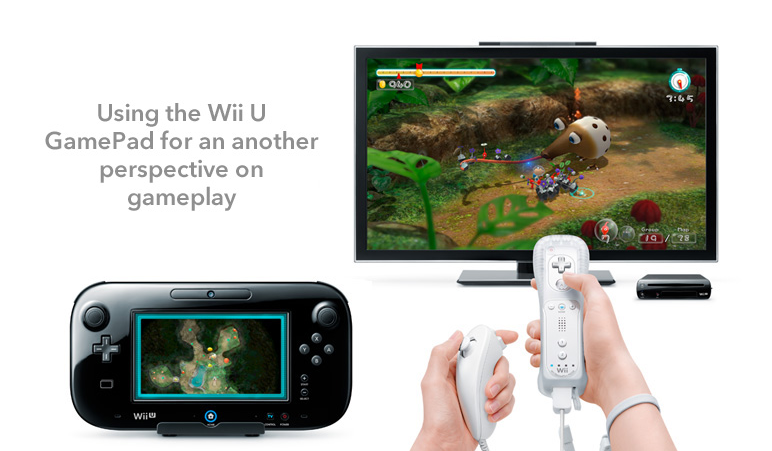 Gaming industry never stops but what took Nintendo so  long to reach to the next generation gaming console with a complete new name Wii U. Anyways, it is here finally. The new Wii U, unlike previous version console, focuses on attracting hardcore gamers and is primed to get into competing console games business as offered by xbox 360 and playstation 3. The official revelation of Wii U came in Electronic Entertainment Expo 2011. Here in this article, we'll list all the information, details and features you need to know about Nintendo Wii U. We've listed several pictures of it, hit them to view them in full size.
Hardware Specification Of Nintendo Wii U :
Nintendo Wii U's processor is made by IBM. It is IBM's power 7 based multicore processor. It is 45 nm based powerful with lots of eDRAM cache. Exact info on how much i.e. cores, clocking speed, cache size are not revealed. Likewise, nothing much is known about GPU as well except that it is custom AMD Radeon High Definition GPU. Having said that, and keeping in view wii U's intention to pull hardcore gaming on its platform, the hardware is powerful enough to satisfy the needs of modern gaming titles. It supports Full HD 1080p graphics. It has 2 GB of RAM – 1 GB for system software and 1 GB for Games. AV multi-port out is there.HDMI 1.4 out port which brings support for stereoscopic 3D images if your TV is 3d-compatible. 6 channel PCM liner audio output through HDMI is supported for home theater kind of experience. Other ports include 4 usb ports two at the bacck and 2 at the front of the wii console. To connect to internet and access Nintendo Network for online multiplayer gaming, video-chatting, downloading of nintendo wii U games via wii u's eshop, 802.11b/g/n Wi-Fi is present, plus support for optional Ethernet connection via USB dongle.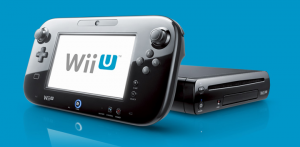 Wii U GamePad :
More than the console itself, Wii U Gamepad has received positive words of innovation and applause. Wii U Gamepad is a kind of tablet controller with inbuilt 6 inch touchscreen, two analog sticks, direction buttons, and other game-control buttons. The resistive touchscreen located at the center of the gamepad is single touch, not multitouch. The screen can even replicate the gameplay and you can play games on Wii U console without the need of TV, although TV will be a better choice to watch your gameplay rather than on 6 inch small screen with resolution of 854×480-pixels, yet it comes handy in few cases. Wii U supports two gampads but only one is bundled with the console. Besides touchscreen, WIi U gamepad features accelerometer, gyroscope, camera for video-chatting, microphone, stereo speakers. The gamepad even supports NFC (Near Field Communication) which can be used to import content from compatible devices and also for doing transactions via supported credit cards. It is wireless controller, no doubt. You can even use it for two player gaming in which one player sees on TV while another player sees the action on gamepad screen. Wii U GamePad is powered by lithium-ion rechargeable battery and it weighs about 1.1. pound only.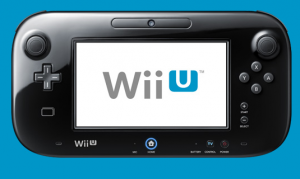 Wii U pro controller option is also there for those who would like to stick to traditional game controllers. The Wii U pro controller is aimed for hardcore gamers and is similar in design to xbox 360 controller. It'll be sold separately.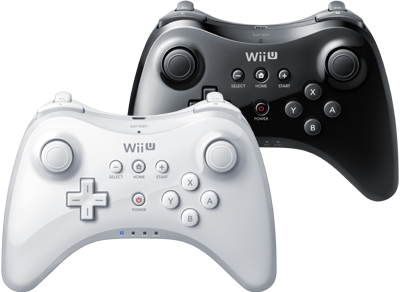 Other Features :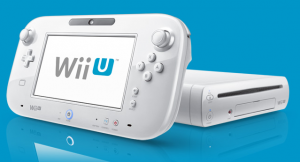 Via Nintendo TVii feature built into wii U, you can watch online video content from HULU Plus, Netflix, Amazon Instant video, YouTube, etc.
It also has web browser into it to browse the web on tv screen or on gamepad display.
Miiverse which is the social network for nintendo game users can be accessed to chat online, to show your scores and achievements in supported games, etc.
Backward Games compatibility : Wii U is compatible with most Wii Games in disc or digital format.
Backward compatibility for Wii accessories also like Wii Remote Plus, Wii Nunchuck, and Balance Board.
Even downloaded softwares and save files can be transferred from wii to Wii U easily.
Storage Options :
Wii U comes in two edition i.e. Basic which has 8 GB of internal storage, Deluxe which has 32 GB of internal storage. Both the editions have SD memory card slot for external SDHC memory card and also support for external Hard Disk Drives. Nintendo Wii U contains proprietary optical disc drive which supports wii discs of 12 cm and each disc can hold upto 25 GB of data similar to single layer blu-ray discs.
Wii U Release Date and Price :
There are two edition of Nintendo Wii U. The difference between them is listed below.
Basic Nintendo Wii U which packs – Wii U console(8 GB), Wii U GamePad, Stylus for gamepad, Sensor Bar, Console and gamepad ac adaptor, HDMI cable in the box. Available Color : White.
Deluxe Edition Nintendo Wii which contains Wii U console (32 GB), and all other things present in basic edition. Furthermore, Deluxe edition users get $59.99 worth Nintendo Land Game for free, Deluxe Digital promotion program which offers them reward points for every digital downloads and those points can be redemeed in future for other downloads and transaction from Nintendo eShop. In addition, Wii U gamepad Stand and cradle, Wii U console stand are also provided in the box. Color – Black.
Both the edition can be preodered from Nintendo Official website at nintendo.com . The price set for Wii U Basic edition is $299.99 USD (¥26,250 in Japan)and the price of Wii U Deluxe Edition is $349.99 USD ( ¥31,500 in Japan). Both the editions will be released on 18th November, 2012 in US whereas 20 days later, on 8th December 2012 in Japan.
Nintendo Wii U games :
Without exciting and new games lineup, no console is going to win the heart of gamers. The first party games list for Wii U include New Super Mario Bros. U, Pikmin 3, Nintendo Land, Wii Fit U, and Game & Wario. Most of these games would be priced around $59.99 USD as per the reports. The third-party game titles include Darksiders II, Assassin's Creed III, Mass Effect 3 , Batman: Arkham City Armored Edition, Just Dance 4, Madden NFL 13, call of Duty – Black ops II, Transformer Prime, Skylander Giants, etc as well as exclusive Nintendo Wii U games such as ZombiU (violent game first person shooter), Rayman Legends, Rabbids Land, Lego City Undercover, Scribblenauts Unlimited, and Bayonetta 2, etc. The pricing of these third-party titles will be set the their respective producing companies but it will be in the range similar to their playstation title counterpart. Recent reports say that 'Monster Hunter 3 Tri HD' game will be bundled with the first Wii U 32 GB console sold in Japan. Monster Hunter 3 Tri HD will be available in Europe and North America in March 2013. 'Tekken Tag Tournament 2 : Wii U Edition' will offer special character outfits including Mario, Luigi, Princess Peach, Bowser, Star Fox, Samus and Link which can be dooned by tekken fighters, and to add further to the fun, an exclusive Mushroom Battle mode to make your characters smaller or bigger will be featured.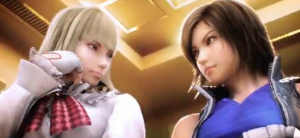 Lets see how it appeals to real hardcore gamers. Since PlayStation 4 i.e. PS 4 and Microsoft xbox 720 is not going to be released anytime soon, Nintendo Wii U has viable market to help itself flourish and capture some of those people who always love to go on the other side of the territory to explore what might be exclusively featured there. We'd soon come up with full review and hands-on video of Nintendo Wii U. What do you think about Wii U, we'd love to hear from you! Are you going to buy it? Or would you like to wait for PlayStation 4 or xbox 720 ?