TGS or Tokyo Game Show is one such event about which gamers from around the globe are excited. At TGS, game developments, releases, launches and promises follow. While many of you are awaiting release of PlayStation 4, Sony is keen to keeping its PlayStation 3 alive by doing makeover and skinning of the current gaming console. The new redesigned playstation 3 is approximately 25% smaller and it weighs 20% less than the current PS 3. This makes the new model attractive and more compatible in appearance with other home entertainment equipments. New PS 3 models will be available in two editions primarily based on the storage capacity of the console : 250 GB model and 500 GB model. For console maker i.e. Sony in this case, this is surely a game to bank on more profits and an attempt to achieve the newness and freshness in gamers' eyes for the same old thing but in a new form factor which is remarkably lighter.
250 GB PlayStation 3 is not only slimmer but comes bundled with a game – 'UNCHARTED 3: Drake's Deception: Game of the Year Edition' ( this game edition features 12 new multiplayer maps, over 40 multiplayer skins, Fort Co-Op Adventure, and Shade Survival Mode, a value of over $45 in bonus content) and a $30 voucher for buying digital content in the game DUST 514. The voucher is useful for those people who play DUST 514 game. The price is $269.99 USD and will be available in charcoal black and classic white color. This will be released on September 25 in US. A non-bundled version will be released also but at a later time and would be priced at about $249 USD.
UNCHARTED 3: Drake's Deception: Game of the Year Edition will also be available for purchase as standalone game title from September 25 for a price of $39.99 USD.
500 GB PlayStation 3 will be available in white color and is quite good for those who want extra storage space in their gaming console, not just for games but also for other multimedia contents. Unfortunately, this will not be released along with the release of 250 GB PS3 so folks, you'll have to wait a little longer to get your hands on. 500GB PS3 will be released on October 30,2012 in a limited edition bundle in conjunction with release of Assassin Creed III game featuring 4 exclusive levels unique to ps 3 gaming console (One of the most awaited game of this year). The price of this model will be $299 USD.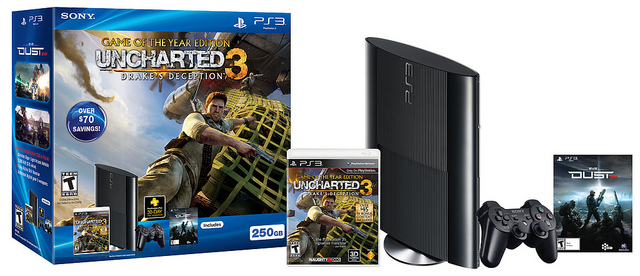 PlayStation Plus which is subscription services from Sony for PlayStation users have opened its heart for PS Vita i.e. PlayStation Vita and will be available from November. You can enroll yourself in PS Plus membership and enjoy exclusive content and benefits of such membership which include few free game titles, exclusive discount on select games, 2 GB of Online Game Save storage (1 GB for PS 3 and 1 GB for PS Vita), etc. If you're already member of PS Plus on your ps3, you need not buy another for PS Vita. Your existing membership will work on PS3 as well as on PS vita. If you buy a membership on PlayStation Vita, the same would work for your PlayStation 3 as well. The subscription price for PlayStation Plus membership are :
For 30 day plan – Japan: 500 yen, Asia: HK $38
For 90 day plan – North America (US): $17.99, Europe: €14.99
For One year or 365 day plan – Japan: 5,000 yen, Asia: HK$233, North America(US): $49.99, Europe: €49.99
Well, for those who're expecting the next PlayStation 4, this is really not a good news because this extends the lifetime of PS 3 and therefore making further delay to the release of PlayStation 4. What are your views on this? Are you going to buy the newly launched model?