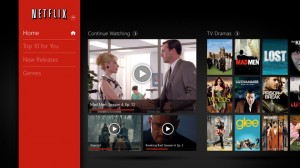 If you're a netflix user and you probably are, that's why you're reading this post, we've good news for you. Netflix has launched its official application for windows 8 metro users. The new metro app for Netflix can be downloaded by visiting windows store from your windows 8 tablet or laptop or desktop. A preview of this app was shown in June, this year but since then it has been improved a lot and finally it is now released. This app promises to be light on cpu as it utilizes Graphics acceleration capabilities of your system rather than putting its weight on cpu to play HD movies. The video player also looks neat and elegant. Using this app over using Netflix in the web browser is certainly more beneficial so downloading this netflix app makes sense. It takes windows 8 metro UI design elements and integrates it in such a way as to give you the most basic and intuitive functioning interface with ease of use on touch screen computers, tablets as well as on non touch-screen devices with keyboards and mouse.Pinch to zoom gestures are very well supported (ctrl and +/-  is your way if you do it with keyboard). Top 10, new releases, and other common access points are well marked for easy navigation that you're used to from Netflix Instant. Tile thumbnail previews of movies and tv episodes launches quickly as you tap them. Swipe to the left to drag your whole collection of videos. Furthermore, Netflix claims that it saves on battery usage so that you can watch without interruption for a long time on single charge.
Download Netflix App for Windows 8 from here
You can download Netflix on all i.e. x86, x64, ARM systems with language support of English (United States), Spanish, French, Portuguese, Danish, Finnish, Swedish, English (United Kingdom), Norwegian (Bokmål).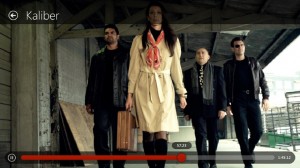 More features will be incorporated in future released versions.They've released this app in time because on October 26, Windows 8 will be released for general public whereas pre-orders for Windows 8 DVD i.e. boxed version has started. Microsoft recently pushed major update to win 8 os and also to many of the stock apps. Microsoft Office 2013 has reached RTM stage. With win 8 and office 2013, Microsoft is really taking big risks as it is bringing something new people are not habituated to. To make sure, everything ticks as desired, Microsoft is prepared to spend lavish amount on advertising and marketing of the upcoming products. If you've earlier version of genuine windows i.e. windows 7, you can easily upgrade to windows 8 for just 40$, but this is limited time offer valid upto 31st January, 2013.
Check out other useful windows 8 apps on our blog. Subscibe to feeds from our website and connect with us on facebook, google plus and twitter as we bring fresh new info to make your IT life easier and productive.