Mozilla has released Firefox 20 and this latest version is available for free download on computer as well as on android mobile. Continuing its tradition of enhancing user experience, browser stability and security, Mozilla has come up with the latest iteration of this popular [sch i="applicationCategory" c="browser"]. Let's see what's new in Mozilla Firefox 20: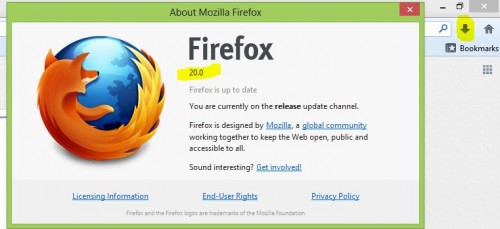 Mozilla Firefox 20 Release Notes:
New per-window Private browsing: This means that Firefox will launch private browsing window without closing the normal regular firefox window or browsing session. This works the same as in Google Chrome. You can browse in regular way as well as privately in separate firefox windows simultaneously. Earlier, Firefox used to save and close the current session to launch private browsing session, but now Firefox can launch regular as well as private browsing mode at the same time allowing users to effectively use Firefox in desired modes.
New Download Manager Experience : The default download manager of Firefox has received make-over. Now a download icon is added on Firefox beside search bar in the address bar row. Just click on the download button located beside Home button in Firefox and you can manage all your downloads, pause them or open the containing folder.
Quite often, it's not Mozilla Firefox that hangs, but the plugins loaded on websites cause Firefox to hang and crash, but with Firefox 20, you'll be able to close the plugin that hang without affecting your browser. This is useful and will minimize Firefox occasional crashes resulting from plugins failure.
More tweaks and improvements made for faster browsing speed, page loads, downloads, shut down, etc.
Several critical security issues fixed have also been implemented which makes Firefox 20, must-upgrade for every user.
New Javascript profiler tool added for developers.
Several HTML 5 improvements also made especially in audio and video markup.
Few other bugs fixed.
Mozilla Firefox 20 for android mobile also inherits the improvements made in the desktop version. Now firefox is compatible with more android handsets as the minimum requirement has been lowered to 384mb RAM and QVGA display resolution.Per-tab private browsing mode is implement in Firefox mobile. About:Home page is now more customizable as you can change the top sites shown there. If you're running Android 4.0 + version, quit button option is removed from Firefox 20 for you, so you can no longer choose or enable this option unless you install QuitNow add-on for firefox mobile.
Mozilla Firefox 20 Free Download for windows xp, vista, 7 & 8 from here, for linux from here, for Mac OSX from here, for android mobile from here.
If you're already firefox user, just visit Firefox menu and then Help and then About. Firefox will download update automatically and prompt you to upgrade your browser. But based on my experience with upgrading, Firefox was downloading update at a very slow speed even when my internet connection is very fast, so I downloaded Firefox 20 manually from the links given above and installed it. When installing, do not uninstall previous version of Firefox as it automatically detects previous version and upgrade the same without affecting your Firefox browsing data like bookmarks, password, history, etc.