Firefox 19 is now available on release channel i.e. for regular users as it is released for windows, linux, mac pcs and android phones. The most noticeable improvement is in terms of startup time of this browser. On previous versions, Firefox used to start up slow. Its slow start was confusing that led users to click on firefox program icon repeatedly, this caused several firefox windows as final result. But, we can now expect faster firefox startup as the browser will first display its window and then execute any other codes. With Firefox 19, we also get native pdf viewer i.e. we'll now be able to use Firefox browser to view pdf files on the web as well as on computer without the need to download any pdf plugin for the browser. So with built-in pdf viewer in Firefox 19, you can even open locally stored pdf files with the browser. Just select Firefox as default program for pdf viewing to try this. In addition, it'll now be able to display pdf content on the web without prompting for any third-party plugin or downloading the pdf file. Here goes main points of release notes of Mozilla Firefox 19: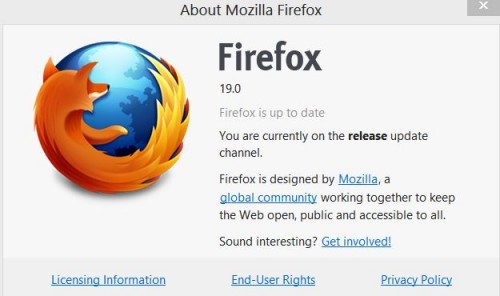 Built in PDF Viewer
Improvements in Firefox startup speed.
More HTML 5 & CSS elements support added (CSS @page, CSS viewport percentage length units, full width support in CSS Text transform, etc)
Browser debugger developer tool for addons developers (To use this tool, you need to set devtools.chrome.enabled to true in about:config of firefox).
Remote Web Console tool for connecting to Firefox on Android or Firefox OS (To use this feature, we need to set devtools.chrome.enabled to true in about:config ).
Several other bugs fixes, stability, security and performance improvements.
Mozilla Firefox 19 for android now supports more phones, comes with more personalization options and languages. It has added theme support also.
Unfortunately, even in Firefox 19, we don't have windows 8 metro mode. Firefox 19 also supports browsing in windows 8 desktop mode only like the older versions.
Download Mozilla Firefox 19 for windows from here, mac from here, linux from here, android from here
If you're firefox user, you should update your browser. If you've been running the previous version of firefox, your browser might already have downloaded the update and installed the latest version of firefox for your computer, but to make sure you're on the latest version, just go to firefox menu and then to options and select Help. It'll show you the current version and if it requires upgrade, it'll also prompt you to Apply the update. If you're on android phone, Google Play Store might already have prompted you to update the browser and if your android apps are set to automatic update, it might have already downloaded and installed the update. You can launch Play Store app on your phone and hit options and then my apps and see if Firefox browser needs updating.
Subscribe to our blog to keep yourself updated with all latest releases and more useful downloads.