Continuing its tradition of improvement, Mozilla team has released Firefox 17 browser for windows pc, linux, mac and android mobile phones. Although windows 8 mode is still not implemented in this version, yet it is worthy upgrade and we highly recommend our readers to stay updated to the latest version of Mozilla Firefox (Firefox windows 8 metro mode will be featured in Firefox 18 – On side note, Google Chrome has already implemented windows 8 mode in their latest version – Better late than never, we've seen preview of Firefox windows 8 mode and do I need to say, it is awesome). Anyways, there are bunch of stuff to talk about in Firefox 17. So, lets dig deep into its release notes.
Mozilla Firefox 17 Release Notes
Social API is rolled out in its first revision form along with support for Facebook Messenger so that users could get a permanent Facebook messenger in browser's sidebar so that they could keep in touch with their buddies without opening facebook.com . This is like getting a messenger client within your browser. Other websites could also utilize Social API of Mozilla Firefox to provide richer and native social experience, but this is, for now, noticeable in Facebook Messenger.
We've previously reported in one of our posts about click-to-play block-listing feature for plugins to be implemented in upcoming firefox version. Well, now this is implemented and live in current version i.e. Mozilla Firefox 17.0.1. This feature would remarkably strengthen security of your browser giving due respect to your privacy. Furthermore, it'll reduce chances of Firefox crashes in case of bad or malfunctioning plugins as certain vulnerable plugins will not be loaded by default on webpages unless user clicks on that plugin element to enable it.
Icons in Awesome bar got bigger.
If you've been still using Mac OS X 10.5, you won't be able to use Mozilla Firefox 17 (Well, most of Mac users are already on the latest version, so this should not be any issue) as Mozilla team has officially removed support for the old OSX 10.5 making space for and to focus on utiizing the power of laatest Mac OS.
Mozilla's love for web developers continue growing as developer tools are enriched in every new release of firefox. Page Inspector has new markup tool which makes it easy to edit DOM. Furthermore, the inbuilt developer tools are now faster and more efficient than ever before.
Several other fixes like pointer lock problems, page scrolling on certain sites with fixed headers, and other performance improvements to increase security, stability, speed have been implemented.
Firefox 17 for Android now supports more smartphones including phones running on ARM V6 processor (Minimum – 800 MHZ and 512 MB RAM). Other minor bugs like, backspace key caused deletion of text in front as well as reverse direction, android 4.2 stability issues, etc have also been addressed.
Mozilla Firefox
17.0.1

Download for Windows from here, for Mac from here, for linux from here, for Android from here.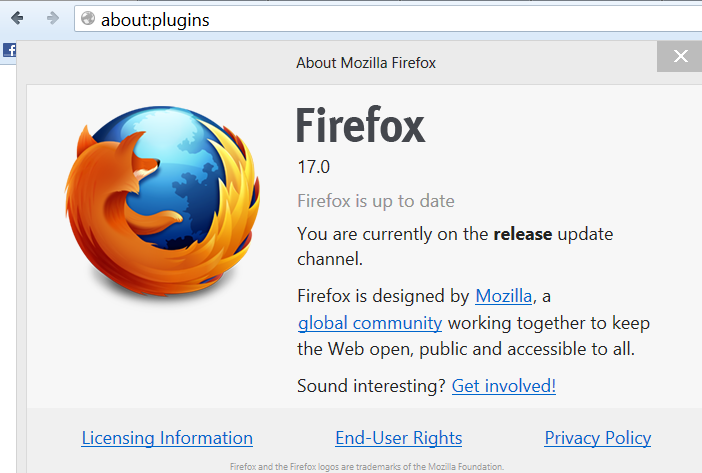 Subscribe to our blog or connect with us on FB, Twitter, Google PLUS to get news and information about latest tech stuff.