Update: A new version has been released, get Mozilla Firefox 17 instead of downloading this version.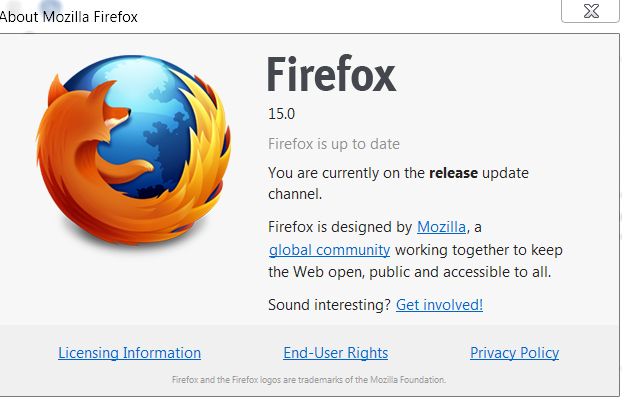 Mozilla Firefox is the best open-source browser known for its security, speed, flexibility and stability. It is being rapidly developed and so Mozilla Firefox 15 has been released for windows xp, windows vista, windows 7 including the newest upcoming windows 8. Beside being available on windows os platform, Mozilla Firefox 15 is available for Mac OS as well as Linux users. It is even available for Android mobiles and tablets. The latest changes in Firefox 15 are :
Silent, Background Updates: This way Mozilla firefox will automatically update itself to the latest version keeping its users updated and thus reducing fragmentation of various firefox browser versions.
Native support for SPDY network protocol v3 : SPDY is protocol similar to HTTP with aim of reducing web page load time and thus increasing browsing speed and experience.
Native support for pdf files have been added as well.
WebGL enhancements for better graphics implementation and compressed textures for adding pumping more data efficiently to support such web utilities like 3d gaming and add to speed.
Optimized memory usage for addons: Firefox has always been considered kind of resource intensive browser but with optimization like this, Mozilla Firefox 15 is going to be considerably light on your system.
For web developers, Javascript debugger has been integrated into it. Inspector comes with new layout view.
It now recognizes CSS word-break property.
A better and new design tool has been implemented that allows you to switch between desktop and mobile version of sites.
Several HTML 5 improvements have also been made : Opus Audio codec native support added, several other attributes like played attribute for <audio> and <video> HTML tag added.
Other bug fixes and minor improvements also done.
Firefox 15 for Android Mobile and Tablet has also improved considerably with introduction of awesome screen, faster pageload times, flash support for Honeycomb android os. Also the inbuilt download manager has been upgraded with options to pause, resume, retry and cancel downloads. Now you can even switch to desktop version of any website with inbuilt menu option on Firefox for Mobile edition. This brings the mobile version at a close par with the desktop version of firefox.
If you've not updated your firefox for a long time, its time to update firefox now as Firefox 15 has improved Homepage with quick access to useful firefox settings. The new Tab page contains big thumbnails of the most visited websites. Firefox crashing has reduced to a considerable degree. Memory usage has been optimized a lot. It automatically updates. It now starts faster. Heavy, light, ultra modern, classic – all types of websites render beautifully on Mozilla Firefox unlike other browsers. Lots of new extensions have beccome available which limitless the features and usability of firefox. Firefox persona or so-called Firefox themes add to the beauty and newness of it as you can change it with just a few clicks every other day to have a feel of beauty in your favorite web browser.
Download Mozilla Firefox 15 from here for windows os.
Download it for linux os from here and for Mac os from here.
Download Firefox for Android Mobile and Tablets from here .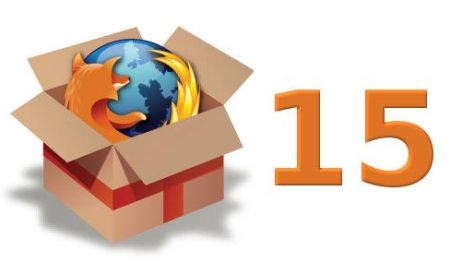 If you've Mozilla Firefox already installed on your system and if it's not updated yet. Just launch firefox – go to firefox menu – help – About Firefox. Now it will start checking for the latest firefox version and then will download update if required. When the download completes, just Hit on Apply Update button and Firefox will restart (before clicking on Apply Update button, save your work – whatever you're doing on firefox). It'll check for compatibility of installed addons with Firefox 15 and may present a dialog box if incompatible addons are found. Just hit on Check or Don't check button and proceed with it.
Techotv Rating for Mozilla Firefox 15: 5/5