Micromax is the first to launch budget quad-core phones revolution in India
And the present is now the prevailing trend being followed by every other Indian phone companies to launch cheaper quad core android smartphones. Micromax Canvas HD has been a stellar success for the company as well as consumers. It change the story of India mobile market. But now that the market is getting more and more saturated with similar devices, the company is expected to launch a better sibling to its flagship and as per the leaked details of the new-in-development Canvas HD Pro:
Micromax is set to create another acclaimed phase in Indian mobile industry.
Micromax A120 Canvas HD Pro Specifications: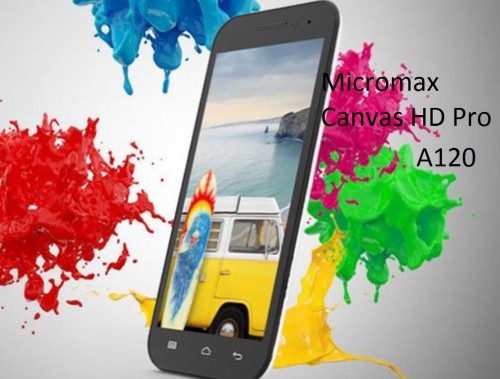 Micromax A120 Canvas HD Pro is robust and shiny on its boot sporting 5.5 inch display and taking the screen resolution bar higher up with Full HD resolution display if the leaked specifications are to be believed. Yes, you read me, right! This new phablet will have awesome resolution of 1920*1080 pixels on its 5.5-inch screen. Display is not only the segment where Micromax has improved in this device. Instead, it has received upgraded specs on all major fronts, except the CPU. The processor is Cortex A7 1.2GHz quad-core and the GPU is PowerVR Series 5XT. The CPU/GPU segment is the aspect where MMX didn't improve so we'll see how this outputs in reality in benchmark tests when the phone officially launches. The FHD resolution will require more cpu/gpu power. The internal memory has also been scaled to 8GB, which is another surprise, but given the upgrade in rest of the aspects, it's worthy here. The external memory card support is now upto 64GB, which is the max capacity supported by any other smartphone in the market.
Talking about its camera which is another major upgrade here, it has 13 megapixel rear camera and 3.2 megapixel at the front. To accompany that camera prowess, there is dual led flash. The camera's megapixel count is something that you just see in 2013's flagship phones from Sony, Samsung, HTC. Of course, the camera will be capable of Full HD Video recording. We can't say anything about the quality aspect of front camera unless the handset is officially revealed and we get formally acquainted with its official specs.
We did complained about the 2000mAh battery in Canvas HD, but in HD Pro, the battery is of 3000mAh capacity which is appreciate-worthy and it sounds good, atleast on paper.
Cortex A7 MediaTek Quad-core Processor
2GB RAM
13mp primary camera
3.2 mp front camera
Full HD Display of resolution – 1080 x 1920 pixels
5.5 inch screen size
8 GB internal memory
Extendible upto 64GB via external micro-sd card
WiFi, Bluetooth
3G
Dual SIM with Dual Standby
A-GPS
Micromax Canvas HD Pro Price, Release Date
As per the leaked info, the price of Micromax A120 Canvas HD pro will be around Rs.20,000 INR, though the exact pricing details will only arrive after the formal launch, but we now do have idea of what pricing scheme this phone will follow. Its release date is scheduled for 30th June, 2013. It's a long wait of about 2 months. The history may repeat itself once again i.e. customers may have to wait more because of the stock shortage and huge demand as was the case with mmx A116 canvas hd phone. Keep checking this page regularly for updates as we'll keep updating this article whenever new updates, news or more info is available.
Even if the products seem Chinese phones remake, Micromax has achieved its own fleet of loyal customers and is gradually raking up its offering to lure more customers under its bandwagon.