In presence of several top international companies like Samsung, Nokia, LG, Sony, HTC, etc, domestic key players like Micromax didn't stand a chance few years ago, but things are not the same now. Micromax is leading domestic phone and tablet company in India, known for its budget android smartphones and tablets lineup. By flooding the market with several dual-sim cheap android phones, Micromax has reached its target brand and now the company is gearing up to capture high-end smartphone segment with its budget high-end android phone. To this, they launched Micromax A116 Canvas HD dual-sim high-end android smartphone at affordable price.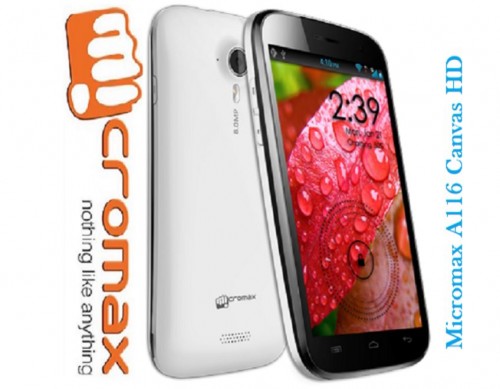 Micromax A116 Canvas HD Full Specification
Micromax A116 Canvas HD phone has quad-core MediaTek processor running at 1.2GHz clockspeed along with 1GB of RAM. This phone is large as it has 5 inch screen with HD resolution of 1280*720 pixels. The display is IPS, capacitive, multitouch. The brightness is not enormous, but enough to be called as reasonable.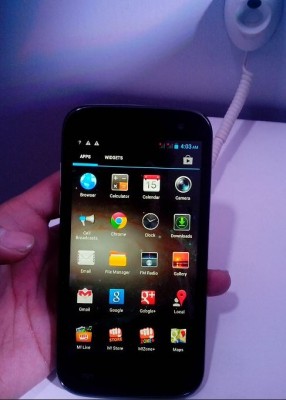 So, if you've been dreaming of quad-core 5-inch android phone at cheap price, you can now get one. It has internal memory of 4GB, although the user available will be less as we presume. There is support for expandable memory card of upto 32GB (I wonder, why not upto 64GB?).
Here goes the full specification: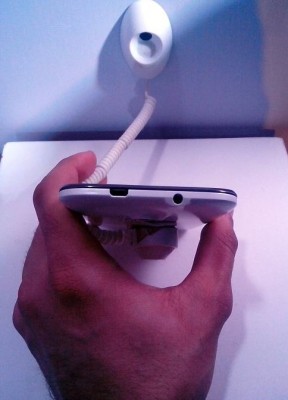 Screen Size of 5 inch (12.7 cm).
Display Resolution: 1280x720
Display Type: , IPS, capacitive, multitouch
CPU: 1.2GHz Quad Core processor
There is 1 GB RAM.
It comes with internal memory of 4GB (1.77GB user available).
WiFi- Wi-Fi 802.11 b/g/n
Bluetooth: yes, 4.0
Primary Camera at the rear: 8 megapixel
Front-facing camera- 2mp
Out of box, it is loaded with Android 4.1 Jelly Bean OS.
Battery Juice of 2100mAh.
More here: Micromax A116 Canvas HD Full Specification, price
Micromax A116 Canvas HD Price, Release Date
The release date of Micromax A116 Canvas HD has been scheduled for February, which means you'll be able to buy Micromax A116 Canvas HD sooner. Market analysts predict huge success for this phone. Micromax A116 Canvas HD price will be below Rs.15,000, but by negligible margin. SO you can assume the price to be about Rs.15000 INR. I can not say that Micromax is really done something very great or outstanding when it comes to its pricing, because when you delve deeper into technical fineprint and make exhaustive comparison with the likes of high-end handset from Samsung, HTC or Sony, the differences will be manifest. Nevertheless, I do agree that Micromax is, indeed, doing a wonderful job by bringing high-end taste on budget-priced smartphone with A116 Canvas HD.