What is Firefox Sync?
Firefox sync is a great feature to backup (on cloud) and synchronize your Mozilla Firefox browser profile (containing your passwords, history, bookmarks, preferences, tabs and addons) across several devices you use like your computer and mobile phones so that you could have unified, personalized and same browsing experience on all your devices as you get on your native device.
So, Firefox Sync is helpful
if you're going to format your computer and install new OS.
if you've damaged your current computer and bought new computer. All your browsing details are safe and you can easily restore your browser profile on new computer.
if you use mobile device (android phone especially) so that you can have the same browsing experience as you have on your computer or laptop with all your bookmarks, history, passwords available on your mobile phone also. So, this way, you can leave your current session on computer and resume the same session from your mobile phone.
if you use Firefox on multiple computers.
Backup and restore mechanism for your browser profile.
How to setup Firefox Sync on Android Mobile to synchronize it with computer
Official Mozilla Firefox application is available for android mobile phones and can be downloaded from Google Play Store. Before we proceed, you need to first setup Firefox Sync on your computer if you haven't already. To setup Firefox Sync, hit on Firefox menu and click on Set up Sync option. Follow the instructions to create your account. After successful setup, download Mozilla Firefox on android phone. Once installed, launch firefox app. On its home screen, you'll see an option to setup firefox sync.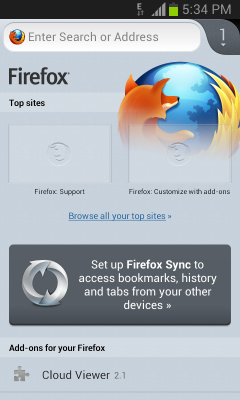 Launch it right from there. If for some reason, this option is not seen, follow the steps mentioned below :
Within Firefox on android, tap your android phone option/menu button and select Settings.
Now tap on Sync option. (Make sure you have packet data enabled on your phone)
It'll soon generate weird set of characters.. Let it be as it is..
Now, on your computer, launch Mozilla Firefox browser, go to firefox menu > options > Sync. (You pc must also be connected to internet)
Click on Pair a Device link. A dialog box will open. In the dialog box on pc, enter the characters that are displayed on your android phone. As soon as you enter and hit on next button. The entered data will be validated. You'll see a message displayed, "waiting for other device", on you phone and soon sync setup will be complete. Hit on Finish button on PC. Done!
It'll take time for the sync process to complete depending upon the size of your browser profile to be synced and your mobile phone GPRS/3G/4G net speed. The

sync will be processed automatically in background

. So everything is done. Enjoy the power and convenience of synchronized browsing in Mozilla Firefox on any device anywhere.
If you encounter any problem, or have problems setting it up, put your issue here in comments and we'll definitely reply to you to help solve your concern at the earliest.