There are several HD-TVs available but when it comes to UD TV, do you know any select name? When it comes to TV niche, LG mesmerizes us with innovative development and this time, it has come up with world's first 84 inch 4k 3d TV. TVs of this dimension is not something new as we have already seen such large televisions from other brands, what is new here is 4k resolution or the so-called UD (Ultra Definition) resolution. So, we had HD, FHD and now UD. UD resolution is justified for a tv as big as 84 inch but do we have content/videos of that quality readily available? Well, LG has made their triple xd engine equipped with resolution upscaler which will upscale the resolution of our videos or of the streaming content from Youtube, vimeo, etc as well.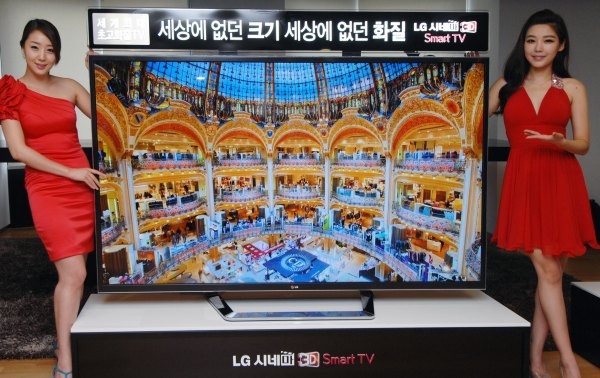 To add to the viewing experience, 3d is remarkably made better with 3d depth control feature. So, viewing 3d content on this TV will be rather more enjoyable. 3d sound zooming is also there which analyses on-screen objects, their location, their movement to generate a true 3d surround sound experience as well. LG also provides premium content services like 3d world which will feed you premium 3d content. As we all know that LG makes their TV with passive 3d technology and so is the case with this 84 inch LG UD TV. Passive 3d as reported has been very less eye-straining meaning which you can watch 3d content for hours without any feeling of nausea or headache or anything of that sort. 3D content on this large tv will really produce theater-like effect. 2D to 3D conversion and up-scaling is also possible on this TV but as per our past experience with 3d TV's, the up-scaling and conversion feature doesn't do much good.
It comes with 2.2 speaker system (Yes, it is 2.2 and we're not mistaken) as it has two 10-watt speakers and two 15-watt woofers so you can have a good listening experience with the inbuilt sound system. It is a Smart TV which means it has several apps and it can easily be connected with your tablets, phones, etc. It features 14000 apps. The magic remote responds to your gesture which means now you can control the UI of LG TV with common gestures.
This Smart Ultra Definition LG TV will be launched officially in September globally. With TVs like this, you can have your own personal theater in your house. DO you want to have this in your home?