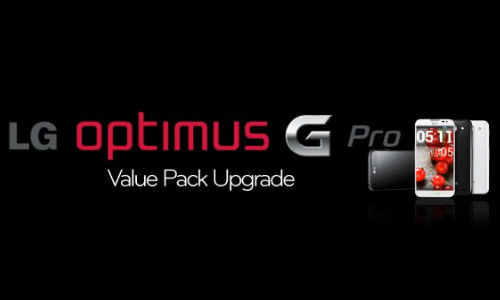 LG's high-end smartphone LG Optimus G Pro F240 (South Korean variant) which was showcased at MWC 2013, has got its first Value Pack upgrade available only for its South Korean users. This much awaited upgrade rolls out lot of new features as promised earlier by the South Korean Company and LG is also claiming in only South Korea they have sold over half of a million of this masterpiece till date. Importantly, Optimus G Pro was first launched in South Korea on 21st February 2013, and LG has put big effort to bring the latest features before the vast availability of its rival Samsung's new Galaxy S4 that also showcased those same features when unveiled last month in New York, USA.
Recently in Seul, as promised, LG has launched this official upgrade and also has started rolling out the update across South Korea. In a short video that was posted on YouTube, the South Korean smartphone manufacturer has demonstrated some of the new attractive features of LG Optimus G Pro. Let's have a look at those new trendy features which are coming bundled with this upgrade pack.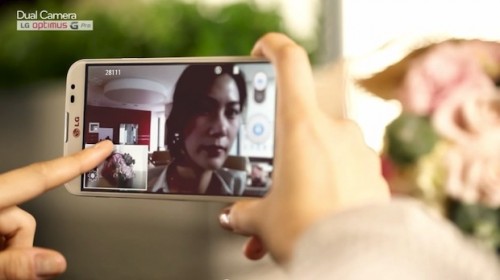 Smart Video: Feature capable of tracking users' eyes position and according to that automatically plays or pauses video without any manual input from the user. It uses front camera to recognize users' eyes position. It looks like LG is now taking elements of Galaxy S4's Smart Stay.
Dual Camera: This feature allows simultaneously captures of images using both the front-facing & rear cameras to produce picture-in-picture composition. It's kind of like Dual Shot feature of Galaxy S4.
Pause & Resume Recording: Feature that allows users to pause and resume while recording to produce the recorded moments in a single file, and not in several fragments. So, now you can capture more solid video.
Magic Remote Pad and Text Keypad via the QRemote option: Optimus G Pro has inbuilt IR transmitter and so this new option that work as a remote control via IR port and will work specifically optimized with LG's Smart Tvs.
Smart LED Lighting: This new upgraded feature will make the home button of Optimus G Pro glow and thus provide kind of visual feedback to users so that they could easily infer from the light colors, the source of missed calls, incomings calls, unread msgs, etc. Users will also be able to customize the color to correspond to desired favorite contacts. So, this is interesting and appreciate-worthy for sure.
Colored Emoticons: Touted as the first color Emoticons/Smileys in an android phone for more personalized text msgs, but we all know we already have several apps in Play Store for such usage. So, this is certainly not a great feature, yet it's good to have something like this.
Watch the official video from LG below for a brief overview of the new features of Optimus G Pro
After the grand success in South Korea, LG has recently introduced this beautiful 5.5 inch smartphone in Japan (L-04E model). But, there is no news of its worldwide availability as admirers across the world are waiting intensively. The LG Optimus G Pro Value Pack upgrade is now rolling out in South Korea available for all the three Korean network operators, SK Telecom, KT and LG U+.