Earlier it was just Galaxy S4 versus HTC One, now we've one more player contesting the never-ending battle of the best smartphone of year. Let's do breakdown analysis and comparison of some of the prominent differences among the top three android smartphones – LG G2, SGS4, HTC One.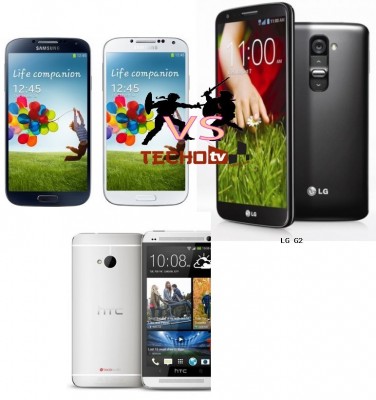 Display
– LG G2 has LCD IPS display, while S4 has SuperAmoled display, and HTC One has SuperLCD3 display. While we can not comment much on the quality of LG Display. When it comes to the best display type, Amoled display wins. When it comes to colors accuracy, HTC One has already scored no.1 position. This leaves G2 between One and S4.
Screen Resolution is the same on the three handsets. The difference in screen size leads to difference in pixel density. HTC One scores the best pixel density of 469 ppi with smaller screen size, s4 with 441 ppi, G2 with 424 ppi. Clearly, HTC One is winner here, but in my view, with ppi of anything over 400 is already more than enough for a display of about 5-inches, and so the difference in practical usage is noticeable by the user. Hence, none among them is winner in practical sense.
Talking about screen protection, LG and Samsung has integrated Corning Gorilla Glass 3, while HTC is using the older edition i.e. Gorilla Glass 2. Definitely 3 wins over 2.
Now, it comes down to size. LG G2 has 5.2-inch display, s4 has 4.99, one has 4.7. LG G2 is of the same size as of HTC One with about 1mm difference in height and width. G2 is thinner than HTC One, but thicker than Galaxy S4. The weight of LG G2 is also the same as HTC One. S4 being the lightest among the trio. If you can hold s4 or HTC One, you can hold LG G2. So, in terms of screen size here, LG G2 wins; but what Samsung can do with physical dimension is incredible and so in terms of physical dimension, s4 will always be our favorite (in fact, we'll be saying the same about galaxy s5 when it comes).
There is GRAM in LG G2. The so-called Graphics RAM is definitely nice chapter to smartphone displays. This will add to power saving capabilities of GPU as GRAM will increase battery life by upto 10 percent. It works best for static frame on displays by refreshing screen from GRAM instead of fetching from GPU. Depending on usage pattern, the power-saving effect of GRAM will vary from user to user.
Build Quality
– HTC One looks and feels the best. It is premium it claims to be. S4 and G2, on the other hand, utilizes plastic look and feel. It looks like LG is following the footpaths of Samsung. We'd advise LG to adopt the best thing, the positives, not the negatives.
Chipset
LG G2 is supposedly powered by the most powerful processor among the three handsets. Galaxy S4 and HTC One is powered by Snapdragon 600, while G2 has Snapdragon 800. SD-800 is even supposed to be more powerful than Exynos octa variant of Galaxy S4. Proven in several tests, Snapdragon chipset has been more battery-efficient than Exynos chipset. Being on the mighty chipset, LG G2 should lead the performance race, but we'd like point out that all the three phones are very much powerful. It basically comes down to how optimized the software is, how lag-free the experience is.
 Sound
: HTC One has boom sound, stero speakers on the front, beats audio enhancement. Galaxy S4 has nothing much interesting. LG touts of Hi-Fi sound in G2 considering it to be the first smartphone to produce 24 bit/192kHz Hi-Fi playback. Sound is something appealing in person, not on paper. So, we can't really say much about G2, but we do appreciate HTC One's sound quality.
Camera
– HTC One has ultrapixel camera with OIS (Optical Image Stabilization). LG G2 has 13 megapixel camera with OIS as well. One has 4mp camera whereas LG G2 has 13mp, similar to galaxy s4. Galaxy S4 doesn't tout of OIS. For camera quality, we can not be certain where LG G2 has superior than the rest. Given the excess of problems with Galaxy S4's camera firmware and quality issues in the past, we hope LG G2 doesn't come with similar problems.
Battery
– Again, verdict on this could be achieved only after test. Given the 3000mAh battery in G2 + GRAM advantages + SD-800 chipset, we may assume tha G2 may give us the best battery backup in comparison to HTC One with 2300mAh, S4 with 2600mAh battery.
Software features
– G2 comes with many features similar to S4. Both the smartphones are feature-packed, but we know of certain disadvantages of numerous features additions because of our experience with Galaxy S4. Galaxy S4 has much-less usable internal storage space and usually 1.3-1.5GB RAM remains in use all the time out of the available 1.8GB RAM. If similar fate is seen with LG G2, it would be a pretty disappointment. Lets hope for the best. HTC One, on the other hand, offers simplistic user interface.
LG G2 VS Galaxy S4 VS HTC One – Best Phones Comparison
Name
HTC One
LG G2
Samsung Galaxy S4
Brand
HTC
LG
Samsung
Screen Size
4.7
5.2
4.99
Screen Resolution
1920x1080 pixels, Super LCD3, Gorilla Glass protection
1920x1200 pixels, True-HD IPS+ Display, 16M Colors, Gorilla Glass 3 protection
1920x1080 pixels, Super Amoled Display
Pixel Density
469 ppi
424 ppi
441 ppi
Height
137.4 mm
138.5 mm
136.6 mm
Width
68.2 mm
70.9 mm
69.8 mm
Thickness
9.3 mm
8.9 mm
7.9 mm
Weight
143 g or 5.04 oz
143 g
130 g or 4.59 oz
Processor
Qualcomm APQ8064T Snapdragon 600
Qualcomm MSM8974 Snapdragon 800
Exynos 5 Octa 5410
Processor Speed
1.7GHz Quad Core
2.26GHz Quad Core
1.6 GHz Quad-core Cortex-A15 & 1.2GHz Quad-core Cortex A7
Graphics
Adreno 320 GPU
Adreno 330 GPU
PowerVR SGX 544MP
RAM
2 GB
2 GB
2 GB
Internal Storage
32/64 GB
16/32/64 GB
16/32/64 GB storage
Memory Card
External memory card not supported
External memory card not supported
upto 64gb external
WiFi
Wi-Fi 802.11 a/ac/b/g/n
Wi-Fi 802.11 a/b/g/n/ac
Wi-Fi 802.11 a/b/g/n/ac
Dual Band WiFi
Yes
yes
yes
Bluetooth
Yes, 4.0
Yes, 4.0
Yes, 4.0
3G
yes
yes
yes
4G
yes
yes
yes
3G Speed
HSPA +
42 Mbps;
42.2 Mbps
4G Speed
100Mbps
100Mbps DL, 50Mbps UL
100Mbps
Camera
4mp Ultrapixel
13 megapixel
13 megapixel
Photo Resolution
2688 x 1520
4128 x 3096
Flash
yes
yes
yes
Video Recording
Yes
Yes
Yes
Video Recording Quality
1080p Full HD @ 30fps
1080p @ 60fps
1080p Full HD @ 30fps
Front Camera
2.1mp, 1080p video recording
2.1mp (1080p video recording)
2mp, 1080p video recording
Release Date
February 2013
August 2013
March 2013
OS
Android 4.1.2 Jelly Bean OS, upgradeable to Android 4.2.2
Android 4.2.2 Jelly Bean OS
Android 4.2.2 Jelly Bean OS
NFC
Yes
Yes
Yes
Battery
2300mAh
3000mAh
2600mAh
Other Features

Camera Features - HDR, stereo sound recording, video stabilisation, ultrapixel concept, optical image stabilization (OIS).
Gyroscope-based, multi-axis OIS for both front as well as rear camera in HTC One phone.
MHL, TV Out (HDMI) supported
Micro-USB
3.5mm audio jack.
GPS
Infrared Port
Beats audio enhancement
Stereo speakers that produce loud and good quality sound output.
Micro-SIM
LTE (4G), NFC are market-dependent features.
Noise cancellation Mic
25GB free dropbox storage
HTC One is available in Black, Silver and Red colors.

Sensors - Accelerometer, gyro, compass, proximity
A-GPS with GLONASS
FM Radio
IR Blaster (Infra-red)
Camera has Optical image stabilisation, HDR, Panaroma, stereo sound recording, etc.
HDTV out via MHL
USB OTG
Hi-Fi Sound featuring 24 bit/192kHz Hi-Fi playback
Several software features like - Answer me for automatic call answering when the handset is brought close to ears; QuickRemote to allow the handset to be used as universal remote, With quickremote, the handset can also learn from conventional remotes; Slide Aside for easy apps switching via use of three fingers; Gues mode with secondary unlock pattern; customizable onscreen keys, toggles in notification drawer; several other personalization options.
Volume keys and power button at the back located below camera.
GRAM technology (Graphics RAM) for saving battery usage of display.

Model Name - GT-I9500
Dual mode support in camera to allow simultaneous recording via front and rear camera at the same time.
Other camera features - Zero shutter lag, BIS, Auto-focus, burst mode, story album mode, etc.
S translator, S health, Smart scroll, Smart pause, Smart Stay, etc.
Samsung Knox security.
Sensors - Accelerometer, barometer, gyro, RGB Light, Digital Compass, Proximity, IR Gesture, Temperature & Humidity.
4G LTE with global support including FDD-LTE, TD-LTE.