While Samsung is going to launch Note 3 and galaxy gear on September 17, Sony to launch Xperia Z1 on September 18th, LG India is also preparing the stage for official release of LG G2 in India. India is rapidly growing and 3rd largest smartphone market in the globe. No phone manufacturers can ignore India and they're all ready to churn more of the loyalty part of Indian consumers as we're known to stick loyal to reliable brands once they set their stronghold in our minds.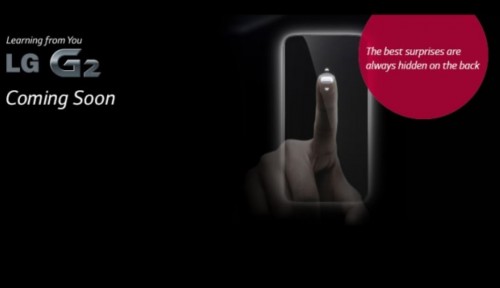 LG has posted a coming soon teaser featuring its flagship G2 smartphone. The teaser doesn't reveal the exact launch date but some sources have quoted 31st September as the launch date and the sale to take off from 1st or 2nd week of October. The price of LG G2 is also not available, but we hope to get more tidbits on this soon. The teaser image emphasizes on LG G2's power and volume keys placement at the back of the device just below the camera lens, which according  to LG, is more ergonomic and natural. G2 will compete with Galaxy S4, HTC One, HTC Butterfly S and Sony Xperia Z1. It comes with Snapdragon 800 chipset and 2GB RAM. The 13-megapixel primary camera with OIS features plethora of modes and options for photography needs. This mobile phone also has GRAM technology which is for more efficient power-saving. It comes with plenty of customization options in UI and has several extra features like galaxy s4. In fact, in terms of specifications on paper, G2 may appear to be better than Galaxy S4.
Sony Xperia Z1 appears to be close competitor with LG G2. Two major advantages of Z1 over G2 are its waterproof capacity and 20.7 megapixel camera. While Samsung's Galaxy S4 is already a top-seller among brands' flagship smartphones in India, the real competition seems between LG G2 and Sony's Xperia Z1 as both these companies are trying to strengthen their reach in Indian markets. We find LG to be struggling more for the same as the brand is not known for good after-sales support, regular firmware updates; but we're hopeful of the company as it wants to revive its reputation among consumers. So, pricing is another important and determining factor in the end.
On side note, Apple is expected to release iPhone 5s and iPhone 5c in India in beginning of October. This makes the high-end smartphone market further interesting as the race for leadership is incessant.