Just when Surface tablets by Microsoft was announced, I was taken aback. I asked myself, what happened to Microsoft's table pc which was originally called as Microsoft Surface Table. But Microsoft pushed its surface brand as its tablet division rather than table-top pc. After going through several windows 8 tablets launch, I asked myself – why aren't they utilizing the touch interface and capabilities offer by Windows 8 to build a big table pc like the original Surface table. It appears as if I was not the only one pondering over such possibilities. So, you've heard tablet hybrids, which could be easily converted into ultrabooks, or say ultrabook convertible. Here we're now getting all-in-one desktop hybrids, which could be easily converted into flat table pc. Lenovo has launched Lenovo IdeaCenter Horizon Table PC which is kind of hybrid pc, essentially all-in-one windows 8 touchscreen desktop pc that can be used like a table pc as well by placing it on such table stand or any other flat surface.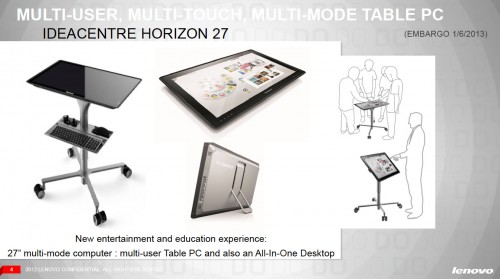 It is multi-user, multi-touch, multi-mode device intended for shared, collaborative computing experience – at home (In contrast, Microsoft's Surface table was intended for enterprise user and was hefty priced). The screen size is 27-inch. It is AIO Desktop pc. It comes with a kick-stand for using it as desktop. The screen resolution is 1920*1080. It supports upto 10-points of multi-touch experience. When used as Table PC, it automatically activates Lenovo's multi-user and multi-touch UI so that you can use this hybrid pc with your friends or family together.  
It includes Lenovo App shop which is powered by Intel AppUp which gives user access to over 5000 multi-user entertainment apps and games. Lenovo has partnered with Ubisoft and EA and others alike to bring more exciting and rich games for enhancing multi-user experience on this IdeaCenter Horizon PC. It comes with games like Monopoly, Draw Race 2 HD, etc. It also comes with educational apps and painting apps. Furthermore, It also comes with a special set of gaming accessories, which includes an e-dice and four joysticks and strikers so that you can enjoy digital gaming with touch and feel of physical accessory, something which Lenovo coined as "phygital".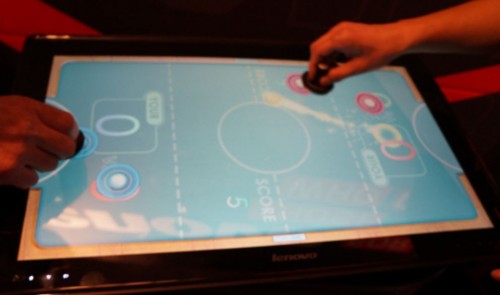 On the specifications front, it has full HD 27-inch display, 3rd generation core i7 processor, plenty of RAM, NVIDIA GeForce gpu, upto 1TB of Hard drive, limited amount of flash storage for faster booting, Dolby Home Theater v4 audio.
One can also opt for Horizon Multimode table which can easily moved and adjusted. SO, this adjustable table could be a perfect companion for IdeaCenter Horizon Table pc as it allows you to easily adjust height and angle of table pc. Furthermore, you can even make the pc stand like wall-type mount from flat lying position.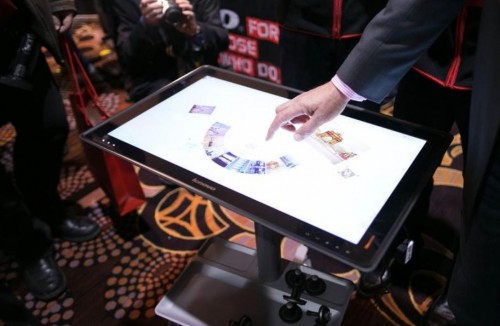 The price of Lenovo IdeaCenter Horizon Table PC starts at $1699 and the release date is scheduled for early summer, this year. The release date of Lenovo IdeaCenter Horizon Table PC in India is not yet known nor its price in India, but we do expect it to be released in India also. Like every other computer products, the price in India will amount to much higher in comparison to the price in US.
If this is not enough for your tech appetite today, let me inform you that Lenovo is working for 39-inch table pc which is codenamed as 'Gamma'. This shows that Lenovo is really serious and hopeful of Table PC and this may give rise to new breed of table devices, or are we coming close to what we've seen in movies, stuff like augmented reality?