It was a sunny afternoon when the delivery from Khadim's arrived at my doorstep. Eagerly, I unwrapped the package, only to be met with disbelief and disappointment. Instead of the two pairs of slippers I had ordered (order number 2358908), there was only one. This unexpected turn of events marked the beginning of a frustrating journey, one that would make me question the integrity of a brand I had once trusted wholeheartedly. Let me recount my personal ordeal with Khadims.com —a tale of betrayal that serves as a stark reminder that even the most reputable names can leave their customers feeling cheated, distrustful and disheartened.
The Issue- Missing item or Let's say – Missing Slipper Saga
Upon receiving my package, I quickly realized that there was only one pair of slippers inside, despite my order clearly stating two. The shipping label on the package also explicitly mentioned a quantity of one. Naturally, I was alarmed and reached out to Khadim's customer care to report the issue (ticket no 1448448). I had even alerted the delivery agent about the same and he indistinctly asked me to contact customer support as his job is only to deliver the package.
The Customer Care Runaround or Cheating measure of Delaying tactics
My first interaction with Khadim's customer care was met with assurances that the issue would be resolved. It is quite common case of missing items that I expected to be resolved swiftly. I provided photographic evidence of the single pair of slippers I had received, along with images of the shipping label clearly showing the discrepancy in quantity. I was told that the matter had been escalated and requested to wait for 2-3 business days for a resolution.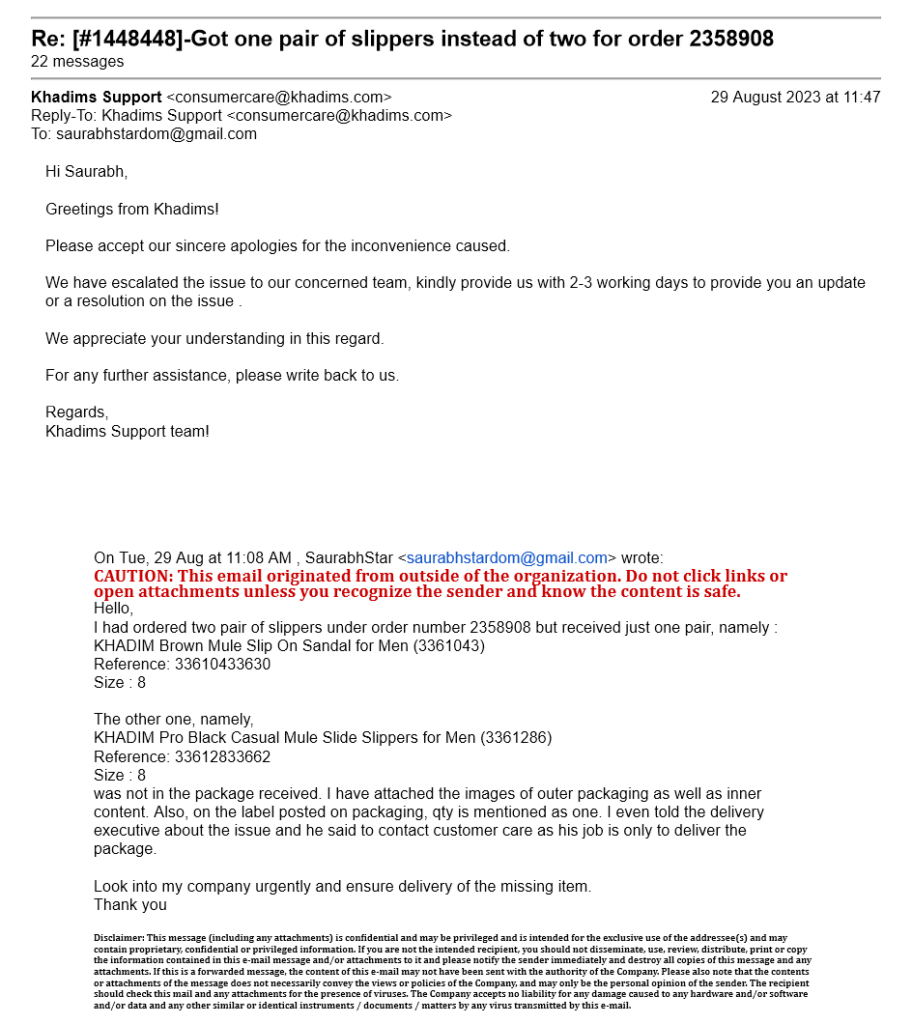 Days turned into weeks, and the only response I received from Khadim's was the same automated reply, asking me to wait for another 2-3 business days. I even contacted them via call but I was asked to wait another 2-3 business days each time. It became evident that I was caught in a loop of standard responses, with no tangible progress being made.
The Unreasonable Demand of Unpacking Video or Finding loophole to cheat customer
Finally, after waiting for over 20 days and several rounds of escalation, I received a request from Khadim's customer support to share an unpacking video of my order. This request felt nothing short of absurd. Nowhere on their website is mentioned that the customer needs to compulsorily record unpacking video.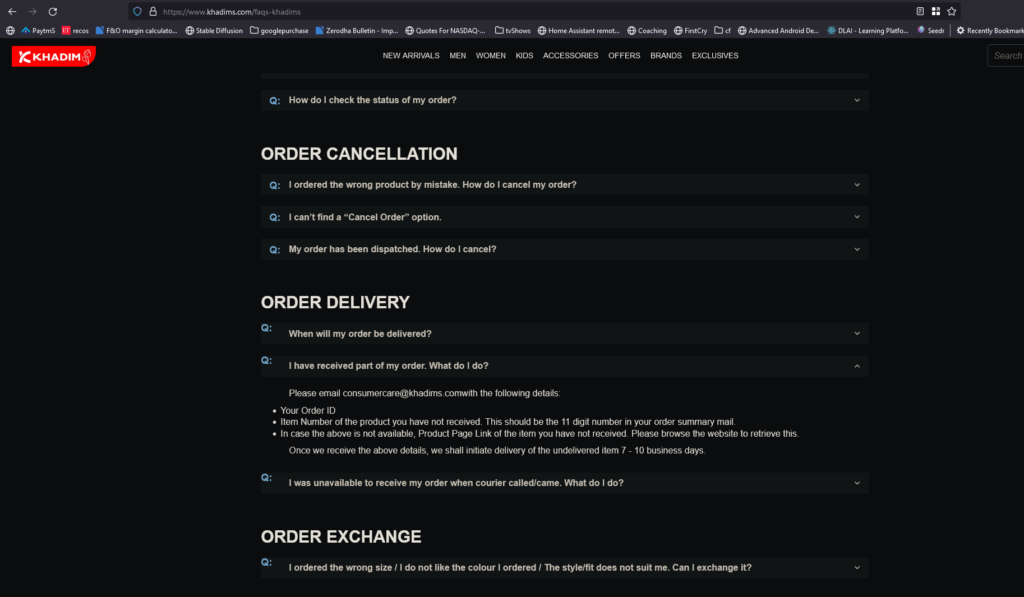 Their FAQs clearly state that in case of missing items, customer needs to just contact customer support and the missing item would be delivered on priority, but in reality, it is hoax. Who records an unpacking video for a pair of slippers worth just under Rs. 500? It was apparent that they were resorting to delaying tactics, hoping that I would give up and accept my loss.
Grievance Escalation to deaf ears
Determined not to be cheated out of my hard-earned money, I escalated my complaint to Khadim's grievances department via email as well (as given on khadims.com website) and even tried reaching out to their registered address office phone number and email contacts. Unfortunately, my efforts were met with false assurances and silence. There was no response from Khadim's, no acknowledgment of my grievance, and certainly no resolution in sight.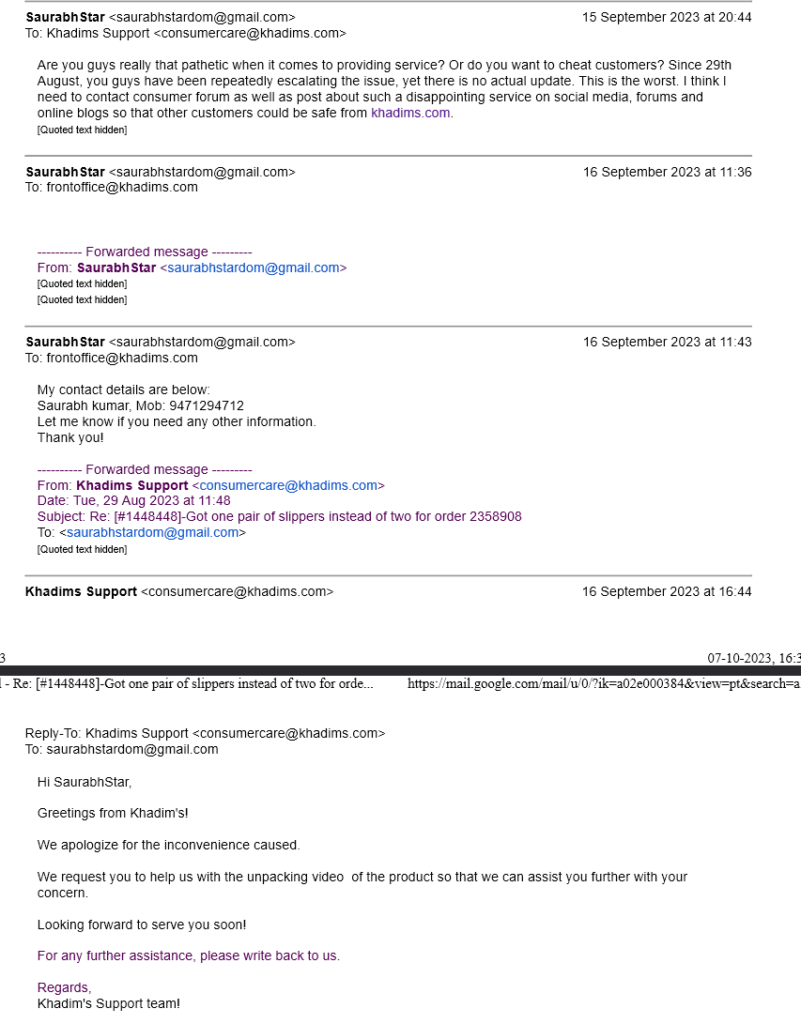 Lessons Learned – Even Brand's official shopping site is not safe, eCommerce Platform like Amazon/Flipkart way better!
My frustrating experience with Khadim's serves as a stark reminder of the importance of choosing e-commerce marketplaces like Amazon and Flipkart, where there is a robust grievance redressal mechanism in place. Unlike my ordeal with Khadim's, these platforms facilitate communication between the seller and the buyer, ensuring that grievances are addressed and resolved promptly.
So, my experience with Khadim's has been nothing short of disappointing and disheartening. As a customer, I expected transparency, accountability, and prompt resolution of issues, but instead, I was met with indifference, silence and sort of tactics employed by shady companies. It is a reminder that even reputed brands can falter in their commitment to customer satisfaction and service.
I hope that by sharing my story, I can alert fellow consumers to exercise caution when dealing with Khadim's brand official online shopping website – khadims.com, or any other and emphasize the importance of choosing reliable e-commerce platforms that prioritize customer trust and satisfaction. If you do shop on their website, don't forget to record video right in front of delivery executive, because who knows, on what grounds could they refuse complaint for their own faults.
Feel free to read the interaction with customer support team (in the pdf attached)