A lot of things have changed since Jio originally launched JioFiber and Jio Set top box. JioFiber plans have changed, Jio has started offering unlimited data-usage plans and so has changed Jio stb model variant and inherent os capabilities via software updates. With unlimited data usage plans, Jio stb has certainly become an attractive offering. I don't want to be exhaustive in my writing here. Rather, I want to answer all your doubts and queries related to the Set Top box offered by Jio Fiber when you opt for 2500rs connection in FAQs below:
Is Jio set top box Android tv?
Yes and No. It is heavily customized version of android tv os. Yes, it is android based but the interface is not that of official Google Android TV. In the about section, it says Jio OS 2.0. Neither is there Google Assistant nor play store or other android tv peculiar features. As amazon firestick is android based but heavily customized by Amazon, likewise Jio set top box is android based but customized to bundle and feature Jio apps and partnerships.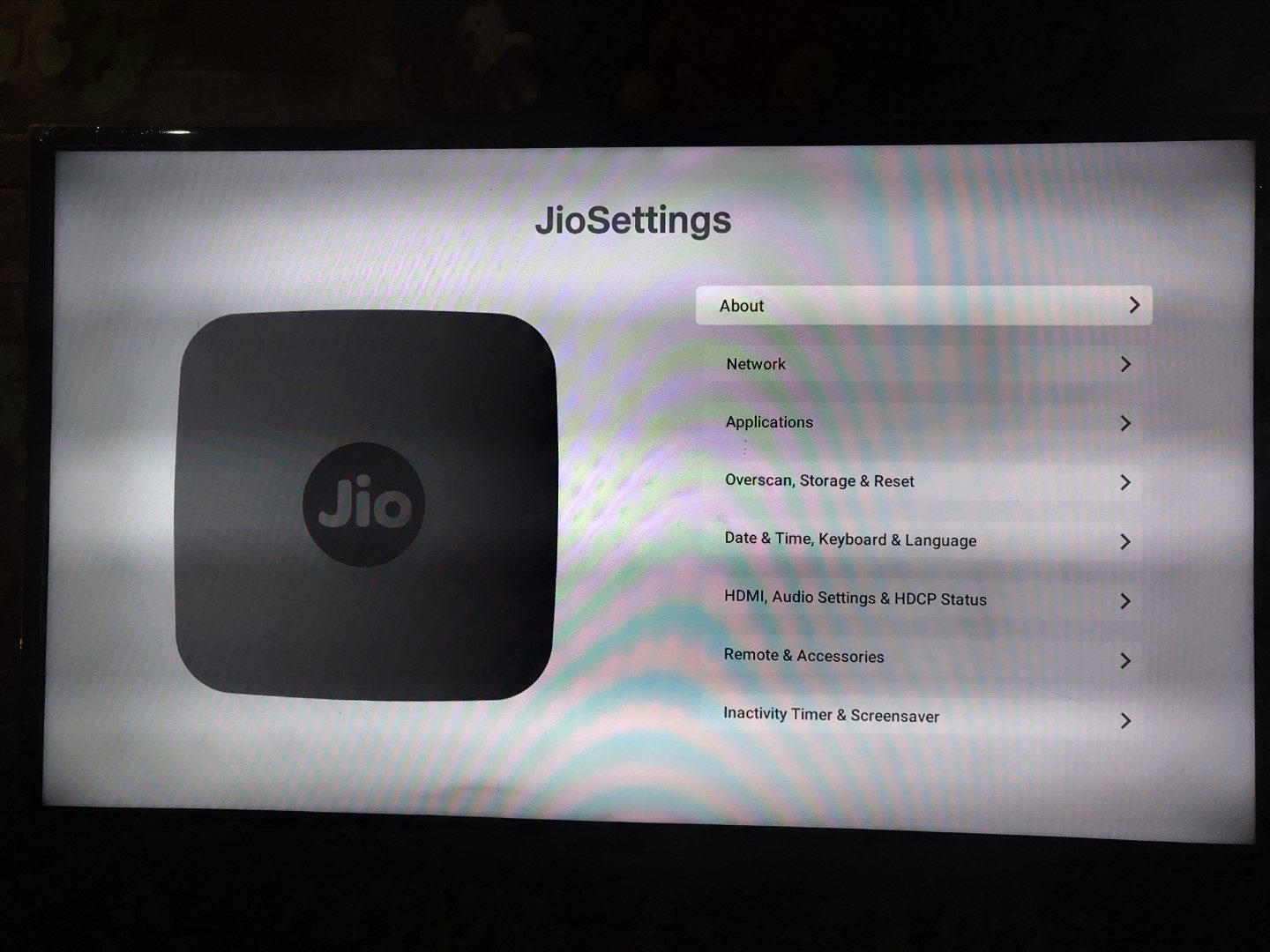 Can I install or sideload any android app apk on Jio set top box?
No. You can't. Users on earlier version of os on the Jio stb were able to sideload apps but the stb is automatically updated and Jio has disabled all such methods. Certainly, modding community will find a way and we'll tell you more about it but as of now, there is no way you can get your favorite android app on Jio stb.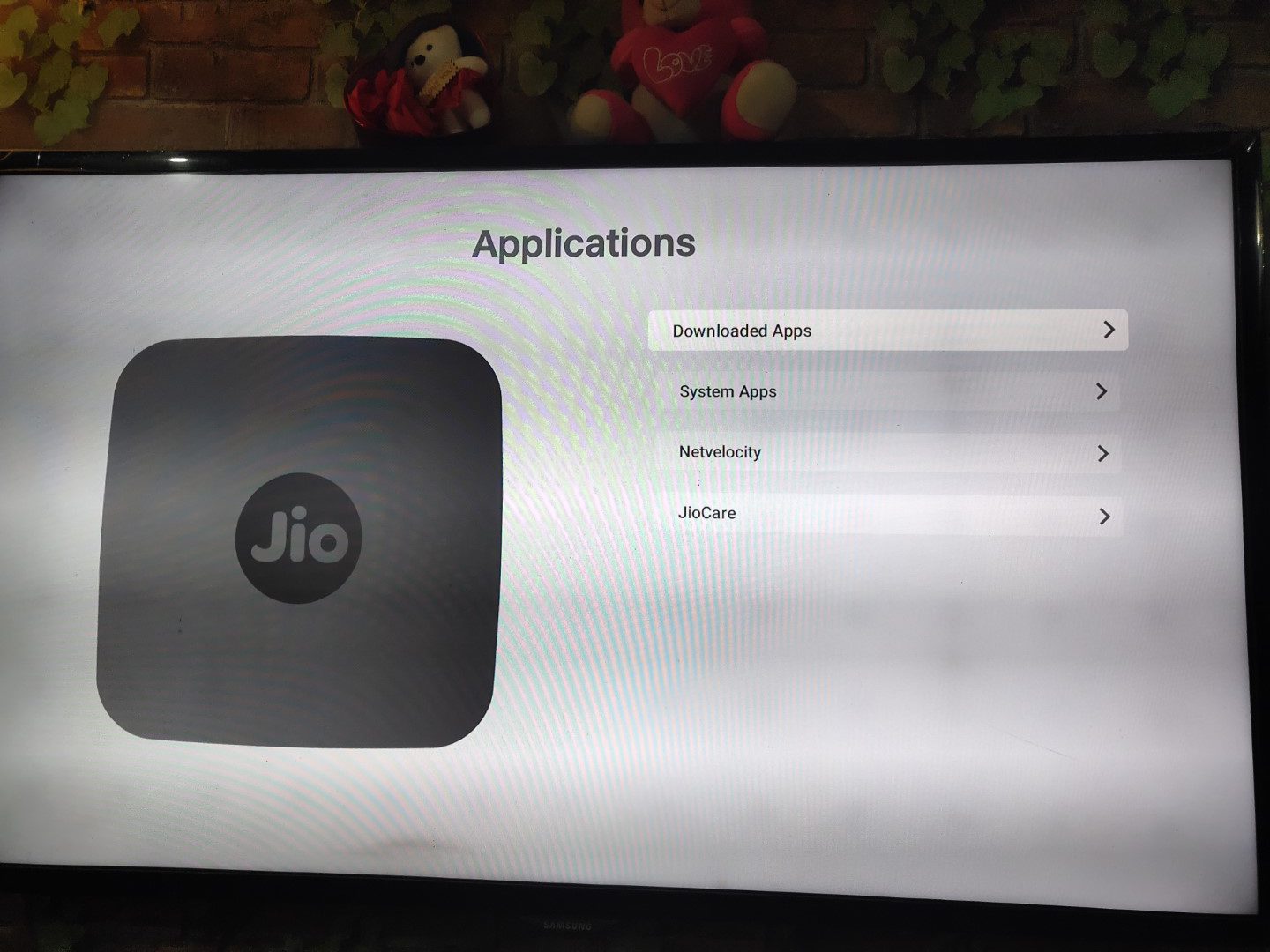 How do I install android app on Jio Set top box? Is Google Play Store present on it?
No Google Play Store is not available. You can install apps available on Jio Store in it. No sideloading apk files possible as of now, but we might find a way in future so stay tuned to our blog.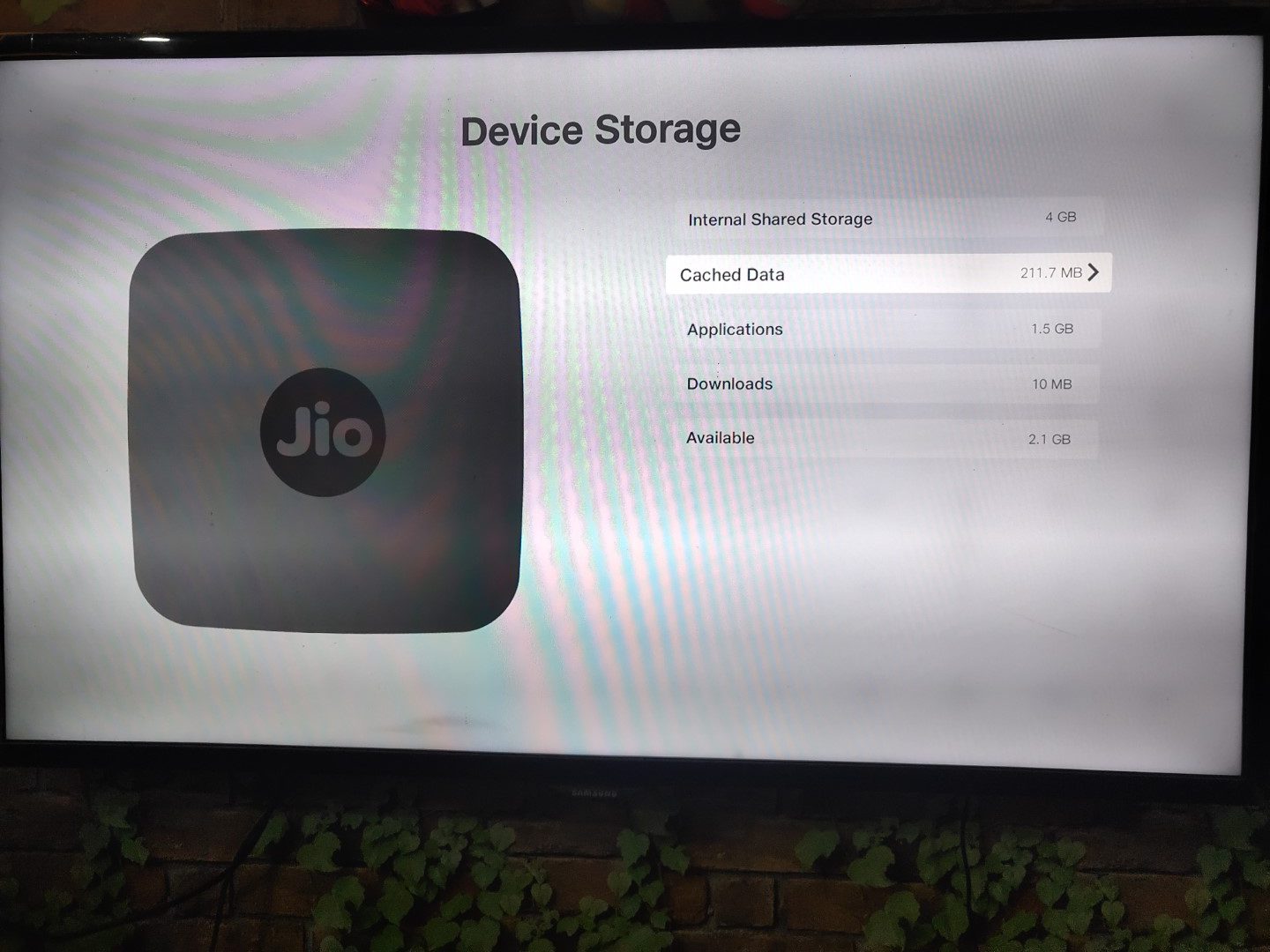 Can we browse websites on Jio Set top Box?
Is browsing smooth and fast on it?
Yes. JioPages is the browser app available on stb via which you can easily browse any website. You can also attach keyboard and mouse via usb port located on stb and use these to browse conveniently. Yes, browsing is smooth and fast for smart tv.
Can we use Google Assistant or Alexa voice command to operate Jio Set top box
No, Google assistant or alexa is not available on it. Though, Jio stb comes with voice-enabled remote with mic button on it which can be used to query stb easily. For example, easily search inside any app or launch any app on stb, but as of now, it is mostly limited to search and launch functions, not other smart queries or functions like that of Google Assistant or alexa available. Its voice recognition (speech to text) is indeed very good, we suspect it might be using Google voice recognition api behind the scene.
Is YouTube available on Jio Set Top Box
Yes, you can easily watch YouTube videos on it with its dedicated YouTube app.
Can we use internet connection of other isp on Jio Set Top Box?
Unfortunately no, Jio stb restricts its operation when connected to non-Jio Fiber network. The stb is locked so that it can be used only with active Jio Fiber internet. You won't even be able to watch YouTube on it without Jio Fiber. We've not yet found method on how to unlock Jio Set Top box to make it work without JioFiber network.
Can we watch live tv channels on Jio Set Top Box on the base 399 plan of Jio Fiber? DO I need to recharge JioFiber with 999 plan compulsorily to enjoy live tv or Jio stb?
Yes, you can watch live tv and use Jio stb easily on the base 399 JioFiber plan, also the speed of 30 mbps is more than enough to support 4k streaming as well; but the base plan doesn't offer any ott app subscription so to watch those channels that require premium subscription of an app, you need to use app subscription i.e. subscribe to the required app on your own. So, if you have hotstar vip subscrption, you can easily watch all star network channels and if you have zee5 subscription, you can watch zee network channels easily on Jio STB.
Is there aux port on Jio Stb? Can I connect Jio Stb to external wired speaker or bluetooth speaker
No, there is no aux port. You can not directly connect Jio stb to external speaker and use your LED tv just for display.
Update: With automatic firmware update to Jio Stb, now bluetooth devices including bluetooth speakers can be paired directly. Just go to Remote & Accessories menu and search for your bluetooth speaker to connect to Jio set top box. You won't be able to connect Jio Stb directly to external bluetooth speaker as well, although, Jio Stb has bluetooth inbuilt (in fact, Jio stb remote is bluetooth based, not infrared or rf based), its UI has no option to search and pair with bluetooth devices. This feature may be provided in future with ota updates. Moreover, there is one way in which you can connect Jio stb with limited sets of bluetooth speaker — for this, your bluetooth speaker needs to be smart i.e. you can easily connect your google assistant or alexa based smart speaker to Jio stb as these devices have app to pair with bluetooth devices. So, even though jio stb doesn't have any option in its UI to pair, your smart speaker has bluetooth pairing UI in its app and Jio stb will remain visible to pair. I have connected my echo plus smart speaker via bluetooth to Jio stb and enjoy the audio on it directly.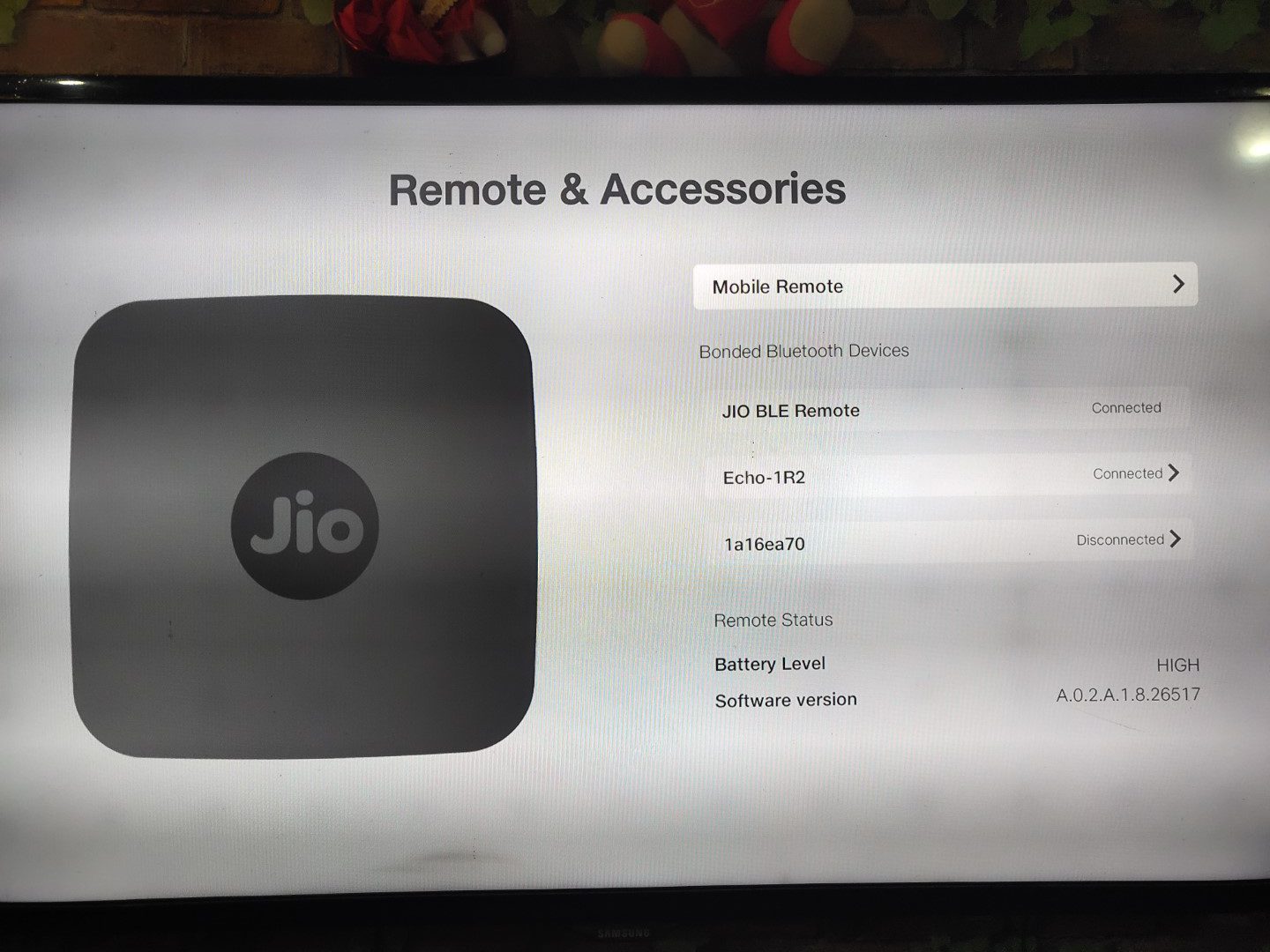 Does Jio Set top box support memory card, pen drive, external hard disk?
There is no inbuilt memory card slot but there are two usb ports on Jio Stb in which you can easily connect any storage device like pen drive, external hard disk etc and access files on it.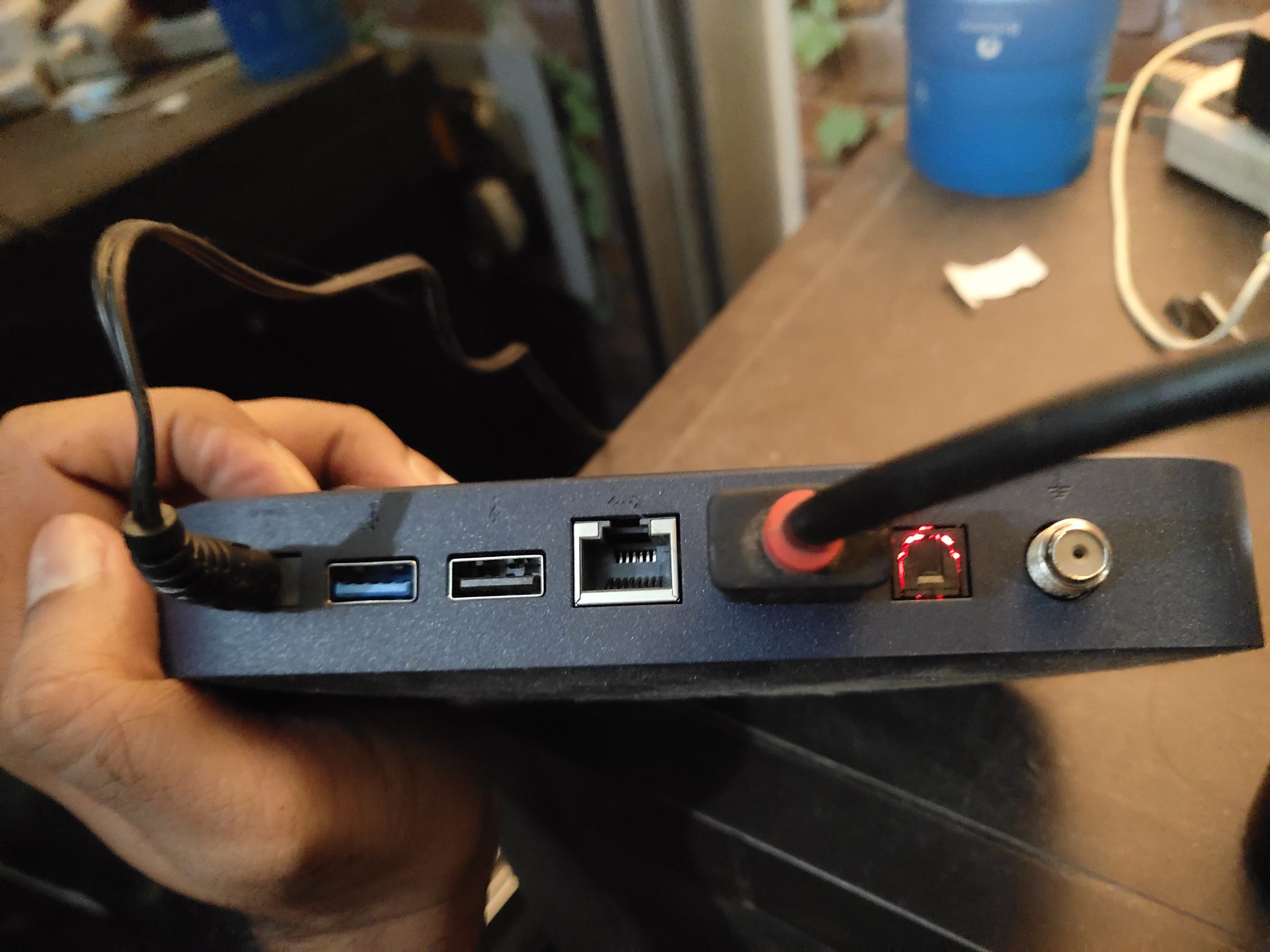 How is Jio Set top box connected to Jio Fiber Router?
Jio stb has dual band wifi support as well as Gigabit ethernet port. You can connect to Jio Fiber ONT/router either via 5GHz wifi band wireless mode or via lan cable ethernet mode.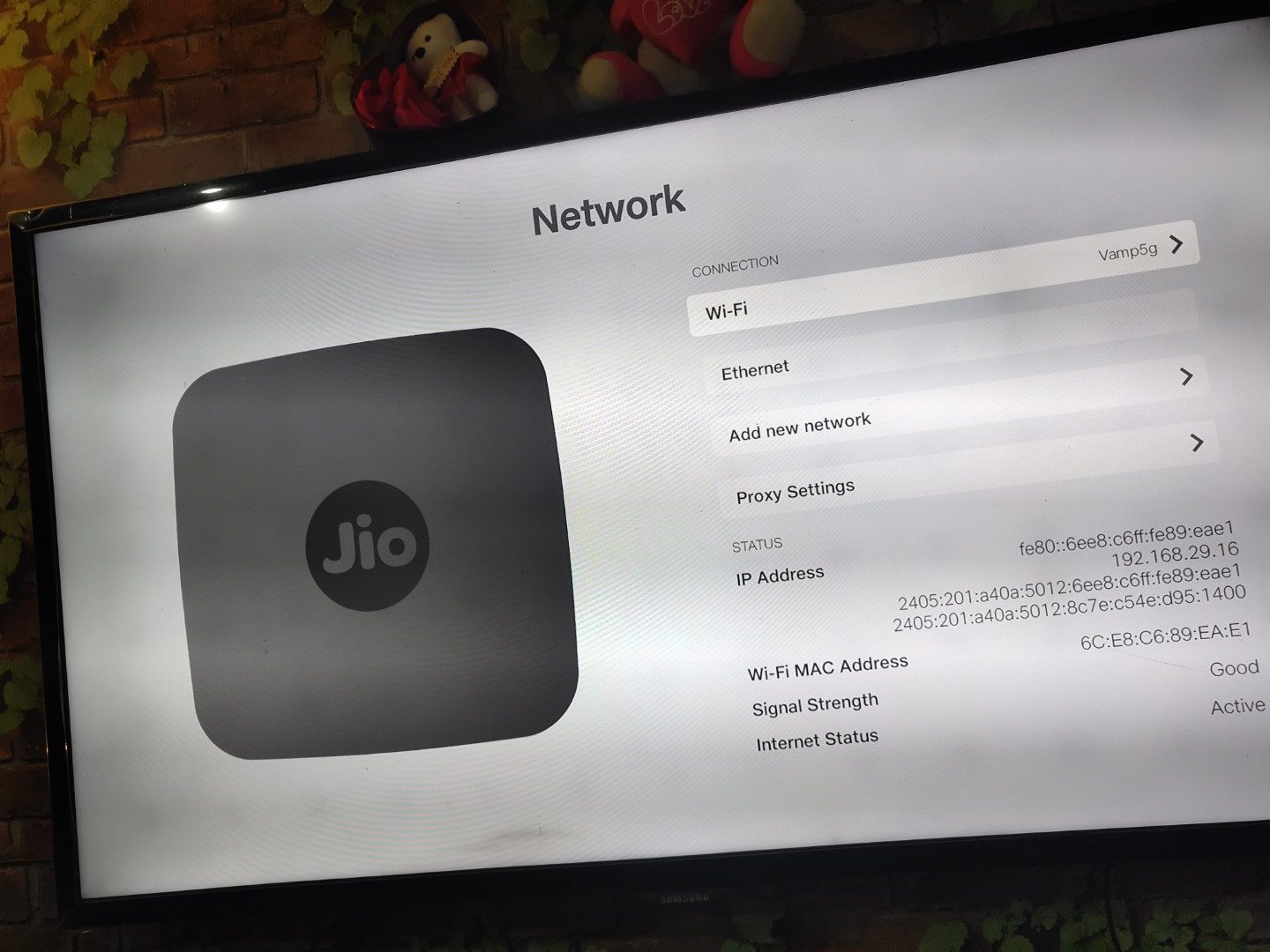 How to check JioFiber current speed on Jio Set Top Box?
You can easily check JioFiber network speed via Jio stb for informational or troubleshooting purpose. Go to settings > Applications > Netvelocity.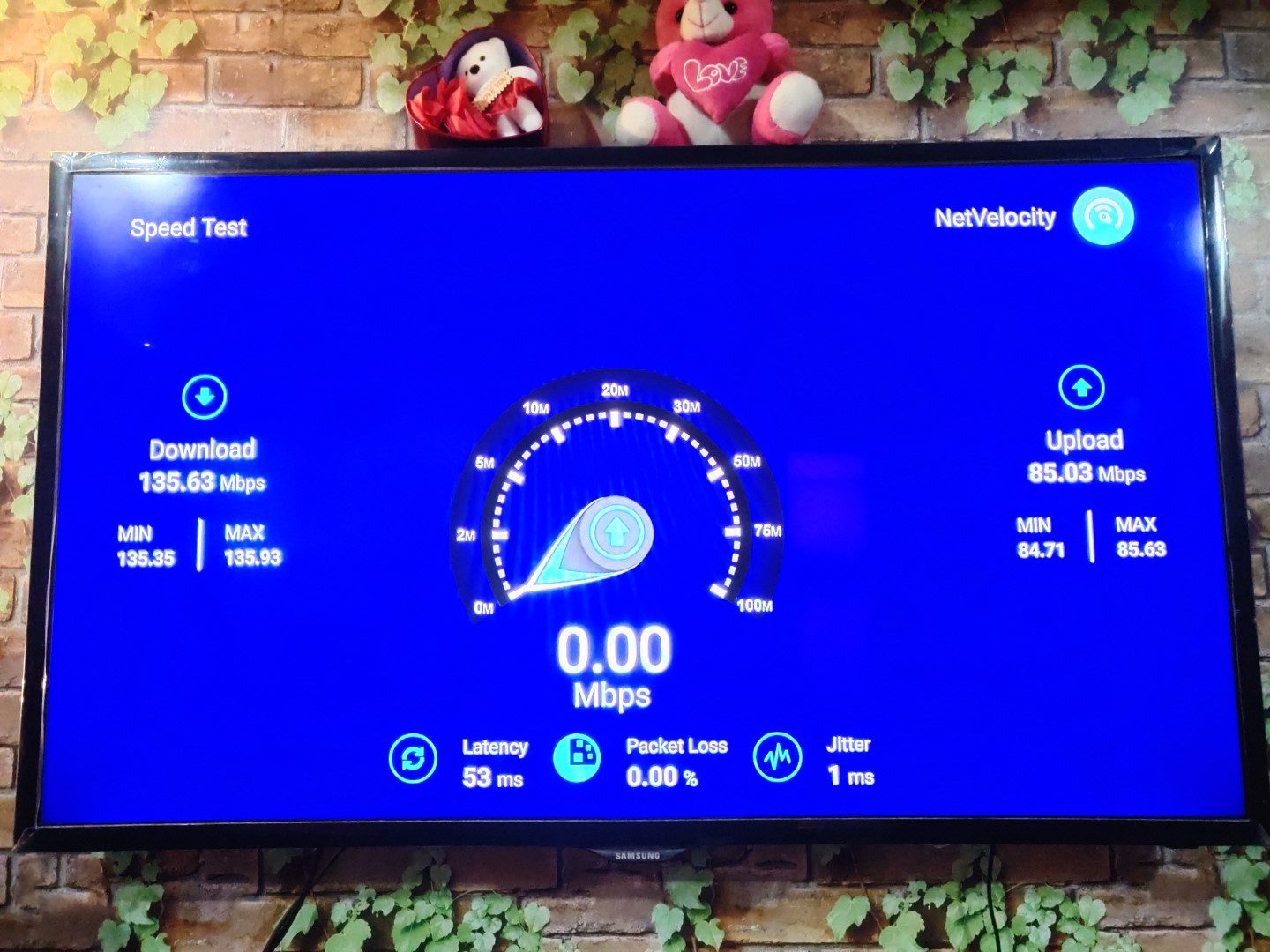 How to solve buffering or low-quality video issue on Jio Set Top Box?
If you are getting low internet speed on Jio stb, it might be because of bad connection mode between Jio stb and Jio Fiber modem/router. To fix this, ensure you are connected to 5GHz wifi (ac) band of JioFiber router and the wifi signal is of good strength or via >=CAT 5e ethernet cable. I have seen users connect to JioFiber router via 2.4GHz wifi band and face speed or buffering issues on their stb. If you're using the best mode of connection, do a speed test of Jio Fiber network. Still facing issue, contact Jio customer support.
How is the remote of Jio Set Top Box? Can I operate stb via my phone?
Jio stb comes with bluetooth based remote (not infrared) so you don't need to point the remote in direction of stb to operate it. You can even be in another room and the stb remote will work just fine. You can also check battery status of the remote on Jio stb. There is mic button on the remote for voice-based operation. Furthermore, you can operate Jio stb from your android phone by using Jio Home app on your phone. This app makes it easy to type on the screen as well. I personally don't like the build quality of the remote. Also, the buttons on the remote is too crowded. Jio should have offered a remote with better-build quality and less buttons. Pressing the button doesn't give premium feel as is offered by firetv remote or mi tv remote, etc.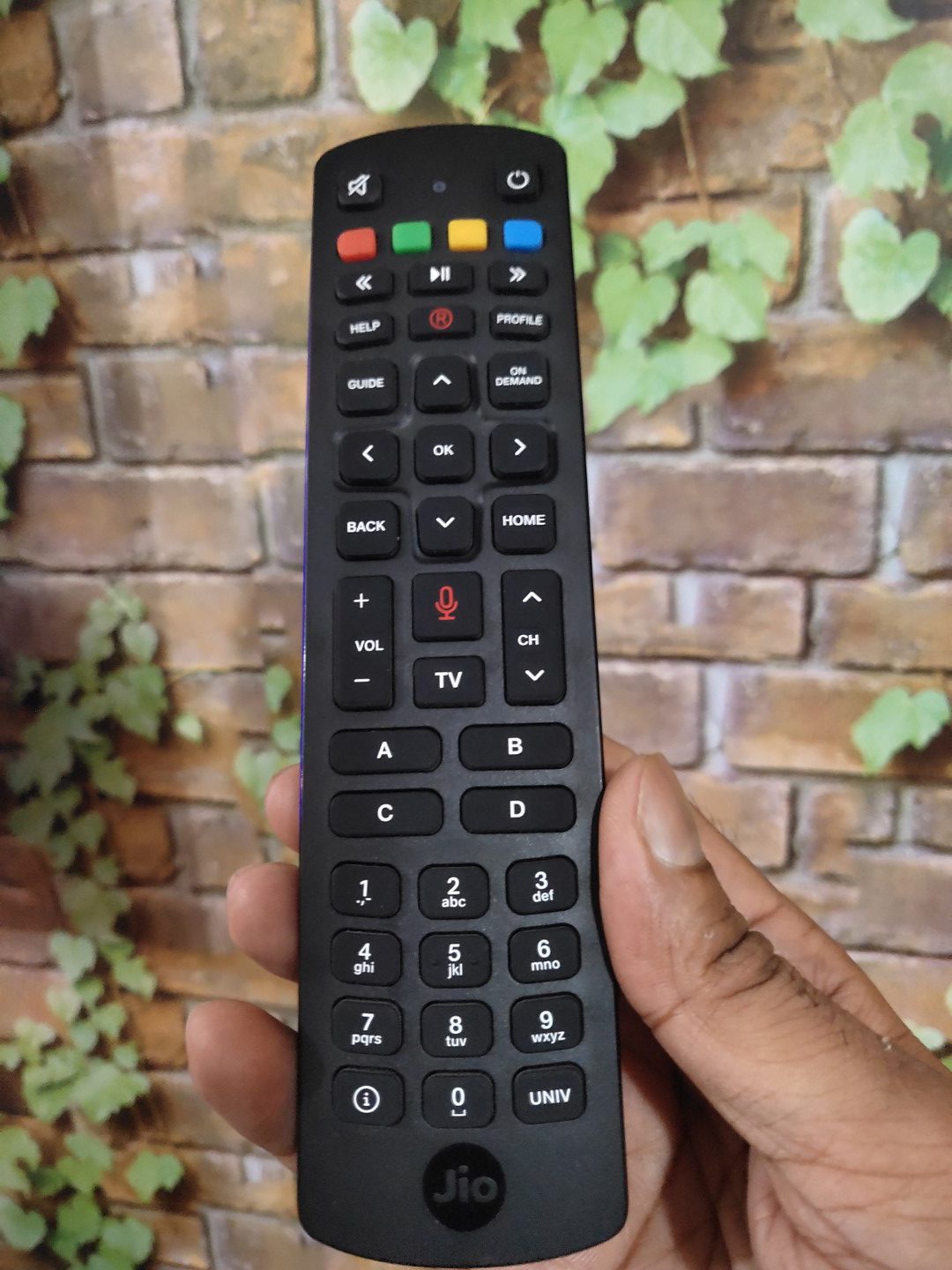 Can we play HD games or cloud games or Pubg on Jio STB?
Not yet. It is something that Jio will reportedly offer in future but right now such high quality games are not available. Nothing for pubg lovers here. Mini on-device games are available on Jio Store but those are not at all interesting. Cloud-based gaming is likely to come in future when you will be able to play latest high quality hd games directly on your tv without buying expensive hardware or gaming consoles.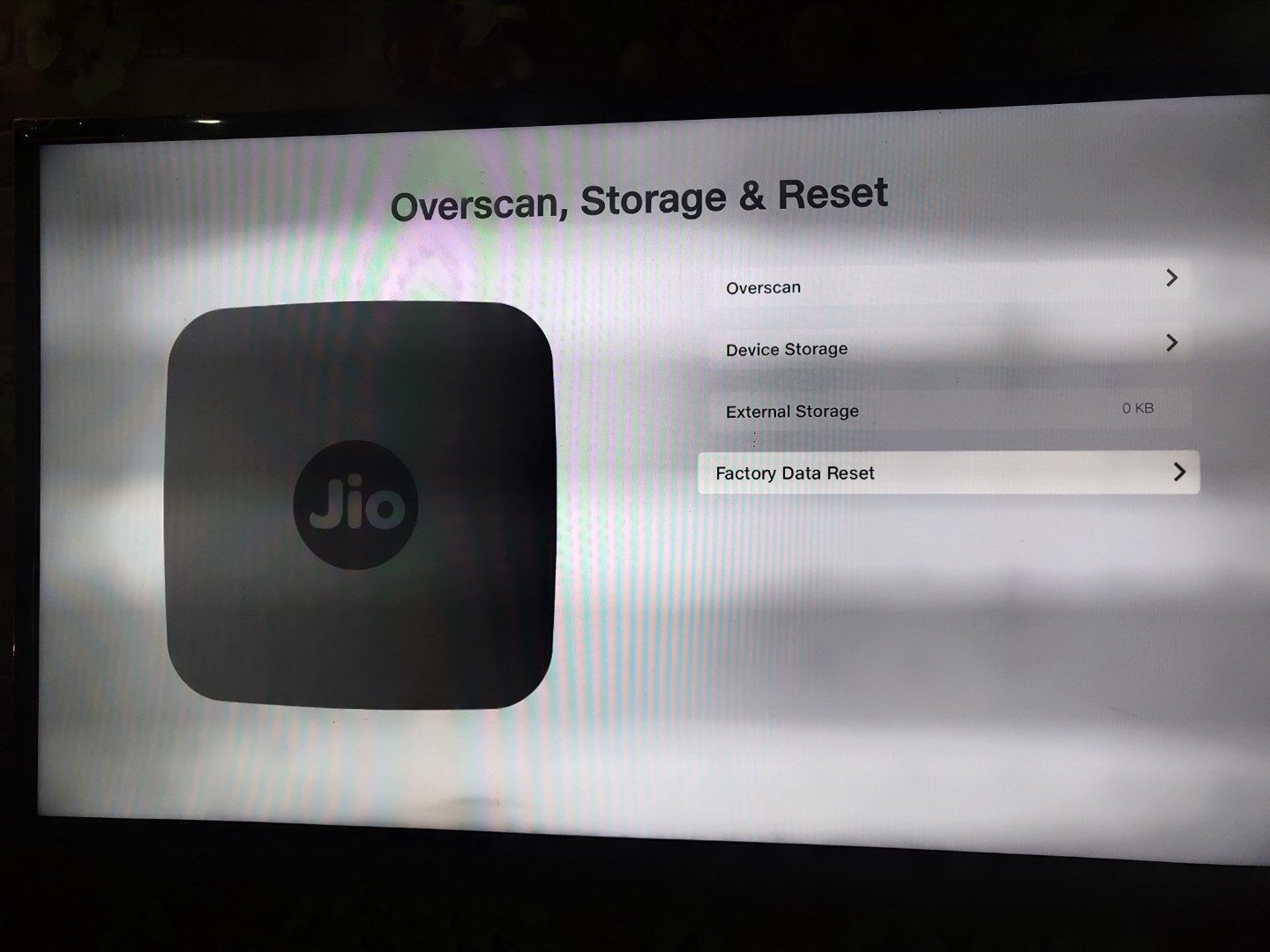 Should I go for 1500rs JioFiber connection without Jio Set Top box or with stb for 2500rs
In my opinion, go for 2500rs connection. By just paying 1000rs extra, you are getting smart 4k box. Even if you already have smart tv or amazon firetv stick or android tv box/stick from any brand, I'd recommend getting Jio stb, because it supports 4k, it has usb ports to connect peripherals, it has faster UI, it can easily convert non-smart tv to smart tv, it will offer several new features in future as Jio ecosystem grows, it costs just 1000rs extra.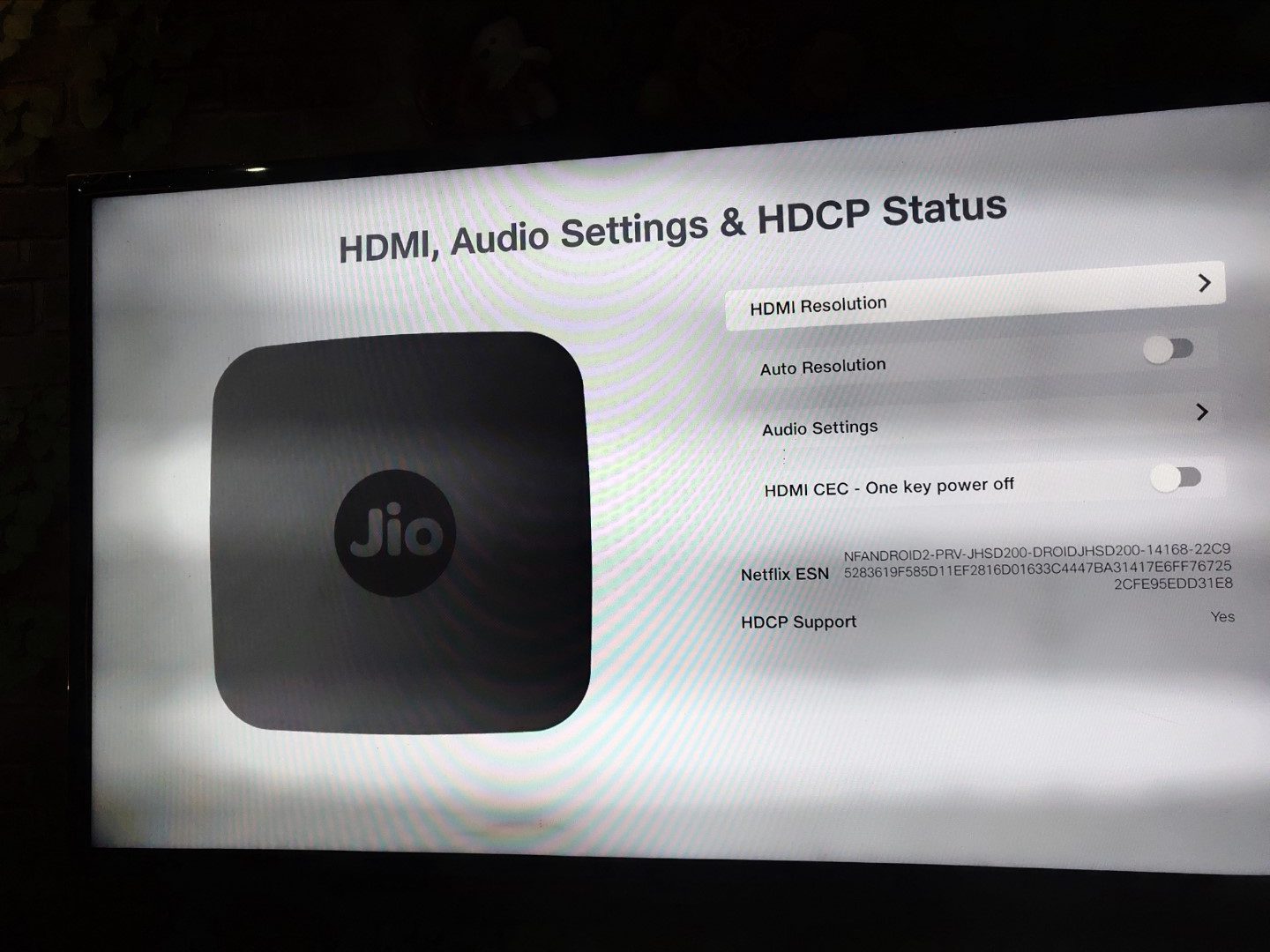 I have more queries related to Jio STB?
Sure, ask the queries in comment section below and I'll reply you for sure.
We'll keep this FAQs updated with more interesting questions and with latest developments in this niche. Bookmark this page and subscribe to our blog.