Did you know that you can recharge Jio with any desired plan/pack with your Jio account balance? Yes, you can top up your Jio number with any amount/talktime from time to time and when you want to recharge specific plan on your jio number, just use the accumulated talktime/balance to activate the desired Jio tariff plan. Now two questions arise, why would you want to activate any plan with your Jio number account/talktime/topup balance, and how to use Jio account balance to recharge or activate any Jio pack? Answer to the first question rests in the several recharge offers available online from time to time. Most of the websites like Amazon, freecharge, phonepe, paytm, mobikwik, niki, haptick, etc offer 25% or 50%-100% cashback on recharges, but they limit cashback to Rs.50 or Rs.30, or Rs 60 or Rs. 100, which sorts of defeat the percentage point but makes great headlines from marketing perspective. So, if you topup your jio number with necessary recharge amount from various websites and avail those great cashback offers, you can really save upto 50% instead of lame 50% cashback offer circumscribed by capping cashback amount.
To give you a more clearer picture, at present, Amazon is running 50% cashback offer capping maximum cashback amount to rs 50. Likewise, other recharges websites like paytm, freecharge, etc are also offering cashback offers limiting cashback to rs. 20, 30 or 50. So, you can do 100rs topup recharge(which gives 100rs talktime balance) from each of these service providers and avail maximum cashback in their wallets. Once you have accumulated required account balance, say Rs.400 in your jio number, you can use this balance to activate 399 Jio tariff pack. This is just one scenario. There could be several other cases in which users have talktime account balance with no good usage of the same. So, this option is great.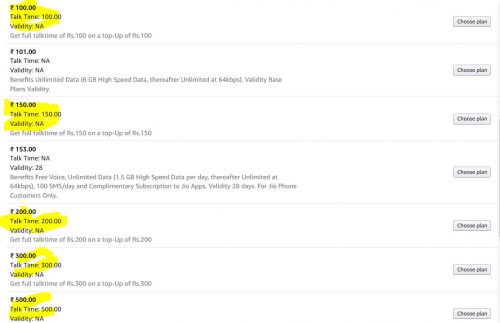 Given below are the steps to answer the second question. These steps work on smartphone via MyJio app or on Jio.com website as well.
How to recharge or activate Jio plan with already accumulated Jio account talktime balance:
Make sure you have enough account balance in your Jio number prior to following the next step to use mobile balance on Jio to activate any Jio pack. (Recharge of these amounts i.e. Rs 100, 150, 200, 300, 500, 750, 1000, 2000, 5000 — give full talktime balance on your Jio phone number. These full talktime topups recharge are also known as booster plans or topups or recharges)
Login to MyJio app using sim login option or otp or username/password on your smartphone.
If you have pc/desktop instead of smartphone, you can login to jio.com website using your Jio mobile number, via any method i.e. OTP or password as you choose. You can also use MyJio app on your smartphone.
Select recharge option (usually present at the right side after logging in) and choose the desired plan that you want to activate, and proceed.
You'll see an option to pay for the recharge with prepaid account balance as well as other options like credit/debit cards and wallets. Select the account balance option and go recharge.
If you're still not able to use your talktime balance to recharge, just watch the video at the top of this article.

Note

: DO NOT APPLY ANY CASHBACK COUPON OR DISCOUNT VOUCHER. Also,The prepaid account balance option won't be visible if you have less balance than the selected recharge plan.

Update:

If you're still not getting option to use prepaid balance for recharge, just select tariff plan without iuc topup voucher from Others plan section.
If you already have any other plan active on your Jio number, the freshly activated plan will be queued up and will become active automatically after expiry of the current plan. However, you also have the option to run two plans concurrently on Jio number utilizing data benefits of both the plans at the same time. For example, if you already have 448 plan active on your number and if you recharge and activate 448 plan again, you'll be able to use 4gb (2GB benefit of each pack) per day with their expiry dates intact and different as per their activation dates. For this, you have to login to my jio app, tap on view plans option, you'll see activate option on the queued plan. Hit on it to run two jio packs concurrently.
I hope the Jio recharge trick above helped you. If you face any difficulty or have any queries, feel free to inquire via comments below. I have also created and uploaded the video to verify and confirm this trick to those who are doubtful.