Retaliating against TRAI's continuation of IUC (Inter-Connect) charges, JIO made Jio to Non-Jio calls chargeable at 6paise/minute (Jio pays the same amount to Other network for non-jio outgoing calls). While shocking as it seems given the so-called guaranteed announcement and acknowledgement in the beginning that Jio customers would never have to pay for voice calls in India, it does still feel reasonable, though, talking strictly in terms of reasonableness and fairness, I have one question – Why doesn't Jio credit customer the same amount of 6paise/min for Non-Jio incoming calls? BUT Hey, don't forget, JIO revolutionized high-speed mobile broadband market in India, it provided much-needed impetus to digitalization of Indian mindset. While the current step by Jio does announce the corporate schema of any corporation — they're there to make money and no corporate promise is guaranteed for life(another fine example – scrapping of lifetime validity by all network operators), it does seem to advance scope towards zero IUC charges in future.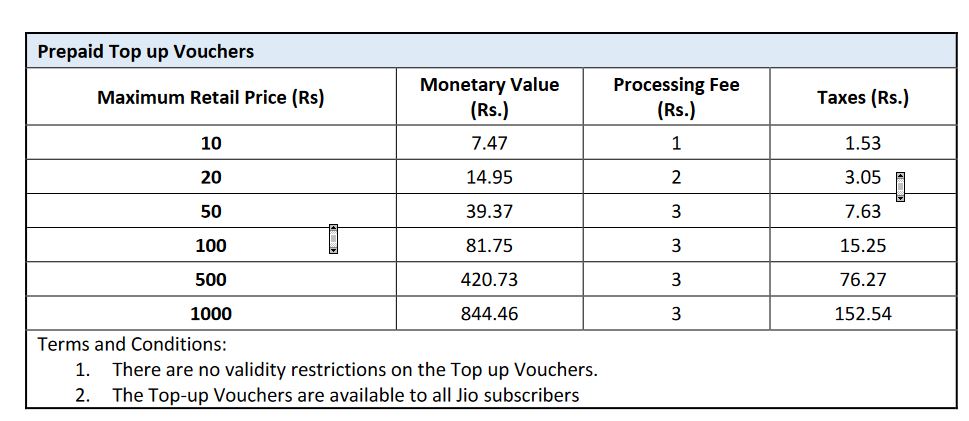 While Jio promises to charge just 6 paise/minute for non-Jio outgoing calls, the actual amount that the customer has to spend roughly sums up around 8paise/minute because of taxes and so-called processing fee charges, as 10rs IUC topup should credit around 166 minutes at 6p/min, but in reality 124 minutes is credited because Jio doesn't provide full talktime on these topup vouchers (1rs processing charger + Rs1.53 taxes; For topup of 50rs, processing fee of Rs3 and taxes of Rs 15.25 are levied from customers and so customer gets around 656 non-jio outgoing calls minutes only) and it costs roughly 8paise/minute for non-jio outgoing calls(also referred to as IUC minutes/calls). For heavy data users, this IUC topup is actually beneficial compared to available data-only topup vouchers as JIO promised to credit 1gb of extra addon-data for every Rs10 spent on IUC topup.
Moving on to more mathematics, the primary purpose of this article- Which JIO plan to subscribe to? The old plans with IUC topup voucher or the newly launched All in One plans which include additional non-jio outgoing minutes bundled as Jio has launched new All in one plans to minimize confusion of what amount of top-up voucher to opt and ensure non-interrupted non-jio calls as well. These all in one jio plans come with 2gb data/per day and 1000 IUC minutes except the 555 plan which comes with 3000 IUC minutes for those who have lots of non-jio calls to make. Here are the new plans:
Jio new 2gb/day Prepaid Plan with free Other network outgoing Calls: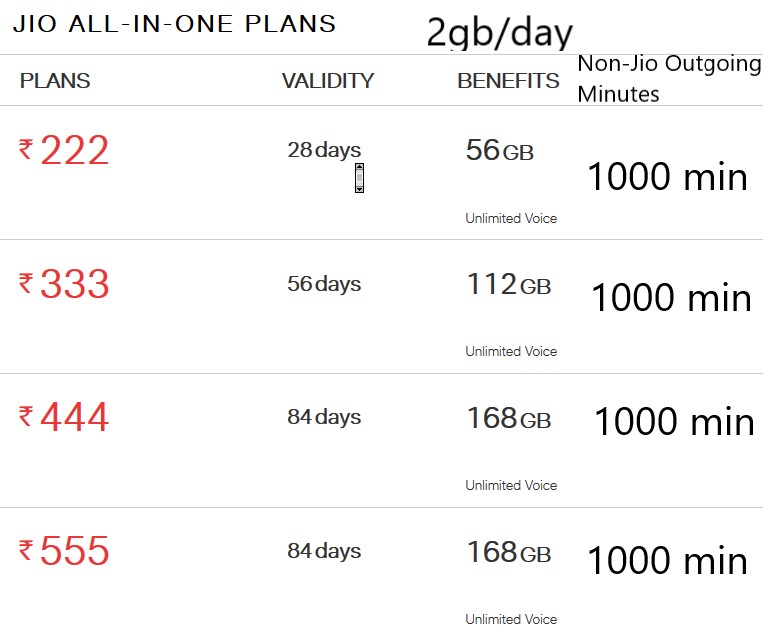 222 – 28 days validity, 1000 non-jio outgoing calls, 2gb data/per day
333 – 56 days validity, 1000 IUC minutes, 2gb/day
444 – 84 days validity, 1000 IUC minutes, 2gb/day
555 – 84 days validity, 3000 IUC minutes, 2gb/day
Clearly, the new plans offer more value for money compared to old plans. If we compare 448rs old plan which offers 2gb/day with 84days validity, the new plan of 444rs is clearly the winner. In fact, all older plans which offer 2gb/day don't fair better than newer plans. However, majority of Jio users used to recharge with 399 plan which offers 1.5gb/day with 84days validity. The price and validity equivalent is the 444 plan. So, by spending around Rs45 more, you're getting 500mb/day extra data and 1000 IUC minutes (remember, by topup of rs50, you'll get just 656 non-jio outgoing calls minutes and 5gb extra addon data).
Jio Old Plan VS Jio All In One New Plan – Which one to recharge – Which plan is the best
So, if you're among those users who don't spend much of their daily data limit and do not make much non-jio calls, 399rs plan could still be a better go, with option of recharging with 10rs topup voucher whenever needed to make non-jio calls. Also note, Topup voucher have unlimited validity, so your unspent IUC minutes in this case could be used anytime later.
Jio-Fi router or data-card users, go for 399 plan if the daily data of 1.5gb is sufficient for your needs.
If you do make more non-jio calls, go for 444 plan, irrespective of whether you utilize more of your daily data or not.
If you need either more of non-jio calls or more daily data, clearly 444 plan is a much better fit for your needs.
I hope this article has addressed your confusion if any, and provided insights into Jio prepaid recharge plans and Non-jio outgoing calls. If you still have any query, feel free to voice your concerns and oinions in comment below.