Gone are the days of buying bare act books or download law bare act pdfs when you have the option of using much more intuitive and easy ways to refer to various Indian laws or fetch details about sections anywhere anytime from your phone. Such a convenience is especially appreciated by lawyers, judges or even the general public if they are dealing with complexities of legal tussle.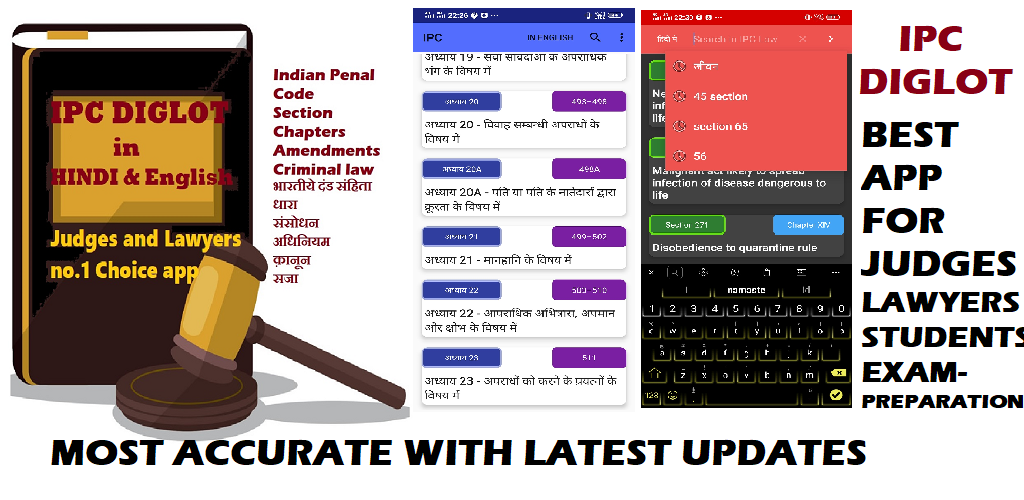 In this article, we are talking about the best app for Indian Penal Code aka IPC, the very basis of criminal law in India, also called as Bhartiya Dand Sanhita in Hindi. IPC Diglot app is the only app available on android play store which features each and every section in dual language i.e. English as well as in Hindi language. Yes, you read it right, you can toggle language from the app interface at any time and read more about the section you're interested in, to interpret in language of your choice. Also, most of the other apps on play store are outdated, whereas IPC Diglot app is regularly updated to include the latest criminal law amendment in English and Hindi.
Here are some of the prime features of this IPC Diglot app:
Read any IPC section in English or Hindi. Convert language on any page. The hindi part is not Google translated as found in low quality apps, rather real translations as originally inscribed.
Change theme to match your preferred color.
Dark mode for easy reading in night.
Regularly updated with latest criminal law amendments including 2013, 2018, etc.
Take practice challenge of unlimited IPC related MCQs(Multiple Choice questions) – Very useful feature for law students to boost their memory and learning.
Easily search about any crime or section related to crime by using search feature in the app.
Easily share any section or copy, paste it in any document.
Daily reminder in notification bar with random section of IPC to boost your knowledge of the law.
Mostly preferred and recommended by esteemed judges, lawyers and law students.
If you like the app, share it with your friends and tells us about your experience in comment section below.