In Windows 8, Internet Explorer 10 is there and surprisingly, for the first time, Internet Explorer browser not only looks appealing, but is also as fast as other competing browsers like Mozilla Firefox and Google Chrome. IE 10 is with two modes i.e. Metro mode as well as desktop mode in Win 8.The metro mode of IE 10 looks even more appealing with minimum distraction, full screen mode, faster speed and swift browsing. Download link of Internet explorer 10 is given at the bottom of this article for users of previous version of windows OS, other than windows 8.
By default, if you open internet explorer from start screen, it should open right in start screen as other windows metro app, while if you launch internet explorer from your desktop, it'll fire up in desktop mode. But on some computers especially on such where user has upgraded their existing OS to windows 8, or have installed other web browsers, no matter from where you launch IE, it always open up in desktop mode by switching to desktop UI. This happens because internet explorer is not set as your default web browser. If you want to access IE metro app mode, you need to make IE 10 as your default web browser. Here is how to do it :
Launch Internet Explorer from anywhere i.e. Start Screen or Desktop mode.
Hit on Settings icon in the top right side and select Internet Options
Navigate to Programs Tab, Under Opening Internet Explorer section, if Open Internet Explorer Tiles Option is disabled (you can not check or uncheck it), click on the link located there- Make Internet Explorer the default Browser . This will open a new window. Select Internet Explorer in the Programs list and then hit on Set this program as Default. Close the window.
Close Internet Explorer and then repeat step 1 and 2 again i.e. launch IE and go to Internet Options and then to Programs tab.
Make sure Open Internet Explorer Tiles on Desktop is unchecked. Hit Ok button and close IE.
Now switch to start screen and launch Internet Explorer by tapping or clicking on its icon in Start Screen. It should start right in metro app mode with full screen visibility. Enter any url in the address bar which shows up at the bottom. If nothing shows up or if you want to open another website, just right click in it to bring tabs and address bar in view.

We'll review both the mode of Internet explorer in upcoming posts and will also present a thorough comparison of Internet Explorer 10 with the latest version of Mozilla Firefox and Google Chrome. On windows RT based tablets, IE 10 is the only browser supported. This time, we're certain that Microsoft has put lots of efforts into IE development and we're amazed by the speed of browsing in IE 10. Check the image below to see how our website looks in internet explorer metro mode.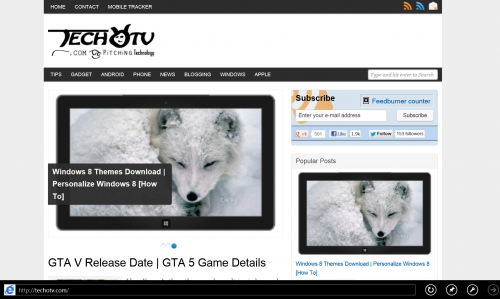 IE 10 Download – Internet Explorer 10
If you're not on Windows 8 (Win 8 users already have IE10 installed by default, so no need to download it), you can easily upgrade your existing IE browser to the latest version and build of IE 10 as this browser has really improved a lot, and is faster in terms of browsing speed. It is also reliable and swift, safe and secure. The latest version of internet explorer is compatible with HTML 5 and CSS 3 based websites and can easily render even complex and heavy websites using less of your system resources.
Download IE 10 for windows 7 from here .
Note: Metro edition of IE 10 won't be available for previous version of windows os including windows 7.