HTC One, arguably one of the best 2013 smartphone, has been selling in India for long despite its shortage issues from time to time. As seen from HTC India's official website, HTC One Dual SIM model will also be released in India soon as the website reports HTC One Dual SIM and HTC Butterfly S as 'coming soon'. So, this will be the first dual sim flagship model from top android brand in India. Dual SIM variant of HTC One is already launched in China, and now slated for India keeping in view the popularity of dual sim smartphones in India. To the contrary, Galaxy S4 dual sim model(GT-I9502) has not been launched in India nor any such plan on Samsung India's part, even though Dual sim model of SGS4 is already selling there in China. Samsung has launched dual-sim model of most of its galaxy series smartphones in India, but not of its flagship series till date.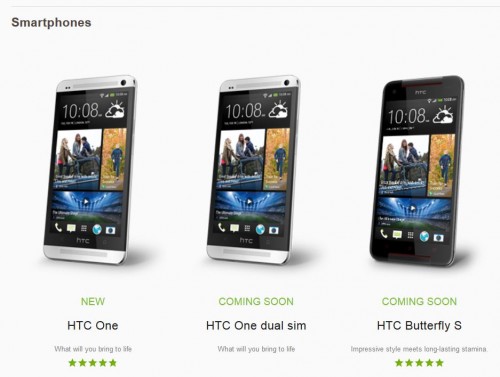 Apart from dual-sim capabilities in this variant, it has also removable micro-sd card slot, which makes it another selling point in favor of HTC One, as many users including me, do prefer micro-sd card slot. Rest of the specifications are the same as the single sim model of HTC One. Since the dual sim variant has removable micro-sd card slot upto 64GB, it comes with downgraded internal memory of 16GB, in comparison to the currently selling 32GB HTC One single sim variant in India. We can confirm this from the specs page on the official website for this variant.
I've been longing quite a while for dual-sim variant of top android smartphones. With this good news, I feel a little bit of remorse as I've already bought galaxy s4. I may even wish to sell my Galaxy S4 for the dual-sim HTC One when it launches. Anyways, we'll keep you updated with any more development in this regard. So, stay tuned with us for HTC One Dual SIM release date in India, its pricing and other details. We expect it to start selling either from the last week of August or from September. The price of the dual-sim variant may be of the same price as the single sim variant because the dual sim variant is expected to come with just 16GB of internal storage in comparison to 32GB in single sim variant.