So, HTC One phone is launched and you've been eagerly waiting for its benchmarks score in comparison to other high-end phones, well here it is. HTC One has Snapdragon 600 chipset clocked at 1.7GHz. This chipset is really the most powerful for now as HTC One easily wins the benchmark tests comparison with other phones like Galaxy S3, even the newly launched Sony Xperia Z. Hard to believe me? Well, the numbers given below speak for themselves.
On AnTuTu benchmark, you can see that HTC One clearly wins over Sony Xperia Z, Galaxy S3 and even HTC's own Butterfly phones. Higher is better.

On Quadrant benchmark, HTC One puts all other phones to shame. With score of 11746, it just outperforms. Sony Xperia Z ranks at the second spot with 8075, but the difference between Sony Xperia Z and HTC One is a huge number of about 3000. It looks like more is there inbuilt in Snapdragon 600 chipset. Higher is better.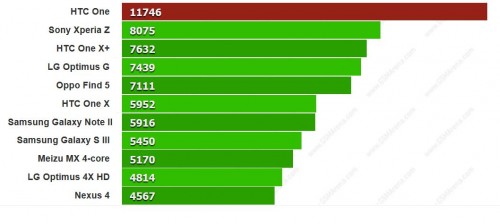 On Linpack benchmark test which tests multi-threaded performance and system's floating point computer power, HTC One wins here also, although not by a good margin. (higher is better)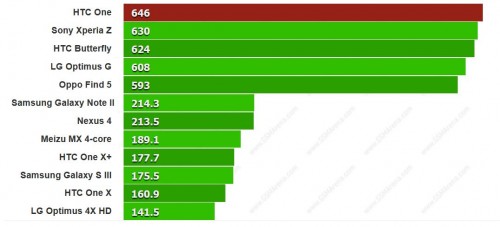 On Sunspider benchmark of HTC One (for core javascript performance. Lower is better), HTC One is not the winner here. HTC's One X+, Galaxy Note II, iPhone 5 are ahead of HTC One as you can see in the chart below, but do note that Sony Xperia Z is far below on this scale as well.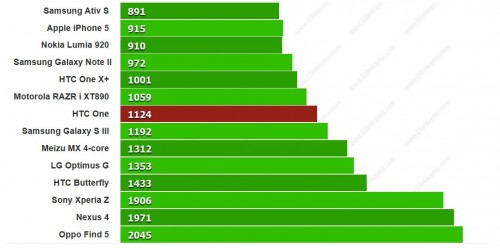 On BrowserMark2 benchmark (as the name suggests, it basically tests browser performance. Higher is better), HTC One is little behind LG Optimus G but trailing ahead of Xperia Z.

On Benchmark Pi (which is another interesting benchmarking application as it calculates performance of cpu by calculating the Pi and measures time consumed. Lower is better), HTC One wins here as well with impressive score of 151. They leave Xperia Z behind in the race by about 100ms.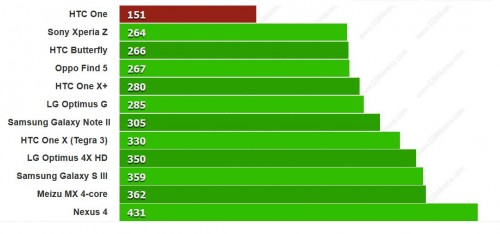 So from these benchmark tests and comparison of HTC One with popular phones like Sony Xperia Z, Samsung Galaxy S3, Apple iPhone 5, LG Optimus G, HTC Butterfly, etc., HTC One can be seen as real performer and it defeats all other smartphones in terms of processing and computing power. So, we can say that HTC One is currently the best phone in market with the best hardware performance capabilities. We'll see how the charts change when Galaxy S4 is launched.