Lots of gossip and buzz is generated for the upcoming HTC M7, flagship smartphone from top Taiwanese manufacturer, even though the name of the handset is not certainly confirmed via any source. A new short infographic has been posted by HTC as a teaser to its upcoming and intelligent camera and sound features on supposedly HTC M7. As the given image, you can see that the company is boasting of its Videopic feature that was introduced in HTC One X in 2012, and then the strong headline 'Megapixel wars escalate' giving reference to the best camera phone Nokia PureView 808, and suggesting that HTC is ready to compete against the best camera phones with its upcoming new sound and camera experience. This clearly gives us that something sort of surprise is up its sleeve, and the company can't wait to spill the beans, although it's trying to hold the temptation to do so very strongly. We've read recent reports of HTC CEO using the upcoming HTC M7 to take pictures in a party. So, this infographic teaser report further confirms another report published on Pocket Lint, which suggests a new camera technology and terminology is ready for HTC M7.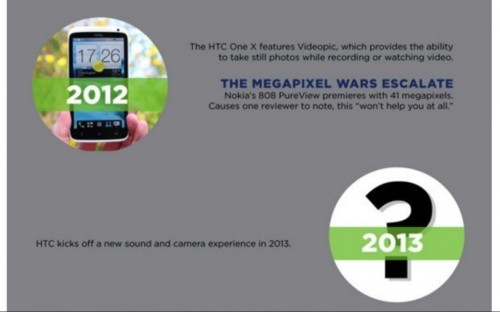 As per Pocket Lint's sources, HTC will equip its upcoming flagship phone with a new camera sensor, which it will call as Ultrapixels. The new camera sensor will be made up of three 4.3mp sensors layered together to produce a final image of about 4.3 megapixels. As per the rumors, we knew that M7 will be equipped with 13mp camera, well if you add three 4.3's, you'll get total of 13mp; the only difference here is that the resulting image is not of 13megapixel, although the lens used could add to that count. This particular technology will result in a very clear, crisper photos with better color accuracy. So, here HTC is trying to something similar to what Nokia did with PureView camera, although both these technologies and the implementation are different technically. Hence, the term ultrapixel has been devised by HTC for referring to its new camera, because using 4.3megapixel term or 13megapixel may seem confusing to the end-users. Of course, this suggests that finally we'll be able to capture great photos with our smartphone camera, but is the reduction in pixels count of the final image justified? This remains to be seen and we can't comment on this unless the veil is officially lifted from it and we get to see what it captures. Also, if the new camera sensor is able to produce amazing results in lowlight condition?
The teaser image also suggested a new sound experience. This may mean a better sound chip, or something with its exclusive beats audio partnership? Well, all of these questions will be answered by February 20th, so stay tuned with us for more details, analysis and reports.