After the revelations and official launch of Sony Xperia Z which stands tall and unchallenged as the best android phone (atleast for now), everyone's eyes are poking right into the other manufacturer's like HTC, Samsung, LG's vision of the upcoming phones. Let's talk about HTC, known for building aesthetically, appealingly beautiful android handsets. So, what is in store for consumers seeking to replace their HTC One X, which is the flagship phone from HTC since previous year. HTC did launch HTC One X+, but as the name indicates, it was just a upgrade designed to meet needs of specific users who wanted inbuilt more storage space. It launched HTC J Butterfly which took the world by surprise owing to the gorgeous Full HD display on 5-inch smartphone. So now, we're leading to the rumored upcoming flagship phone from HTC called as HTC M7.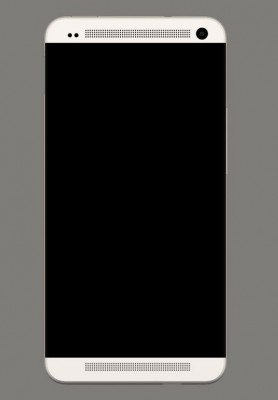 HTC M7 phone name ?
Let's talk about its name first. The naming convention of HTC is really weird. We've iPhone 4, 5, etc in gradually increasing number count as we've for Galaxy s, s2, s3, etc. But HTC has really distinct naming scheme, which I think, is not very healthy at all. From marketing point of view, it increase overall cost of marketing. Samsung has established its Galaxy S lineup flagship android series. SO, when people hear about galaxy s2 or s3 or the upcoming s4, they know that these devices are high-end and of the best kind from Samsung. But, in case of HTC, due to distinct naming scheme in the flagship series, the overall cost of marketing and consumer mind mapping go less effective. Anyways, all the rumors and reports currently point that the upcoming device will be called as HTC M7, but in real it may turn out to be codename, while HTC might have certain special name coined to market their phone's features in unique way as they did with HTC J Butterfly (Butterfly signifies beauty, natural vision – This somehow may co-relate with naturalistic visuals and display quality features of HTC J butterfly).
HTC M7 Specification
Now that we're talking about technical specification of the phone, which seems fairly easy to predict/guess given most of the android handsets are almost similar in particular high-end bracket. So, as per the rumors and reports from several sources, HTC M7 is likely to feature specifications similar to that of Sony Xperia Z. Quad-core Snapdragon S4 pro processor with clock speed of 1.7GHz and 2GB of RAM for high-end multitasking performance. But our word is that HTC M7 might feature the newly launched Nvidia Tegra 4(which Nvidia claimed as the fastest mobile processor, along with the best GPU on board) because HTC One X+ has Tegra 3 so this indicates that there might be a strong tie-up between HTC and Nvidia. So let's see what eventually empower M7.
HTC M7 Design
HTC has really been serious about the design of their phones. They always care to provide premium feel to their flagship lineup. They're like Apple of android mobiles. But, take this with pinch of salt as their HTC M7's leaked pictures also suggest design similarity with Apple's iPhone. Look at the picture below. Well, this pic doesn't have any sort of branding or model name embedded anywhere. So, it might be that we're looking at a very early stage prototype of the proposed handset. As we already know about the court-room drama between Samsung and Apple over several patents, including patents for design features, we hope HTC doesn't want to get involved in such co
urt-battles. But somewhere we feel that HTC may be provoked enough to come out with this possible M7 design citing the cross-patent licensing deal they did with Apple for the next 10 years. The exact terms of licensing deal is not out for public review, but given Apple's exquisite focus on iPhone's design, we highly feel that Apple will never allow any other company to make a phone similar to the design of iPhone. We'll keep you update with more leaked images of HTC M7 as they're out. For now, this one shall satisfy your curiosity.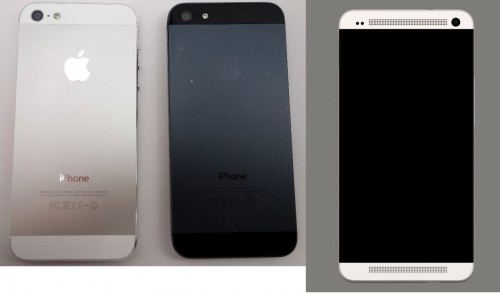 HTC M7 Display
The display in HTC M7 is certainly of Full HD resolution i.e. 1080p because it is HTC that brought 1080p to smartphones with their limited launch of HTC Butterfly for the first time. The screen size can be issue of debate here, though the rumors suggest 4.7 inch screen size. Note that if this screen size turns out to be true, we'll be looking at the smallest screen size with Full HD Resolution on a smartphone because all these newly launched smartphones with 1080p display sport 5-inch screen. Our Word – We're kinda skeptic about 4.7 inch size. So it may be 4.7 or 5-inch. Your thoughts in comments?

HTC M7 Camera
LG had packed its Optimus G with 13-megapixel camera. Sony followed the suit and equipped Xperia Z with 13mp rear camera. Samsung is likely to do the same in Galaxy S4. So, it's pretty clear that HTC M7 is also going to feature 13 megapixel camera with Full HD recording capabilities and a 2-mp front camera. Of course, the camera module will also boast of certain uniqueness in its capability and photographic features.
Other possible features include Beats audio, stereo speakers, 2300mAh battery.
HTC M7 Release Date, Price
HTC M7 will be announced at the upcoming MWC, Barcelona and then the release date of HTC M7 will be unveiled, so we might be getting our hands probably in 2nd quarter of this year. The price of HTC M7 will be somewhat close to that of Xperia Z and we've not hint of price of either of the phones. So, let's wait for the revelation of price of any of the two phones so that we could be in a proper position to make promising prediction on pricing. We've earlier read reports of struggling and the declining profit of HTC as opposed to Samsung which dominates the smartphone market and makes considerable amount of healthy profit. So, lets see how HTC M7 will change the phone market game – both for consumers and the company.
Note: We update this article with news, reports and rumors as we find out. So, bookmark this article and be assured that you're reading the latest info on HTC M7.