So you've been waiting for Nvidia Tegra 4 powered android device? Now, you wait is over as HP has just announced android tablet cum laptop hybrid with detachable keyboard, HP Slatebook x2. This detachable tablet pc is powered by the powerful Tegra 4 chipset. Although, the exact clock-speed of the processor is not yet announced, we'll find it out soon later when this tablet arrives in August and is priced at $469.99 USD. Yeah, that's more than 2 months of wait, but is the wait worth it, let's find out!
HP Slatebook X2 Specifications
HP Slatebook X2 has Nvidia Tegra 4 processor, 2GB of RAM on the inside, but what's on the outside is equally impressive. The display of this tablet is FULL HD 1080p IPS Panel, which means superb resolution, good pixel density, great viewing angle, and of course the screen size is 10.1-inches. There is plenty of storage space as well i.e. 64GB of internal memory and micro-sd card slot for adding additional storage capacity.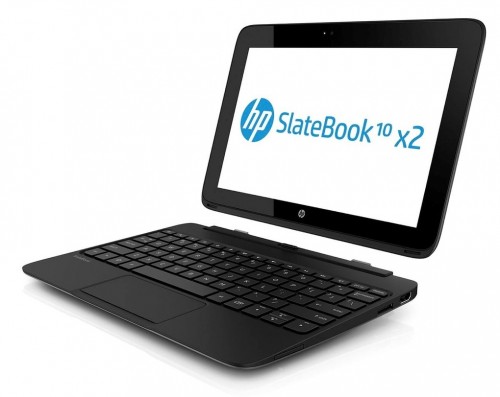 The detachable keyboard that is not just a keyboard dock for the tablet, but also contains two USB ports, extra battery, HDMI port, sd card slot. SO, with dual battery setup, this tablet can run for longer hours exceeding 8 hours of continuous usage.
It has 2megapixel rear camera and HD front camera. The speakers has DTS+ sound optimization.
Nvidia Tegra 4 CPU/GPU
2GB RAM
10.1 inch screen size
1920×1080 pixels screen resolution, Full HD IPS Display, capacitive multitouch
Pixel Density – 218 ppi
64GB of internal storage
support for external memory card.
Comes with detachable keyboard as part of the box content (not as optional accessory).
The keyboard houses 2 usb slots, hdmi port, sd card slot, extra battery.
2mp rear camera
HD front camera
DTS+ sound
Android 4.2.2
HP Split X2 Specifications
It's not that Android family got HP's love, HP has further strengthened its line of ultrabook convertibles in Windows family by launching HP Split X2, which will also arrive in August and is priced at $799.99 USD. This tablet hybrid has 7w core i3 processor instead of intel atom chipset, 4GB of RAM, 128GB of internal memory. The detachable keyboard houses extra battery and 500GB of hard disk. The screen resolution, however, is disappointing here as it is just limited to HD i.e. 1366*768 pixels. Furthermore, the screen size is bigger i.e. 13.3-inches. The bigger screen size and lower screen resolution decreases pixel density as compared to android counterpart. It has front-facing 2-megapixel HP TrueVision Full HD webcam.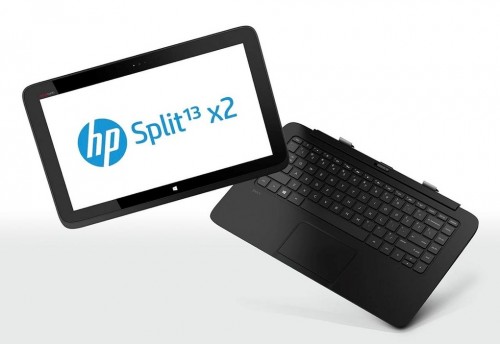 Intel Core i3 processor (low voltage – 7w)
4GB RAM
128GB internal storage
Extra 500GB of storage in the detachable keyboard
Detachable keyboard has HP Clickpad with multifinger and gesture navigation.
2mp HP TrueVision Full HD Webcam
13.3 inch screen size
1366×768 pixels screen resolution
Pixel density – 118 ppi.
Windows 8
HP Slatebook x2 – Price, Release Date – HP Split x2
Both the tablets have been announced, but still they're not fully ready for instant release and so HP has scheduled the released date in the month of August, 2013. The price of HP Slatebook x2 is set at $469.99 USD and the price of HP Split X2 is $799.99 USD. Slatebook x2 appears more reasonable at the given price with good set of specifications and 1080p display whereas Split x2 appears pricey with 720p display only. It seems that Windows 8 tablets are not yet ready for awesome hardware and reasonable pricing. We're certain that HP Slatebook x2 will also be released in India. What's your thoughts?