The latest version of Mozilla Firefox has implement click to activate feature for certain vulnerable plugins for users safety. So, it has blocked Java plugins from automatically loading on websites which have java content running. If a website require Java support for it to work correctly, Firefox will display a placeholder with link to activate Java plugin on that website. This is done for user's safety in wake of frequent vulnerability that Java is prone to. So, when you visit a website that requires Java, you'll see a message on that website with a link to activate Java, but you should only use Java on trusted websites if you care about security and privacy of your computer.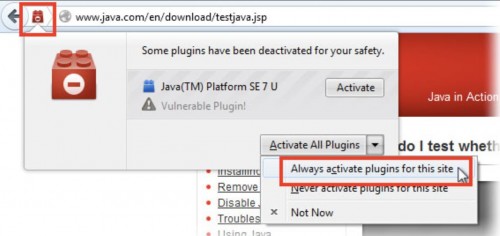 Now this is good option, but what if we frequently visit a particular trusted website which requires Java plugin to load. We need to activate java manually each time we visit that website. So, let's see how to make Firefox remember java activation setting for a particular trusted website so that the next time we visit our favorite website, Firefox will not restrict Java content:
Visit your desired website which has Java content in Firefox browser.
Once the page has fully loaded, you'll see a little red icon in the address bar just before the url of the site.
Click on that icon and it'll show you Java plugin details with a button at its bottom. Click on the dropdown arrow on that button and select Always activate plugins for this site.
Done! Now Firefox remembers that particular website plugin requirements and settings and will always enable Java for that website.
The above method works not just for java plugin, but for all such plugins that Mozilla Firefox considers vulnerable and doesn't load related content on webpages. This way, you can whitelist certain websites and activate the desired vulnerable plugin on that particular website in Firefox.
Security Tip: Make sure your computer has the latest version of Java installed as security issues and vulnerabilities are constantly being fixed and so updated. To update Java plugins in Firefox, just download Java runtime environment from java.com ..