In this video, we'll see how to manage startup programs on windows 8. Startup items or programs are those applications that launch themselves automatically at windows startup. We can easily disable a particular program from launching itself at startup. Whenever it comes to troubleshooting, the first thing that most users do is to check startup items. Monitoring start up items from time to time is essential to speed up system start, troubleshoot startup errors, to detect for the presence of any malicious programs or virus at system start. On windows 7 and earlier versions of windows OS, start up items could be managed via msconfig system utility, but most users were not aware of msconfig utitlity, hence Microsoft shifted this option to task manager. On Windows 8, you can check which programs start automatically when your computer starts and disable the not-so-required programs and apps via Task Manager.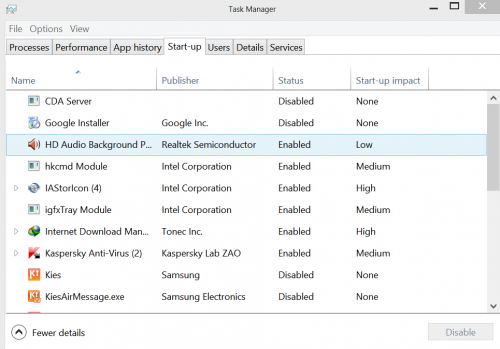 Just launch task manager either by ctrl+alt+del keyboard shortcut or by right-clicking on taskbar and selecting task manager.
Navigate to Startup. You'll see all the startup programs listed alongwith publisher details to help you identify the program's purpose and association.
Select the program which you don't want to launch on windows start, and hit on Disable button.