Samsung Galaxy S4 supports micro-sim card, not the regular one. Regular one, also called as Mini SIM card, can be cut to micro-sim dimension to fit into S4. You can watch our tutorial on how to cut SIM card to micro-sim for Galaxy S4. Assuming, you already have the micro-sim card, let's proceed: Watch the video below to see how to remove back cover in Galaxy S4 and then to inset sim card.
Take out the backplate properly starting from the bottom of the device. Do not eject it outright, rather work on it slowly.
Do NOT try to insert sim-card without removing the battery. I've tried it and sim card can not be inserted with the battery in the device.
Take out the battery first.
Inset micro-sim card with little diagonal cut inwards into the compartment. Push it until you hear click sound.
To insert memory card, get a micro-sd card of any size be it of 8/16/32/64 GB.
Insert the micro-sd card with all its little cut ends inwards into the compartment. Push it until it snaps inside.
Done. Place the battery back and put the backplate in its place.
Ensure that back plate is pressed on all side so that it may not be left open on any of the sides. I've sometimes left one side of the backplate open, by mistake and realized the same after few days.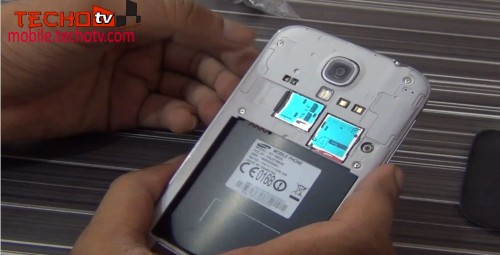 I hope the above tutorial helped you. Keep connected with us for more Galaxy S4 videos. Feel free to ask your questions in comments!