Samsung Galaxy SL I9003 is forgotten by Samsung after launch. Samsung never rolled out good firmware update to this device to make it perform faster and smoother. Neither Ice Cream Sandwich Nor Jelly Bean updates were released. Well, It may be a lost cause for Samsung, but it's still living cause for certain developers like dhiru1602. Thanks to him, we've fully working latest version of Jelly Bean i.e. Android 4.3 based on CyanogenMod 10.2 ROM or KitKat Android 4.4 based on CM 11 available for Samsung Galaxy SL GT-I9003. I've already installed this on my galaxy sl phone, and believe me, it's worth installing as it makes the phone feel like it's new again. It faster, smoother and better in comparison to GingerBread experience. Project butter implementation is also there in JB update. Also, you get the latest flavor and support for new and latest android apps which are only compatible with Android 4+ versions.
So, in this tutorial, we'll show you how to update your phone with Android 4.3 Jelly Bean or Android 4.4 KitKat Firmware.
Requirements:
Backup contacts, sms and other important data as your data will be erased.
Charge your phone battery fully.
Proceed at your own risk. Things may go wrong. If you've any doubts, ask us in comments before flashing your phone.
Another important requirement is CWM Recovery. If you don't have CWM recovery on your device, you should get CWM recovery first. To check for the same, just turn off your phone. Press and hold volume up+ home + power buttons together for few seconds. Your phone will start in recovery mode. You'll see CWM Recovery message there if it is installed. If not, follow the steps below:
How to get CWM recovery on Samsung Galaxy SL I9003:
Download ODIN 1.85 on your computer from here.
Extract the package. Run ODIN program.
Now download this cwm recovery package for galaxy sl from here.
Turn off your phone and start in download mode. To start in download mode, press and hold volume down+home+power buttons together for few moments.
Connect your phone via usb cable to pc.
Phone will be detected in ODIN program with yellow colored box and added message in log section of ODIN program.
Click on PDA button and select the download .tar file in 3rd step.
Click on Start button.
After sometime, the box will turn green with message PASS displayed in it.
Done. Now you can check whether CWM recovery is installed on your phone by booting into recovery mode.
How to Flash Jelly Bean Android 4.3 or Android 4.4 KitKat on Galaxy SL GT-I9003
Download the CM 10.2 or CM 11 for galaxy sl i9003 firmware package from here. Download the latest one under the heading "For Galaxy SL" on the given link page. It's in zip format. Do not extract it after download. Just copy the zip file to phone (either on internal sd card or on memory card).

Also, keep checking this link in future as newer update is regularly released fixing older bugs and for more smooth operation.

Now turn off phone and start it in recovery mode.
Select Choose zip from sd card option and then internal sd card or memory card depending on where you copied the file.
Locate the file and install it. To select any option, press power button.
Installation will begin. During installation, it may seem like the phone is stuck, but have patience and keep waiting. It takes a lot of time on the new boot animation logo as well.
After installation, smartphone will start automatically. Congrats, you're now on the latest flavor of android.
Experience the smoothness and speed of Jelly bean.
Now, you'll notice that none of the google apps, google account service, play store, gmail, maps, etc are installed. So, we've to now proceed with installation of Google apps and account service. Proceed as mentioned below:
How to install Google apps and services on CyanogenMod on Galaxy SL I9003
Download Google Apps package from here . Depending on the ROM version(CM 10.2 or CM 10.1), select the appropriate package from the given link. If you're flashing CM11 (Android 4.4 KitKat), download google apps package for KitKat ROM from here. If any of these links fail, install Gapps manager from here which will allow you to download the matching version on your device directly. If nothing works for you, feel free to put your problems in comment and we'll try to help you out!
Copy this package onto your phone.
Boot into recovery mode. Select Install zip from sd card option and then proceed with installation.
After installation, select Go Back option and select Reboot now.
Done. Your phone will restart in normal mode.
You'll see Android is upgrading message on the screen.
You'll also have to complete google account setup wizard where you'll be asked to enter your google account information.
Done. Now you can access Google Play Store and other Google apps and services.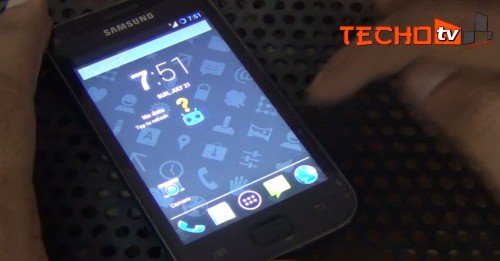 How to get back to GingerBread firmware on your Galaxy SL I9003 if unhappy wth CM 10.2 or CM 10.1 ROM
If you're not satisfied with Jelly Bean Android 4.3 ROM that you installed above, you can revert back to stock Ginger Bread 2.3.6 android os by flashing stock gb firmware via ODIN program in download mode, but before reverting back, I'd suggest you to try CM 10.1 Alpha 9 firmware if CM 10.2 is not satisfactory. To install CM 10.1 Alpha 9 firmware (Android 4.2.2), just follow "How to flash Jelly Bean Android 4.3" section of this article, but using CM 10.1 zip file instead of CM 10.2 zip file. If you still want to downgrade to GB, follow the steps given below:
THE PROCESS IS RISKY. NOT WORKING FOR MANY USERS – DOWNGRADING RESULTS IN BOOTLOOP..
Download ODIN program from the link given in one of the sections above.
Download stock GingerBread firmware for Galaxy SL I9003 from here
Extract the download file in step 2.
Go to download mode on your phone. (the process of entering download mode is also mentioned in one of the sections above)
Connect your phone to PC via usb data cable.
Launch ODIN program
Select the extracted file in step 3 in PDA field in ODIN program.
Hit on Start button.
GB firmware will be flashed and your phone will start automatically. After completion, PASS message will be displayed in ODIN.
Done!
If you're facing any issue, feel free to ask us in comments. We'd try to help you! Don't forget to like this post and share.