You might have recorded calls, or your audiobooks might be there in a folder on your android phone. You certainly don't want those recorded audio calls or audiobooks to play during music playback in music player. By default, music player scans the entire phone for media files and include all those in its library. Likewise, you might have certain personal photos/pictures that you don't want to appear in gallery. Likewise, you might have certain video files of special kind that you don't want to be shown in video player i.e. in videos list. So, in this guide, we'll see how we can exclude, prevent or hide certain files/folders from appearing in media player/gallery/music player on Android smartphone.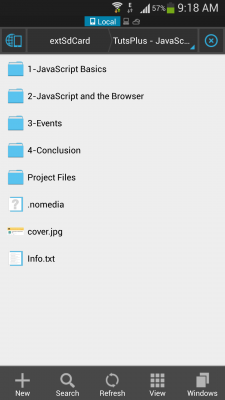 Get a file manager like ES File Explorer from Google Play Store.
Go to the specific folder via ES File Explorer, which you want to exclude. We can prevent the entire folder and its contents/files/sub-folders from appearing in android music player. If you just want to exclude certain files, keep those files in a separate folder.
Now create a new file by tapping on New button on ES File Explorer. Type .nomedia as filename (yes- dot nomedia). Tap ok. The file will be instantly created. (The just-created file will not be shown to you since any file that starts with dot is hidden. To view hidden files, go to ES File Explorer Settings > Display > Tick Hidden files.)
Now restart your android smartphone/tablet and launch your android music/media player/gallery. The excluded folder contents (media files) will no longer appear in music player.
This method works on all android devices. With this method, you can hide pictures in gallery, videos in video players, audio files in music player on your android smartphone. Of course, those files can be accessed directly by navigating to their folders, but they won't be included in media players or gallery by default.