We've posted tutorials on how to upgrade your Samsung Galaxy S advance phone with latest official Jelly Bean release, but few users were not satisfied with JB and wanted to go back to GingerBread. It gets touch emailing all the instructions to our fellow readers for downgrading back to GB on Galaxy S Advance. So here, I've put the tutorial on How to downgrade Galaxy S Advance from Jelly Bean to GingerBread OS.
[box]we've updated this tutorial with proper method and fix for 16GB Galaxy S Advance model also. Now you can follow this tutorial to downgrade 8GB as well as 16GB SGSA model without any issue.[/box]
Requirements:
Follow the instructions carefully. This tutorial is applicable for Galaxy S Advance phone (GT-I9070) running Jelly Bean Android 4.1.2 OS.
Make sure you've charged your phone to its full capacity.
Backup all contents on your phone including contacts, messages, apps (if you want to), images, videos, personal files as downgrading process will wipe everything.
Proceed at your own risk as your device might get bricked. So, do not downgrade unless you desperately want to. If you really want to downgrade to GB, you can even approach Samsung Mobile Service center to do the job for you instead of taking risk yourself. The author and this website hold no responsibility for any damage.
USB Data Cable
Computer/Laptop
How to Downgrade JB 4.1.2 to GB 2.3.6 on Galaxy S Advance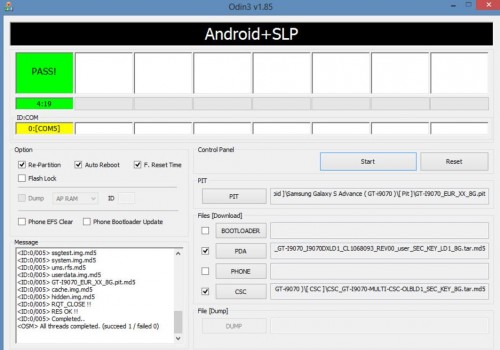 Download this package from here. This is compressed file. Use 7-zip or winrar program to extract the archive.
Open Odin3 v1.85 version.
Turn off your phone. Go to download mode on your phone by pressing volume down + home+ power keys together. You'll be asked to press volume up key to confirm entry into download mode.
Connect your phone to computer via usb cable.
In ODIN, a box will turn colored with com number and in the log window, there will be a message – Added.
Now click on PDA button in ODIN and select CODE_GT-I9070_I9070DXLD1_CL1068093_REV00_user_SEC_KEY_LD1_ 8G.tar.md5 file.
Now hit on CSC button and select CSC_GT-I9070-MULTI-CSC-OLBLD1_SEC_KEY_8G.tar.md5 file.
Hit on PIT button and select the PIT file extracted from the downloaded package in first step above (GT-I9070_EUR_XX_8G.pit).
Now, make sure Re-Partition, Auto-Reboot, F. Reset Time boxes are ticked in ODIN program.
Click on Start button.
Let the flashing process continue.
After some time, your phone will reboot. It might take time to start so have patience.
Once your phone starts successfully and ODIN displays PASS message in Green colored box, you can then unplug your phone from computer.
Go to phone settings to confirm if you're successfully back on GingerBread OS.
Now, if you've 16GB Galaxy S Advance phone, proceed ahead as your internal memory might have shrunk to much smaller size. To fix this, download this file also from here. Extract this rar file.
Download the official GingerBread firmware of your country. For India, official GB from here. For any other country, go to http://samsung-updates.com/device/?id=GT-I9070 and select your country's official firmware. Extract the downloaded folder
Launch Odin3 v1.85 version again. Click PDA button and select the official gb firmware from the extracted folder in 16th step. Click on PTT button and select the pit file downloaded in 15th step.
Click on Start button.
After flashing, the phone will start automatically.
Go to phone settings and under storage options, choose format storage. This way, your internal storage of 16gb will be restored on your galaxy s advance phone. Note: The steps from 15th onwards is for those with 16gb sgsa model.
So, I hope this tutorial helps you get your device back to its original glory. Proceed with caution, or give Jelly Bean more time to stabilize itself if you're not happy with JB as more and more updates will be released for JB for various countries soon. Hence downgrading is not the best choice.