Are you a postpaid airtel customer? You might be surprised with very little info available on the web for postpaid customers. Well, in this post, we'll go through all those useful airtel postpaid sms shorcodes that every user must know. On postpaid, we don't have account balance, instead we've outstanding unbilled balance because we don't need to have talktime on our number to make call. Use first, pay later – That's the concept of Postpaid connection. So, we don't need to worry about making recharges and top-ups prior to engaging in hours of calling. This leads to heavy usage as customers are ignorant of their usage pattern and thus resulting in heavy bill. So, it's always advisable to keep track of your usage. In our recent post, we wrote about how to check reliance postpaid number details. Now, it's time for Airtel.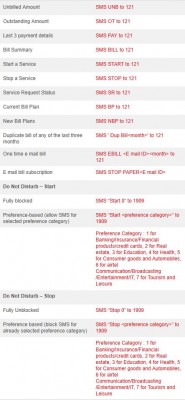 To know your unbilled outstanding amount i.e. amount that has not yet been added to the monthly bill but has been charged to you – Type UNB and send it to 121. You'll soon get a sms with details of your recent unbilled usage.
To know your total outstanding amount i.e. the amount that is due on your airtel number, type OT and sms it to 121.
To find out the details of your last generated bill for your airtel postpaid number, sms BILL to 121.
You can even know about your current bill plan by sending sms BP to 121.
You can also track your previous payments details by typing PAY and sending it to 121. You'll then receive sms with payment details of last 3 payments.
To find all these and other details on your airtel postpaid number via USSD, just type *121# and hit on call button from your mobile. Follow the instructions as displayed on screen.
For more details, just hit on the image above and also store the image on your mobile or computer to keep it as reference in case you forget.