Gorilla Glass 3, to be officially showcased at CES 2013, adds more protection and durability to your smartphone displays, as claimed by Corning, the company behind this amazing product, which protects over a billion mobile devices display and screens of other gadgets including few TVs, laptops, etc. (A story that started with iPhone display, now covers almost all high-end devices). Gorilla Glass 2 was launched back at CES, 2012 which powered smartphones of 2012.
In 2013, we've several smartphones upcoming, which might be relying on the promising durability of Gorilla Glass 3. Since, this is B2B product, its adoption is likely to be determined by smartphone and other device manufacturers. Its demo and formal announcement on January 7 at CES will make the consumers more aware and thus creating demand Gorilla Glass 3 protection in their devices. So, get ready to witness wild stress and durability test. Corning claims that it is a a "new glass composition with durability enhancements". And boy, we have a term for this new composition – "Native Damage Resistance", which assures you that your screen will tolerate pressure upto 3 times from keys and rocky particles.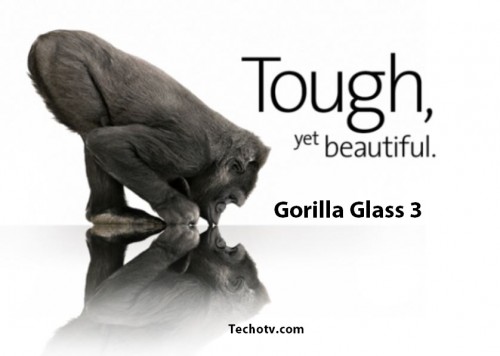 Gorilla Glass is actually alkali aluminosilicate glass sheet hardened by ion exchange among chemical materials. If you like chemistry and want to know more about it, hit the wikipedia resource for it.
Apart from launching Gorilla Glass 3, Corning is also unveiling fiber-based optical cables built to extend data transmission beyond the limits of copper-based solutions.
Stay tuned with us for more exciting updates! Oh, and wait, this news gives us another almost-definite insight about galaxy s4 i.e. presence of Gorilla Glass 3 in Samsung Galaxy S4 (Our guess – 95%).