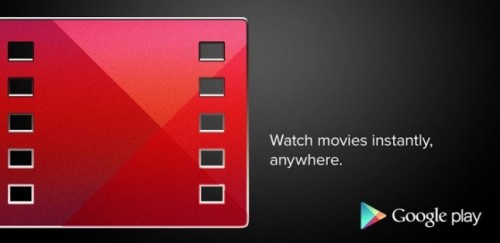 Are you movie freak? Don't like to be bored while traveling or want to carry your favorite movies collection with you to share with your loved ones? Then Google is again your life saver. No, you don't have to search for movies in Google Search; instead of doing that you can easily buy or rent movies from the Google Play Store which has been made available on the mobile version as well as on the web version of Google Play. Google has recently launched their Google Play Movies service in India and users now can enjoy movies both in English and in Hindi at this moment.
After official launching of the Nexus 7 tablet in India on Google Play Store for just INR 15,999/- few days back, Google has now introduced Google Play Movies. It has listed many recent and popular movies under the categories such as Action & Adventure, Animation, Comedy, Drama and Family. But, the Hindi Bollywood movies list is not so lengthy; at the time of writing there are only 38 movies available for rent or purchase. There are also some HD films available and you can rent movies for minimum of INR 50/- or can purchase those titles for a minimum of INR 190/-. HD movies are costly; for buying an HD title you have to spend minimum of INR 490/-. The pricing of the SD version of "The Amazing Spider-Man" is INR 190/- and HD version is available for INR 490/-.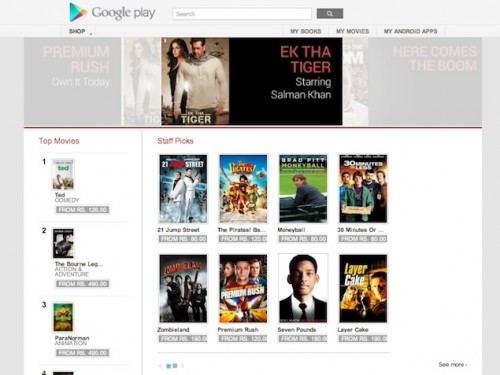 If you are looking for recent blockbuster of Bollywood then "Ek Tha Tiger" is available there for INR 390/- for purchase and INR 100/- for rental. Other Bollywood movies include Mere Brother ki Dulhan, Tashan, Ladies vs Ricky Bahl, Ishaqzaade and many more. If you are thinking how much it is going to affect your wallet then you have to be conscious as Google Play Movies are more expensive than your neighborhood DVD shop. Pricing of HD movies are so high that you can easily buy 5 original DVD movie titles for a single price of an HD title available for buying in Google Movie Store. We are also not impressed at all with the pricing of rental amount for a movie as if you have to spend INR 120/- to watch a streaming movie on your handheld device or desktop screen then you still can manage to find out a decent movie theater in your city to watch the film on a bigger screen around spending the same amount of money.
According to Google's terms and conditions, most of the Google Play Movie title those are available for rental, customers have 30 days from the time of purchase to play that movie and have to finish watching the complete playback within 24 hours from the starting of the playback. Customers can return or cancel the purchased titles anytime if they are not played within 7 days of purchase and you can exercise the refund claim anytime if you are not satisfied with the quality or the titles have glitches or unavailable. According to Google's country wise availability list, like Indian movies are now also available for rental and purchase on Google Play in these countries also: US, UK, Australia, Brazil, Canada, France, Germany, Japan, Korea, Mexico, Russia, and Spain.
To rent or purchase your favorite movies you need a Google account and a computer or an Android device having Android v4.0 Ice Cream Sandwich or higher. For Android device, you need to download the Google Play Movies & TV application first and then can download movies of your choice for streaming or offline viewing. If user wants to stream any movies either on their desktop / laptop or on Android devices over Wi-Fi or 3G, then the user has to visit play.google.com/movies. At once users are allowed to download purchased movies on 5 devices, while in the case of rented movie that can be downloaded only on single device at one time. You also have to consider this important term that at the time of downloading, other devices including your computer those you may have will not be able to stream the rented movies. If anytime you remove the rented movie that you have already downloaded from your device, then only it will be re-enabled for streaming or for downloading onto other devices and will obey the above stated terms & conditions of Google.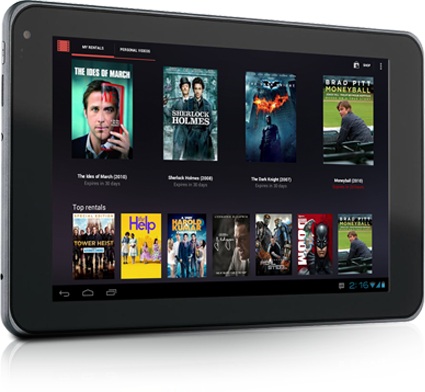 It is bit difficult to compare the pricing of Google Play Movies with Apple's iTunes store as you can find out some titles are cheaper here while others are costly there and vice-versa . Additionally, we have found that movies are listed on Google Play Movies has a slight edge over iTunes in terms of content pricing. For your convenience, we found the HD copy of title "Here comes the Boom" priced INR 490/- on Google Movies, while the same is available on the iTunes store for INR 650/- for purchase. The price difference also can be found if you are interested buying SD movies; for instance, the same title is available for INR 190/- on the Google Play Store, while for INR 390/- on iTunes store for SD copy.
After releasing Play Book last month, Google has now targeted the popular entertainment segment 'movie' to extend their business policy as over a year back YouTube had launched Box Office where you can watch one blockbuster title each month for free and another web giant Yahoo had also made available their premium video offering MoviePlex that allows users to enjoy full-length movies for free through the Internet on demand. Now, it will be interesting to watch Google's strategy to bring up their offerings at the first place of the people's choice where so many big players are already nailing.