Disappointed with Hangouts app for android? If you look at its ratings in Google Play Store, you'll see how you're not alone. This is one of the most criticized Google app with unhappy users, which is not the usual case with Google apps and services. Anyways, here we bring news that will cover in part your disappointments, not wholly yet. One of the demerits of the recently launched Hangouts app of Google for android had been the lack of clear status of contacts, whether the contacts are online or offline. Google has finally addressed this issue in the latest update rolled out for Hangouts app. This update is gradually being rolled out to all countries. With this, user will see a green hangout icon on the contacts who are online and grey icon on offline contacts. So now, user will be clearly able to distinguish online and offline friends from all contacts. Some other new features have also been introduced in this update. Those are: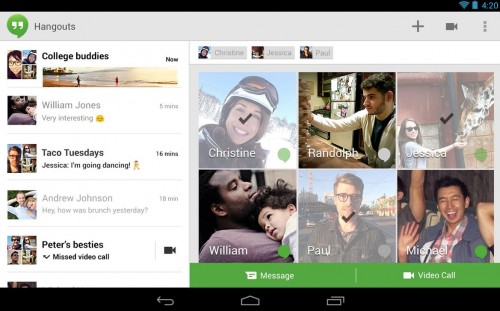 More organized contacts based on people you frequently chat with.
Ability to hide any contact by long-tapping on his/her name in new Hangout screen.
Photos can be now easily zoomed with pinch to zoom gesture.
Invitations are now seen above conversations to make them more noticeable.
And of course, More manifest contacts status – grey icon represent offline contact, green icon represent online contact.
So, if you've been avoiding hangout because of lack of any of the above features, you can now update to 1.2 version of Hangouts app to get these. The ability to make voice call is still not available in Hangouts app, and we do think that the same won't be introduced at all in future, so give up your hope on direct voice call button in Hangouts app. This 1.2 version may not yet be available in your region on Google Play Store, but will be up within few days, so make sure you upgrade Hangouts app this week to enjoy these new improvements.
Apart from Hangouts update, other popular Google apps like Gmail, YouTube, Google Search – have also been updated.