Google Chrome on Android is readily catching up with its desktop counterpart. In the latest Google Chrome android app update to version 26, much-requested feature has been introduced that will allow mobile browser to sync passwords as well as form autofill data from the desktop chrome browser. Earlier, Google Chrome for android was able to sync bookmarks and sites, but with this update, it will be able to sync passwords and autofill data as well providing you seamless switching between desktop version and mobile version featuring unified browsing experience. Mozilla Firefox for android has already been providing password, autofill, bookmarks syncing feature, now the same is available on Google Chrome browser for android as well. This is indeed good news for chrome users. Earlier, when we were required to fill forms on various webpages on mobile phone, we just preferred to switch to our computer; but now with autofill, all the forms data will be automatically filled making the experience on mobile easier and more productive.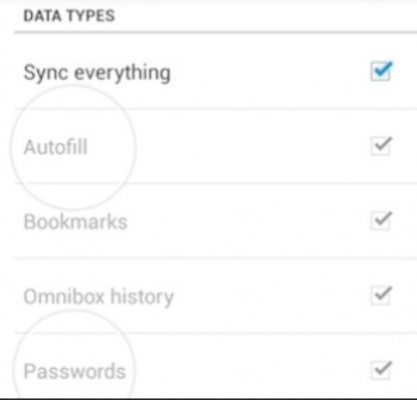 For this to work, you need to enable syncing feature by signing in with your Google Account in Google Chrome desktop browser settings and doing the same in mobile browser. Syncing also shows you the last opened tab on the desktop version so that you could resume your browsing session easily.
Other changes in this update include a bug fix so that users will not be served blank page instead of requested url as it happened on earlier versions occasionally. Moreover, other stability fixes and improvements have also been implemented.
To update to the latest version of Google Chrome app on Android, just visit Google Play Store, press option button and choose my apps and navigate to Google Chrome and tap on update button. If you're new to this browser, you can download Google Chrome browser on android phone from Google Play Store by visiting this link. (Note: Google Chrome is supported on Android 4+ version only, so if you're on GingerBread, you can't use this browser).
Most of these new features were already available on Chrome Beta app for android. From beta version, features and functions translates to release channel, so if you want to be the first to experience new browser features in chrome, download Google Chrome beta app for your android smartphone from here. You can install Chrome beta as well as Google Chrome app on the same phone and run both the browsers.