To stay on the top of competition, SEO is must. While some people have claimed that SEO is dying game, I reckon otherwise. Interestingly, SEO is rather going simply complex (you get it?). You either leave it entirely to search engine to auto-judge your content or take everything right in your hand from the beginning. For every website owners, the two most recommended step is to sign up for the webmaster tools offered by search engines. In this article, we'll talk about Google and Bing webmaster tools. In this article GWT stands for Google webmaster tools and BWT stands for Bing Webmaster Tools.
1. When you visit Google webmaster tools. You'll be presented with sign in box and little summary/benefits of using google webmaster tools. The same happens when you visit bing webmaster tools homepage but wait, both of these are not same. Bing utilizes a more call-to-action approach as the benefits are mentioned in a way taking the 'YOU' approach and inciting action (You want traffic and we can help you find it) with a big Sign in button. So Bing wins here. (although the intro video on Google webmasters page looks more interesting with its cartoonist feel.) This also further give us hint as how could we optimize our website taking such Call-TO-Action approach because conversion is all that matters. But since, there is no username/password field, we need to hit on Sign in button and then enter our login details on the next page which adds one step delay to getting inside (if you're already logged in, the webmaster tools homepage doesn't matter a lot because you already know what's inside.)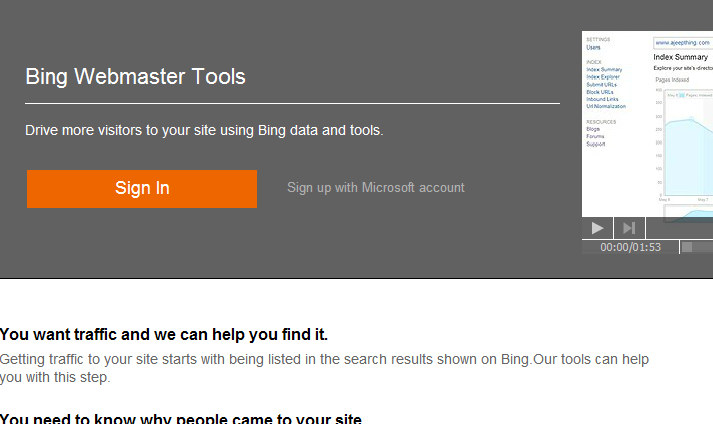 2. If you've added one website to webmaster tools in Bing, you're directly taken to site activity and reports for that website whereas in GWT, list of your sites, even if it is just one, is displayed. So here again, Bing wins.
3. When you manage any website, you visit Dashboard for that particular website. The dashboard view of BWT is more informative, it shows you summary of reports better than GWT but those report headings are not actionable i.e. clickable whereas in GWT, those are clickable (actionable). For example – In Bing website dashboard, You see Site Activity, Sitemaps, Search Keywords subheadings in the right panel but you can't click on these subheadings to switch to full view (clicking on sitemaps heading should take you to managing sitemaps – Instead there is a small link below all those summary reports to go to full view) whereas in GWT, you can click on those subheadings in the right panel like crawl errors, Search queries, Sitemaps, etc. to switch to individual view. So, here Google wins as it is following a more modern approach rather than classic approach of Bing.


4. Placement of Menus are more optimized and better organized in Bing rather than in GWT. By just reading the menu label, you can understand what and where you need to navigate. For ex- Sitemaps option is present in optimization menu of Google webmaster tools for any website whereas Sitemaps is present in Configure My site option in Bing Webmaster tools. The placement of Sitemaps will have been more justified if placed in Configuration menu in GWT because that is where a webmaster would tend to look when he starts with such tools. Google doesn't show sitemaps it discovered, there automatically whereas Bing lists all sitemaps it discovers on its sitemap reports even if you don't add a sitemap manually.
5. Fetch As Google is a great option found under Health menu in GWT where we can check if Google is able to visit a particular webpage and can also submit request to Google to quickly index that content by utilizing Submit to Index option available after successful fetches. This also notifies if there is any problem with the page. BUT Google limits the number of fetches or manual url submission you can achieve via this feature to 500 only. Of course, in one of our previous posts, we shared on how to easily circumvent this limit to submit more urls to index. In Bing webmaster tools, we have Fetch As Bingbot option. It is in beta stage at present but there are no limits on the number of fetch requests we can do via this tool. BUT we don't have submit to index feature in this tool here. Instead we have Submit URLs option available in Configure my Site menu in Bing where we can submit urls manually but quicker indexing by Bing search engine but we're limited to max 10 submission in a day with no more than 50 submissions in a month. Here Google wins.
6. We have Keyword Research option built into Bing webmaster tools (Yes, if you didn't know, let me tell you – now you can use Bing to find out which keyword is more important and has larger search volume on Bing search engine) similar to adwords keyword research and select tool of Google. In GWT, we don't have link to keyword research tool. So here again, Bing wins. Probably Google doesn't want webmasters to do research before writing content.
7. Deep Links in Bing = Sitelinks in Google. Both indicate the same thing and gives you more exposure in SERP. You don't have much control over these. Search Engines decide when to give your site those extra deep links or say, sitelinks. Both these options are found in the configuration menu of the respective webmaster tools.
8. We have disavow links option under configure my site in Bing webmaster toolbox which can be used to specify to search engine that links from particular website should not be claimed as those are unnatural or kind of spammy. Now this is really very useful if your competitor is trying to hurt your website by building spammy links to your website. Whereas in Google, you can't do much rather than being penalized for things you didn't practiced in the first place. Google is very active in rolling panda, penguin and what other updates but at the same time, they should have provided such tools in GWT so that site owners can really protect themselves from unclaimed 0r spammy sort of development.

9.  Markup Validator which is located in Diagnostic & Tools menu in Bing doesn't actually check your page for w3 html standard errors. Instead it checks for structured data markup or say rich snippets on any url. In GWT, we have Structured Data option located in Optimization menu and it shows the report of such data found on your website where as we do not get such report in Bing. BUT, we can't validate our webpage for valid structured data markup in GWT. Hence, Google should have placed inbuilt Rich snippet testing tool right in the Structured data report instead of placing it separately as a link under Other resources menu.
10. We have SEO reports under Reports & Data menu in Bing whereas in Google, we have HTML improvements under Optimization menu. We find HTML Improvements report more helpful for sites in index where as SEO Analyzer in Bing webmaster toolbox is more helpful for diagnosing any webpage in realtime.
11. You don't have any option to set preferred domains (www or non www version of domain name – this is not much needed as well) or Geographic target (this option is needed in some cases) in Bing unlike Google. Hence GWT (these option is located in settings option under configuration menu) wins here.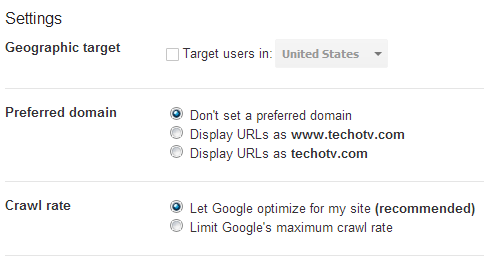 12. Help with Section in GWT located at the bottom of left-side menus are contextual which means if you're browsing sitemaps, Help with section would show you sitemaps related articles. Whereas in Bing, a Help link is located at the top right side. So, again Google wins.
13. Google and Bing both promote their webmaster tools to attract website owners to sign up and add their websites. Whenever you search for any website with site: keyword in Google, it prompts you to sign up for its tools whereas nothing such happens on Bing. Hence Google has made smart move here as usually website owners search with site: filter and hence presents its tools promotion to the right kind of people. Smart Google wins here as well.

Verdict : Summing up, Menu placement, Call-to-action, orderly arrangement of tools, Diagnostic tools of bing toolbox deserve our appraise. BUT when it comes to usability and comprehensive reporting, Google wins and this is so because of the slow crawl rate of Bingbot. Bing reports and crawl information is not as updated as are of Google. In short, Google has more data for your website and hence usability wise, Google wins. Bing should really improve their crawling, indexing rate and amount as fast as to be the first to discover new content.