Mouse and track-pads are great and offer speed and ease of navigation but if you know what keyboard shortcuts are, you certainly know its advantages over operating with mouse, and if you use them often while working on your computer, well you can use certain predefined keyboard shortcuts even when handling gmail account online. Gmail has shortcut keys to execute common tasks but these shortcut keys are not enabled by default. You have to enable keyboard shortcuts in your gmail account to be able to use them. By using them, you'll be able to save your time considerably. Also, this gives you more of the geeky feel. In this post, I'm listing the ways to activate gmail keyboard shortcut keys and listing them for reference.
3 ways to use gmail keyboard shortcut keys
Sign in gmail account, Hit on gear icon in the right and select settings. In the general settings, look for Keyboard Shortcuts option and turn it on. Then Press on Save changes button.
If you don't want to go through the above mentioned hassle, alternatively, just visit this link and shortcut keys will be enabled in your gmail account by default.
One more way (Recommended): You can enable and disable gmail keyboard shortcut feature by visiting your gmail account and pressing shift+? button together on your keyboard. This will bring list of all keyboard shortcuts in gmail along with current status of this feature and option to enable and disable the same. So, this particular method is highly recommended as with this method you can always get help/reference whenever you're confused or you forget the shortcuts.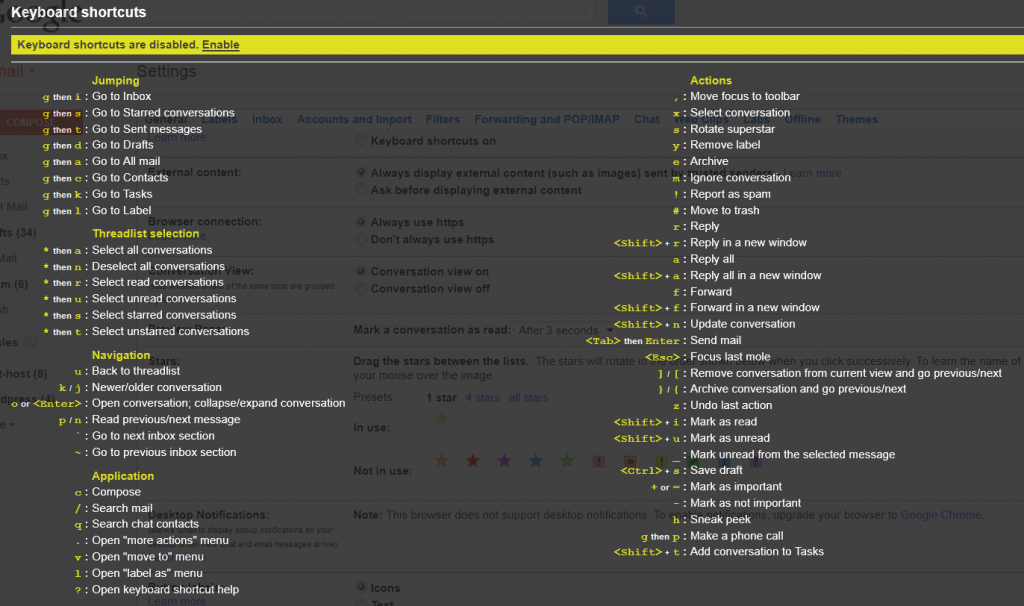 The image given above lists all useful shortcut keys, remember these. You can always use the 3rd method given above to refer to the list anytime you want to. If you're outlook user, we've discussed about outlook email shortcut keys also. We've also shared on how to use keyboard to navigate among search results in google in firefox and chrome browser.
Quick Info about Gmail : Gmail was launched on 1st April, 2004 as invitation-only membership scheme. It was open for general public on 7th February, 2007. Currently, Gmail has more than 400 million active users worldwide. It provides 10 GB of storage capacity for free. In Gmail, you can send single attachment of size not more than 25 MB. Gmail is operated by Google.