Just installed a custom ROM on your android device, having trouble finding the right Google Apps package so that you could get started? Google apps package, popularly called as gApps comprise of essential Google apps and services like Google Play Store, Gmail, Google account, related libraries, etc. For any android phone or tablet, gApps package is must. In other way, it is the road to Google Play Store access and thus a way to enter into the world of limitless apps and games for your mobile device.
Based on android version base of your ROM, the appropriate gApps package should be installed as there are several versions available depending on android os version. So, this makes it difficult to find the most appropriate version. This is where Gapps manager app comes to resue. It's a nice little app via which you can download the matching gApps zip file for your installed ROM. It could even suggest you the best choice based on your android version info. It provides downloads for GingerBread (Android 2.3.3-2.3.7), ICS(4.0), JellyBean(4.1.x-4.3.x), KitKat(4.4.x).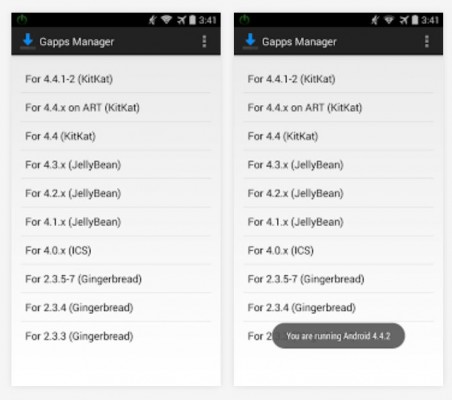 For Android KitKat, it also provides ART package. If you're confused or don't know what ART is, just select the simple one i.e. without ART (With KitKat, Google has introduced development version of ART [Android Runtime], which is not enabled by default. Dalvik runtime is the default on all android versions including KitKat. So, if you download ART edition of gApps, you need to select ART as default in developer options in phone settings. ART is still in developmental stage so I do not recommend choosing it for now).
This app is available from Google Play Store as well but mostly, we need to download Google apps package only in cases when we do not have Google Play Store already on our mobile device. Therefore, I've provided the link to this app apk file so that you could install it directly. During installation of this apk file, you might be prompted to go to device security setting and check unknown sources so that installation directly from apk file could proceed.
Download Gapps Manager apk file from here (Google Play Store link in unusual case)
Note: Google Apps package is zip file and could be installed from your device recovery mode (Don't extract the zip file). To install the downloaded gApps zip file, just go to recovery and select install zip option and then browse to the downloaded location. Select the file and confirm.
If you face any problem, or have any doubts, feel free to ask us in comments!