As the year is on its way to closing, so are we nearing to rounds of rumors and leaked info on the next year's Samsung flagship Galaxy S5. Apparently, the latest purported leaked images of metallic frame of a mobile device claimed by nowhereelse.fr to be of the upcoming S5, reveal a little more than just the internal structural frame of the upcoming device. Though we'd like to warn you before proceeding, with the famous line often quoted when rumors and leaks are purposefully presented- "take all this with a pinch of salt".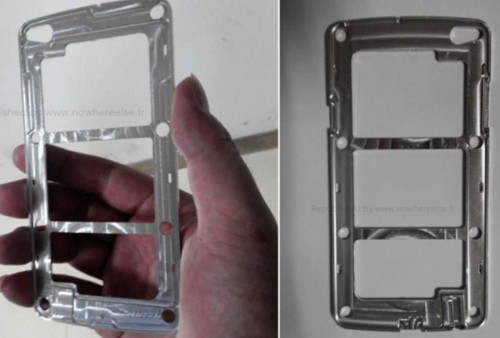 As per the image, the frame is 5.66-inches long and 2.8-inches wide. This measurement hints to a slightly bigger display in the upcoming smartphone.  We may also expect metallic body as Samsung has been widely criticized for not having the same. The pic also suggests location of the camera to the side, and this is highly unlikely, hence making this pic unconvincing.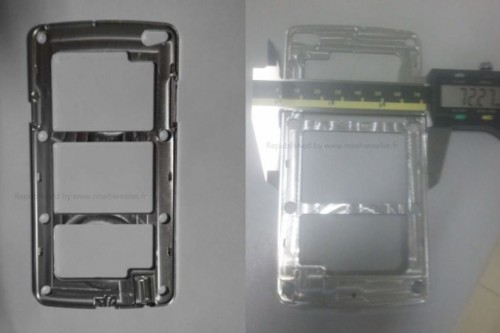 Another rumor recently suggested that Galaxy S5 would have very high resolution even higher than 1080p i.e. 2560 x 1440 and pixel density of 500+ ppi. Moreover, some rumors also suggest presence of the flexible display with the display being curved on the both sides. To add to that, there would be 16 megapixel rear camera and Optical Image Stabilization feature. OIS is not there even in SGS4 and this has been in demand for a long time from Samsung fans. If you've been reading till now, following regularly all GS5 news – you might have come to one conclusion – They're putting everything in basket, that's what they do, they, the media, just likes to put all our aspirations in the form of news, rumors, leaks and facts. Even the author of this article sometimes feels the same, but this is how things add up, things refine and sort itself to a more vivid, more closer-to-reality picture.
So, keep reading us as we try to refine, sort and present to you more closer and clearer picture of Samsung Galaxy S5.