Taking cue from Apple's iPhone 5s, Samsung has released Galaxy S4 in gold edition as confirmed by Samsung Gulf twitter/facebook account. Gold edition galaxy s4 will be available in two color variants Gold brown intended for male customers, Gold pink intended for female customers; although I won't stop you if you want to choose the opposite not corresponding to the color intent here. These phones will be initially available in Gulf region where there is more demand for this color variant, and will feature the same specifications as regular galaxy s4. The pricing details are not clear, but most probably, the price is going to be the same as that of regular one as the phone is just golden in color (on sides), not actually made of "original gold".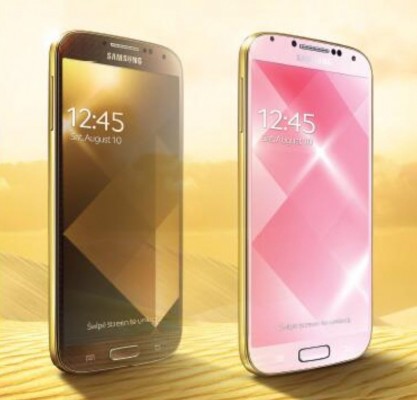 Samsung's announcement irked many people, not because it's still plastic, but because it appears to be blatant copy of Apple's iPhone 5s gold color strategy, at least at first. In fact, as soon as this news reached our ears, we too did feel the same, and so did the majority. However, let's not be biased.We can't call it Samsung's attempt to copy, here are reasons why:
Learning from the market is not bad idea and you'll appreciate this if you run your own company. Samsung saw the demand for gold color and it reacted. Why does it sound so foul to some?
It's neither copy nor inspired coz it looks ugly, and as far as I know Samsung can do better at copying ;). Take my comment satirical but the gold variant of galaxy s4 isn't that appealing as iPhone 5s.
This is just Samsung's answer to those gold iPhone 5s users, who're trying to find some solace by making their neighborhood, full of Samsung mobile users, feel envious and lurking for the luxurious gold feel.
Feel free to come up with your views in comments!