Here comes iTunes Competitor for music services, Xbox Music. Xbox is generally taken as the gaming console but in Microsoft terms, it is its entertainment service (When Xbox 360 or Xbox 720 is specifically mentioned, is being talked in context of gaming console). So, Xbox Music is All-in-one music service, note the bold, for your windows 8 pc, windows 8 tablets and windows phone 8 devices apart from xbox 360.
Employing cloud oriented approach, Xbox music is synced on all your devices so that you get a unified music experience. You can resume your playlist of one device from the same position you left on another device. The entire experience is synced in realtime so that you get access to all your playlists on phone, xbox gaming console, windows 8 pc/laptop/tablet. No need to manage and fiddle with separate services on each devices you own. Tune you heart to the music you want, on the device you play. When you play any track, information like the artist bio, rating, scores, cover art, discography and other visuals fill up the screen. The title and pins design make the navigation easy on touch screen devices. One noticeable demerit on Xbox 360 is that it doesn't support background playback i.e. you can not play it while you engage in hardcore games. On other windows devices, background playback is breeze.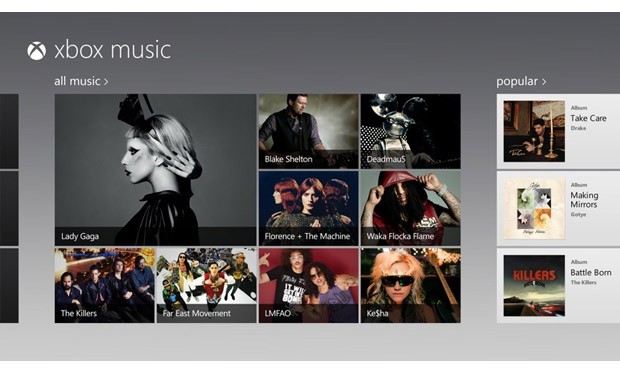 Xbox Music Streaming : This is one more reason to go with windows 8 as Xbox Music free streaming service is available with access to over 10 million tracks. Yeah, free access exclusively on windows 8 pcs and tablets, but it is not ad-free. Windows Phone 8 and Xbox 360 console users are required to access Xbox music either through Xbox music pass or through Xbox music store. After six months, free streaming will be limited to defined hours, which means that Microsoft wants you to get a real taste of this for the first six months and then catch you in its paid service, else enjoy for limited hours.
Xbox Music Pass – This is paid subscription based service to get unlimited access to tracks (over 30 million and counting) online as well as the ability to download and get offline access to that music on windows 8 pc/tablet, xbox 360, windows phone 8 handsets. So, to get Xbox Music Pass, you need to loosen your pocket by $9.99 per month or subscribe for 1 year for just $99.90 USD (savings of 2 months) which is subject to little variation based on the region. In fact, this is the only way to get access to Xbox music on Xbox 360 game console. In the 360 version of xbox music, you also get access to thousands of Music Videos.
Xbox Music Store : Don't want to spend on Xbox Music Pass subscription but desperately want to buy a track from your favorite artist, you can get it from Xbox Music Store which is mp3 marketplace listing millions of tracks and albums. You can buy from windows 8 pc/tablet or from your windows phone 8. Buying on one device gets the music available on all other devices you own because the content you buy is tied to your unique account which is synced on all integrated devices.
Smart DJ to personalize your music collection into desired playlists, create your own Internet radio with your favorite tracks mixed together in the ultimate list.
Other features that are in pipeline include cloud storage into xbox music cloud catalog for the music you own and have acquired through other services, social music to share your feel and ears with your friends and families together, platform expansion so that Xbox music could be accessed on other platforms beside windows. Xbox Music store and Xbox Music Pass will be available in 22 markets wordlwide whereas Xbox Music Streaming free will be available in just 15 markets. Microsoft is working to increase the number of markets and service reach worldwide in the coming year. It'll come pre-installed on Windows 8 pc/tablet/laptop and is to be released in conjunction with official win 8 release on October 26. Windows Phone 8 handsets will also have this pre-installed. It is pushed via update on Xbox 360 starting October 16.
What do you think of it? Put your opinion in comments below: