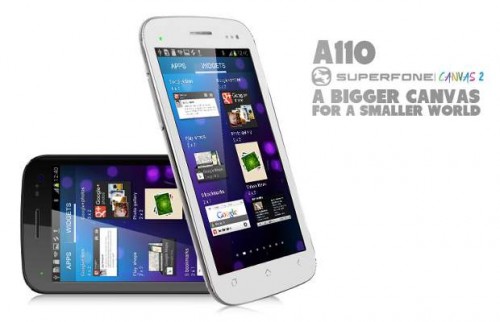 Last week, Micromax had released their official Android V4.1.1 Jelly Bean upgrade for their Canvas 2 A110 'Superfone' as they promised earlier of this month. But, it is a shame that instead of making the upgrade available "over-the-air" (OTG), the company is asking the users to carry their device to the nearest Micromax authorized service center physically to obtain this upgrade.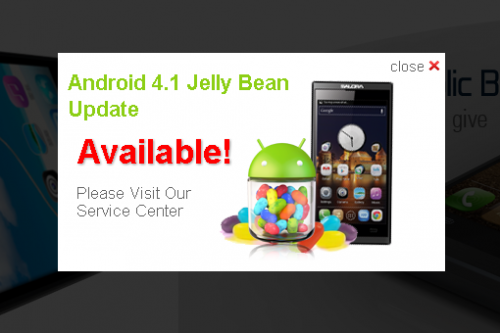 But, it is now possible to upgrade your beloved Canvas 2 A110 from home manually if you don't want to or don't have that much time to visit your local Micromax authorized service center.  All you need are:
Requirements:
A computer with UPS backup or Laptop with charger plugged in.
Micromax A110 Canvas 2 USB data cable.
Last not the least your Canvas 2 A110 handset and your phone must be charged.
Disclaimer: Proceed at your own risk. We've tested this method and this works great, but sometimes things don't work the way we want, so we're not responsible for any kind of loss/damage.
Now, before you proceed further we want you to do this full upgrade procedure at your own risk as not following the step by step procedure or facing problem from your PC / laptop can brick your handset.  But, we can assure you following these tutorials' each steps correctly will bring smile on your face.
To upgrade your Canvas 2 A110 to Jelly Bean Firmware, you need:
We've uploaded these files to Google Drive for your convenience so that you can easily download these required files at ease because we know how poor internet connectivity in most parts of India is. So, the links given below support resume i.e. you can pause and resume downloads later as per your connection speed using any good download manager programs.
Download Micromax A110 Official Jelly Bean V3_120313 Update file, that  can be found here [Size: 282 MB].
Download Micromax  A110 windows drivers, that  can be found here [Size: 3 MB].
Download SP Flash Tool v3.1220.01 for device flashing, that can be found here [Size: 5 MB].
All these links are resume supported. So get a cup of coffee while the download is being completed.
For windows 7 64 bit users;  if you find error while installing the driver due to lack of digital certificates only then download drivers from here [Size: 266KB]
Before the final upgrade procedure, we insist you to take a complete backup of your data, contacts and SMS. Now turn-off your handset; remove external memory card (if you have one) for safety and put in the battery but don't turn-on the handset. Now please follow the below mentioned steps for the Upgradation.
Steps to Flash Jelly Bean on Micromax Canvas 2 A110 manually:
Unrar the files from the downloaded "Mobistel_Cynus_T1_Drivers_x86.rar" (or in case of 64 bit users unzip "MT6577 USB VCOM drivers.rar"), "S9081_MP_F4.1_B1_IN_MMX_1.10.rar" and "SP_Flash_Tool_v3.1220.01" using WinRAR to Desktop.
After that, install the "Mobistel_Cynus_T1_Drivers_x86.exe" from already unzipped Drivers folder for Micromax A110 Canvas 2 on your computer.
And, single-click on Scatter-loading option.
Now, wait for the files to add into Flash Tool.
Afterwards, go-to Option->USB Mode, click USB Mode to enable it, again go-to Option->DA Download All->Speed->High Speed, click High Speed.
Then click on "Firmware -> Upgrade" button (Ignore any warning messages if appear click on 'Yes'). The software will now go into phone detection mode.
Make sure your Canvas 2 A110 is switched-off and then connect the handset to your PC / laptop with supplied USB cable.
Now, assuming that all the drivers have installed correctly; the Flash Tool will start the flashing process, which will be showed by a yellow progress bar at the bottom of the Flash Tool. (Do not unplug / disconnect / abort the process unless you see the OK message)
After completion, a Green Ring will appear on your computer's screen; signalling that the upgrade process was successful.
Then close the flash tool and disconnect your Canvas 2 A110 and turn it on.
It may take some extra minutes to start for the first time and you will see the 'Superfone' logo for a little longer time, which is normal.
It will ask for all the configurations again. Just give them properly.
And enjoy the cool new features and smooth UI of Jelly Bean version !!!
Don't forget to restore all your data back to your Canvas 2 A110 if you took the backup before upgradation process.
Jelly Bean update for Micromax Canvas 2 – ScreenShots:
Software release notes (from Micromax):
1. Operating system is upgraded from ICS to Jelly bean.
2. M! Store is removed.
3. New wallpapers are integrated.
4. Software is backward compatible with old TP available (BYD Make).
If some of you have already rooted your A110 or have installed third party custom Jelly Bean ROM  then follow this process and at the 8th step click on "Download" button instead of "Firmware update" and ignore any warning messages if appear click on 'Yes'. After successful completion you will see a Green Ring indicating now you have official Jelly Bean.
If you are facing device detection problem on your computer; then you  need to turn off your phone & connect USB cable and start the phone pressing volume key (up+down) alongside to your computer. This time your computer will detect your phone and now you need to quickly jump to my computer (right click on it), go-to properties-> device manager-> unknown devices-> select device (your device)-> check properties-> drivers-> update drivers and then select manually update (select c:/Program Files/Micromax). After doing that, again turn off your phone and start phone pressing volume key (up+down) alongside and follow above mentioned steps.
I hope the above tutorial helped you! Feel free to ask questions if you face any issue!