3G data services is one of the easies, fastest and convenient way to connect to internet in India either on phone or on laptop/desktop via 3g data cards but 3g is costly and no Indian cellular operators are providing truly unlimited 3g data packs. Using 3G and not checking your data usage can result in heavy account bills and balance deductions if your 3g data pack has ended because we all know how fast 3g data is consumed up (Remember the Reliance advertisement shown on Televisions starring Anushka Sharma and Rannvijay). So, If you're using Reliance 3g and want to know the remaining 3g data balance and usage, don't worry, there is a very simple way to find this. With this method, you can find Reliance 2G gprs/edge net data balance and validity as well.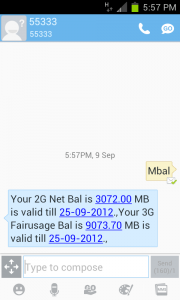 Just sms Mbal and send it to 55333 from your reliance mobile number. Within a few seconds, you'll receive a message which will show your 2g and 3G Net bal in mb and its validity.
You'll not be charged for sms  don't worry, it is free to check your reliance 3g data balance.
There is another trick also. Dial *367*3# but it'll show you your GPRS net balance only, not 3g. Also, the balance shown is in Rupees. So to get your actual data, just divide the shown amount by 1000. The result will be roughly equal to remaining 2g net balance in mb. (We donot recommend this. We recommend the sms method mentioned in step 1)
This works for Reliance 3g Netconnect dongle as well as for normal Reliance 3G sim.
We've also informed about promotional 10 % extra free Reliance 3g data , you could also check on how to track owner name of Reliance mobile number. At the time of writing this post, the cheapest 3g service provider is Reliance as per my experience especially at place where I live. In your circle, this may not be the same case because 3g network operator distribution is not uniform pan India.
 How to know your Reliance Mobile number ?
Sometimes, you forget your reliance phone number and you don't have any talktime or balance available on your no so that you could find out by calling another person. Here is a trick to find your reliance mobile number without calling.
Just dial *1# from your reliance number. Within a few seconds, it'll display your reliance phone number. The number displayed willl include 91 in the begining. So just ignore 91 and see the rest of the digits which is your original mob no.
We'll update this post with more tricks and secret codes of reliance as we find it. Keep reading our blog for fresh and new tips and tricks. If you want any help, comment below and we'll try to solve your problem.