Video annotation is useful feature in YouTube to highlight certain portions of our videos with important points or to link it to any other YouTube video. Such video annotations are clickable. YouTube publishers and video uploaders have always wanted to annotate their videos with external link to their website or blog but unfortunately, YouTube didn't allow this. Of late, at YouTube Partner meeting in Bruno, Dror Shimshowitz, YouTube Head of Product for Creators, has addressed this concern by announcing support for linking to external weblogs, webpages in videos using annotation feature. So, this means that if you're making a video review on a mobile, you could annotate your video with link to mobile specification page. We know that we can put the links in video description below but linked annotations in videos are conversion-oriented and receive more exposure. As we expect, this new feature will not be universally rolled out for every YouTube account, perhaps to prevent spam.  In the beginning phase, it will be enabled for such YouTube accounts which are in very good standing. Gradually, it will be rolled out to general accounts also. The exact schedule as when this feature will be live on YouTube is not known nor specified but we expect it to be soon as another feature called inVideo Programming, announced at the same meeting is already live (inVideo Programming allows you to feature a desired video on the top of all other videos that you uploaded – This will make it easy to promote a running contest or exclusive new video content easily, it also allows you to add your brand logo to all your YouTube videos for the increased brand recognition via Feature a Channel option, more such features are added to the basket gradually. To Access inVideo Programming, Sign in YouTube > Go to YouTube Settings > Under Chanel settings in the left sidebar – Choose inVideo Programming).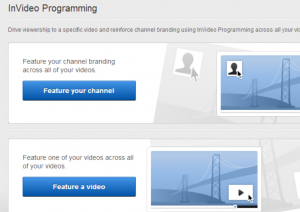 How to Add Annotations to YouTube Video
If you don't know your way with video annotations, follow these steps below to add one:
Log in to your YouTube account and then go to Video manager page to list all your uploaded videos.
Click on the drop-down arrow next to edit button below your desired video and choose Annotations.
Navigate to the time in the video where you want to add annotation and then hit on Add Annotation button on the right side and select the type of annotation you'd like to make.
After choosing the type, enter whatever you desire. If you want to link the annotation to some other video, just tick the box marked Link and paste YouTube video link url there.
You can also specify the time from which the linked video should start playing and whether the video should open in the same page or in new window/tab.
Keep a check on this page as we'll update this post when video annotations could be linked to external website on YouTube.