iPhone 5 is about to be released on September 12 but guess what, you won't see Youtube app icon on your iPhone 5 unless you manually install it from itunes store. iPhone 5 contains iOS 6 and from iOS 6, Youtube app is to be downloaded from iTunes store because the licensing between Apple and Google for the inclusion of youtube as a native app has ended. This may lead to reduced usage of YouTube on Apple phones. But don't worry because Youtube app for iOS devices has been launched by Google. It is much more advanced than the previous version. The new Youtube app supports advertising which is beneficial for Google as well as content producers, but which means you can watch all music and videos which were restricted in earlier case because certain content owners don't allow YouTube to stream their videos unless they're paid via advertising benefits. Further the iOS app for YouTube will work on iPad too but a separate iPad optimized version will soon be launched, probably within few months. So, now enjoy the full-fledged YouTube and watch music , movies on the go.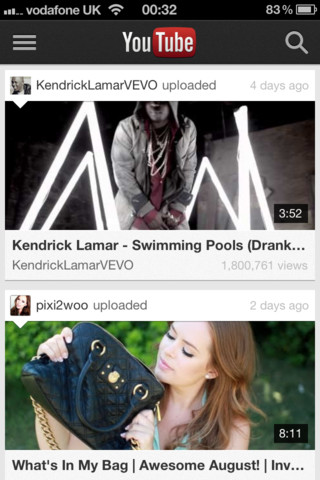 This app is compatible with iPhone 5, iPhone 4 & 4S, iPod touch (3rd & 4th generation), on all devices which have iOS 4.3 or later. It is available in several languages. You can just swipe the screen of this application to unveil channel guide and all other options of navigation. You can add subscriptions, manage your account, set video quality preferences, browse popular and trending videos, re-arrange your home feeds. The search box in this app displays predictive suggestion which makes it easy to search. A small arrow as we see in native Google Search application, is there also to auto-fill suggestion in search box allowing you to add further text to its right to fine tune or refine your search results. You can even share videos you're watching to social networking websites like Twitter, facebook, Google + and in emails or messages. Video playback is smooth, fast. It does not lag if you've a fine internet connection. This gives it content parity on all smartphones now. This app has been released right in time. Current iPhone owners can also download it. Not to mention, you can always watch YouTube directly in safari browser instead of using any app but users prefer app because they are faster, easy to launch and very optimized for smartphone devices. Android devices already enjoy a faster, native youtube app. Here comes for iPhone too. Lets see how it performs and how users rate it to its previous version. Do you like it? Share your views now.
Download YouTube app for iPhone 5 and iOS 6 from here .